I hope all of you had an enjoyable Mother's Day celebration, whether with your mothers or as a mother yourself, as for me, it was especially meaningful as it was my first time celebrating with my mom after living away from home for a few years. If you notice, I have been dabbling my hands in fusion dishes, I love trying to create new (or at least new to me) twists with classic dishes, most of the time incorporating some Eastern elements into classic Western favourites like my lamb chops with wasabi butter. Today's feature is the classic pork chop dish where I used some classic Chinese condiments in the sauce. Although I am not a lover of mustard in its' pure form, cue burgers/ sandwiches, I do like using mustard together with other ingredients in a creamy, tangy sauce. So, if you don't like mustard like me, you may still like this sauce.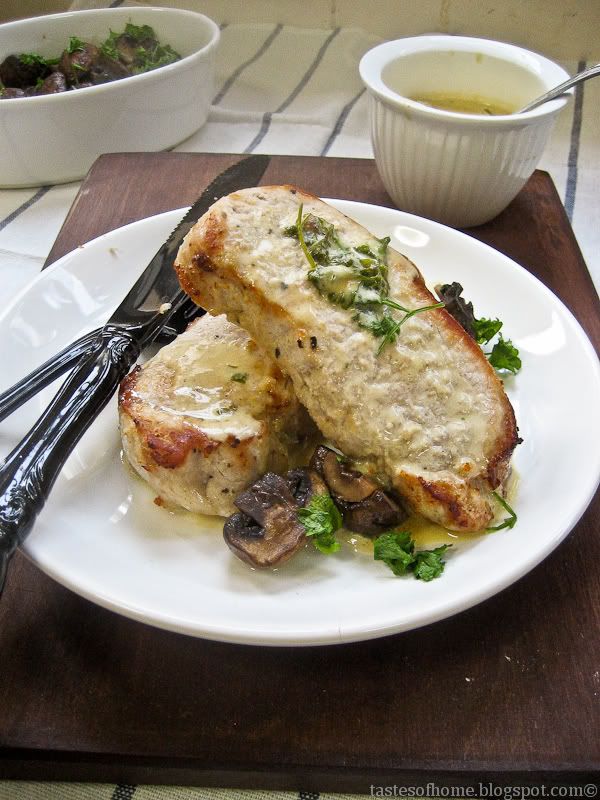 I used some light soy sauce and rice vinegar as the Asian elements in this dish that blended really well with the other 'classic' ingredients in this savoury and creamy sauce. I also added some English parsley for a hint of light fragrance and squeezed in some lemon juice for an additional refreshing tang.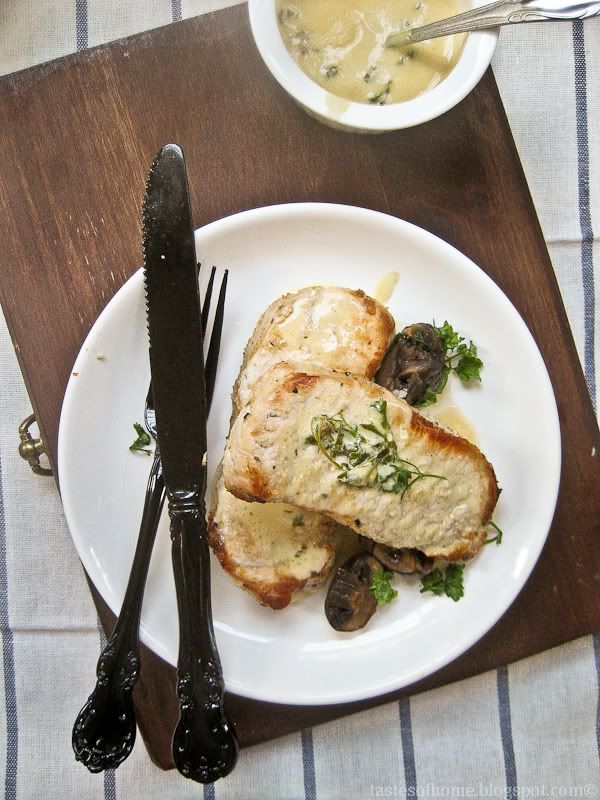 Ingredients:

4 pork chops

Marinade:

4 tbsps white wine
1 tbsp salt
1 tbsp black pepper
1 tbsp garlic powder

2 tbsps butter

Soy-mustard Sauce:

1/2 cup sliced shallots
1/3 cup white wine
1/2 cup chicken or beef stock
Juices from baking pork chops (you can skip this but this makes the sauce more flavourful)
1 tbsp rice vinegar
1 tbsp light soy sauce
2 tbsps Dijon mustard
3/4 cup heavy cream
Juice of half a lemon (optional)
English parsley (optional)
Salt & Black pepper, to taste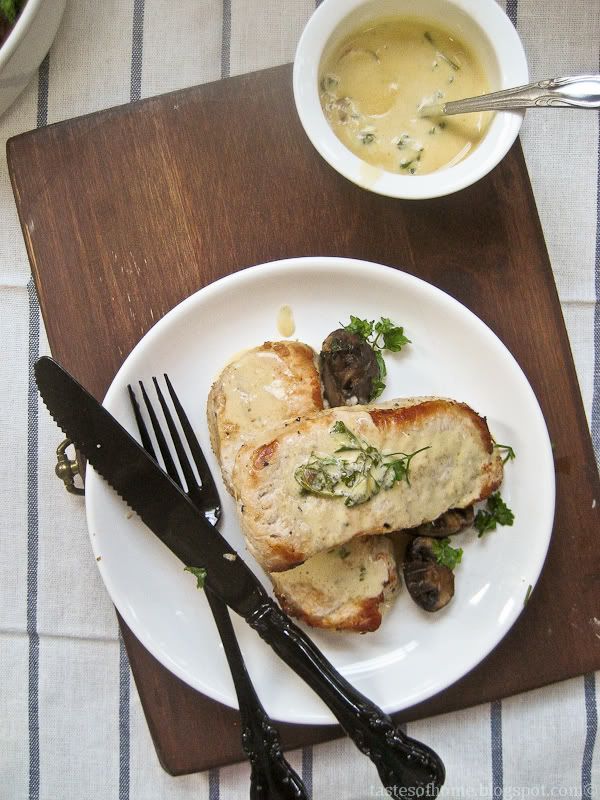 Method:

Firstly, marinade the pork chops in the above for about 30 minutes, covered.

Pre-heat the oven to 180 degrees C. Prepare a baking tray for the pork chops.

Heat 1 tbsp of butter in a frying pan. Turn heat to medium and start pan-frying the pork chops, about 3 minutes on each side. Place the fried pork chops on the prepared baking tray and place in oven and allow to cook for another 10-15 minutes or until cooked. This of course depends on how thick your pork chops are.

Once the pork chops are cooked, remove from oven and place pork chops on a platter. Carefully tilt the tray to get the juices and pour into a saucepan.

Heat up the saucepan with the juices and add 1 tbsp of butter (or alternatively you may use olive oil). Turn heat to medium.

Add the shallots and fry until a little soft. Add in the white wine. Cook until liquid reduces by about half.

Add the rice vinegar and soy sauce. Add the stock and cook until liquid reduces by about half.

Add the mustard and lemon juice. Cook again until slightly reduced and add the parsley and cream. Turn heat to low and simmer until cream reduces slightly.

Do a taste test and season with salt and pepper, to taste.