Today's feature is inspired by the classic Italian appetizer of fritto misto, essentially 'mixed fry' with a little Asian twist via the addition of some kaffir lime leaves to imbue the dish with some citrus fragrance apart from the more traditional lemon. I eschewed the buttermilk and simply marinated my prawns and squid with some smashed garlic, lemon slices, kaffir lime leaves and sea salt. You will just need to dust with some flour before frying and to infuse the seafood with a delicate hint of citrus freshness, fry the lemon slices and kaffir lime leaves first.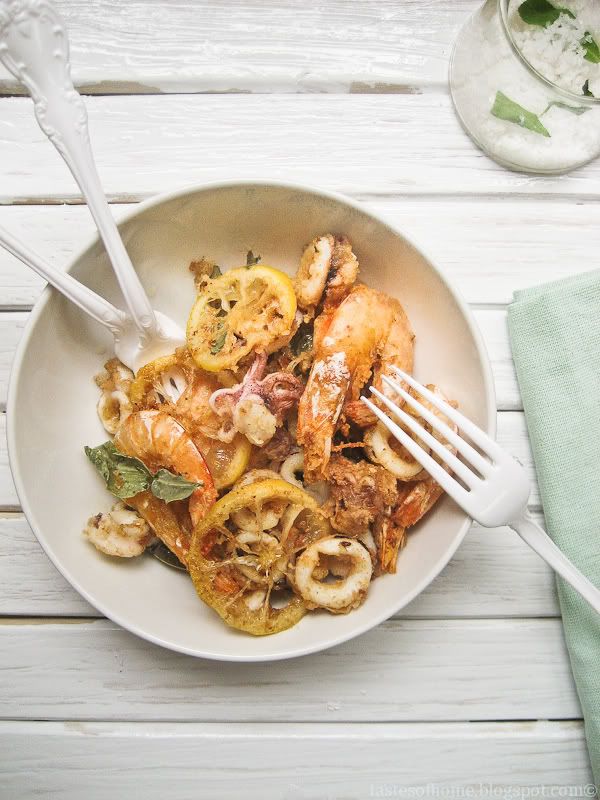 It was not only until recently that I discovered the versatility of kaffir lime leaves and one should really not limit these wonderfully fragrant leaves to Thai dishes or even just curries in general. These leaves lend a rather flowery yet fruity fragrance to many dishes and it would be pretty hard-pressed to find a good substitute. The aromatic scent will definitely leave a lasting impression on your taste buds whether you are in favour of the scent or not, I am most definitely in favour! By the way, I read before that using exclamation marks too many times while writing a blog post is a big faux pas or rather a no-no since using foreign words 'unnecessarily' is also a faux-pas er I mean no-no, oh well I guess some rules are meant to be broken!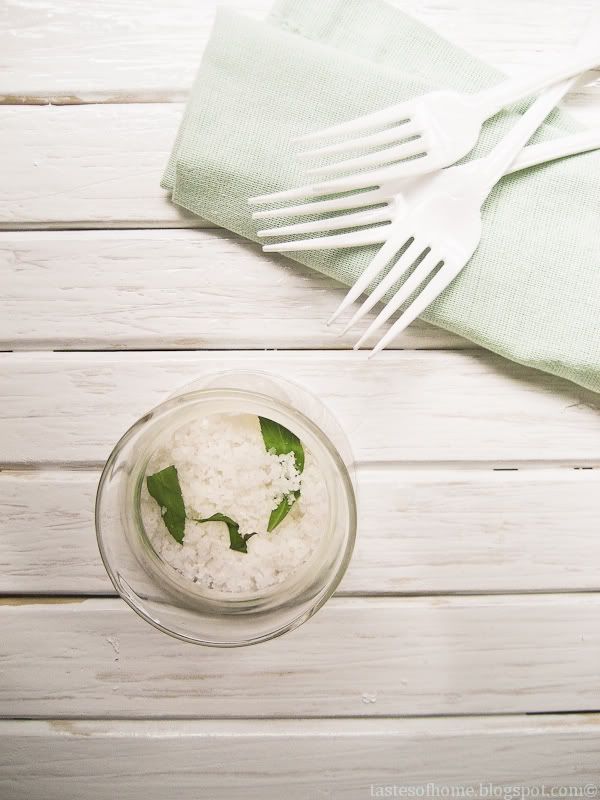 Notes: As with all seafood dishes, do try to source for the freshest available ingredients as more than half the 'battle' is won in cooking a seafood dish when your ingredients are fresh.


Ingredients:

12 medium sized prawns
4 squids, cut into rings (discard the 'beak' and the other mush inside the body and remove the eyes)
1/2 lemon, sliced thinly
1/2 cup of kaffir lime leaves
2 tbsps extra virgin olive oil
2 tsps sea salt and more to serve
4 cloves garlic, smashed
Flour, enough for dusting
Enough oil to deep-fry
Dash of black pepper




Method:

Firstly, marinate the prawns and squid with the smashed garlic, kaffir lime leaves, sea salt, dash of black pepper and olive oil. Cover and place in fridge for at least 30 minutes.

Remove from fridge and drain well as seafood will release moisture. Prepare hot oil for deep-frying.

Dust the lemon slices with some flour and fry together with the kaffir lime leaves. This will take around 30 seconds. Remove and drain on some paper towels. Fry the remaining seafood in batches until golden brown. The time required to fry the squid rings will be much quicker, around 1 minute at most and for the prawns, it will depend on the size of the prawns you used, but obviously longer than the squid rings.

Serve hot with some sea salt mixed in with some kaffir lime leaves on the side.