Sometimes you just want something easy (and relatively guilt-free) to feed your baking bug. I do have baking bug days although I would still like to maintain I don't have much of a sweet tooth (my baking confections are usually given to family and friends). You know what inspired today's post? Well, for the very simple and practical fact that I still had a few jars of natural yoghurt left in my fridge and I really wanted to use them up before they reach their expiry date. True that I bought the yoghurt mainly for the cute little jars they were sold in (ooh so many possibilities with those jars, think jellies, mud cakes, cheesecakes and so on), but perhaps it's the economist in me, I felt I needed to maximise what I had on hand to minimise losses (well wastage in this sense). I was thinking of a parfait, maybe some mango lassi and finally decided on some easy cookies since cookies are always welcome and they can always be kept for a few days unlike the others mentioned. Ugh, how practical and so not romantic - I guess my Libra tendencies were temporarily taken over by the practical economist/ analyst in me :O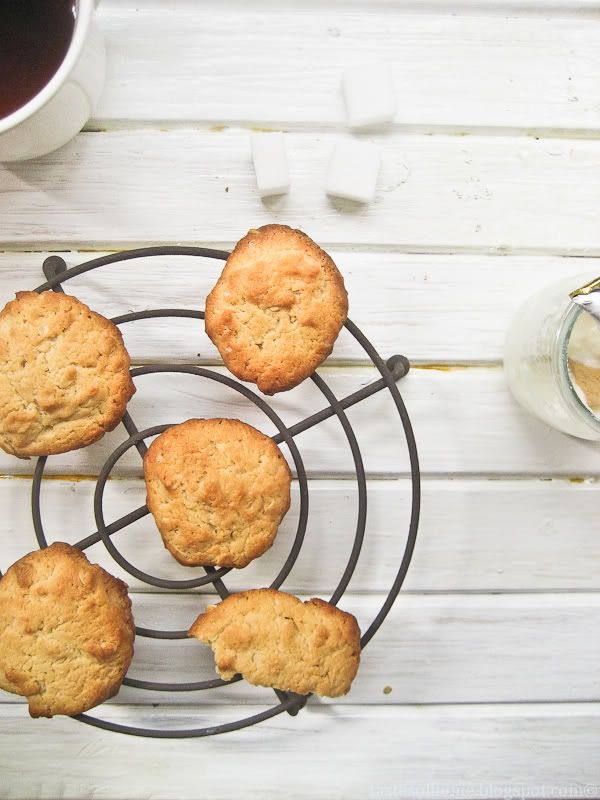 So I set about looking for a yoghurt cookie recipe and unfortunately nothing appealed to me at least from what I was able to find, so I let myself have free rein and just created a recipe for these easy (and healthy) cookies but of course I do have some experience baking cookies by now so maybe that helped. With the yoghurt incorporated, these cookies turned out incredibly moist and chewy. I basically tried to replace the usual milk in most cookie batters with the natural yoghurt which turned out to be a very good idea indeed, well at least to me. The oatmeal was added for some crunchy texture to the cookie and well I like oat cookies so that could also probably be why. If you like oat cookies and prefer your cookies chewy and moist, you will most probably like these too. Big plusses- these are incredibly easy, quick to make and of course not forgetting delicious and are perfect for a freshly baked tea-time snack.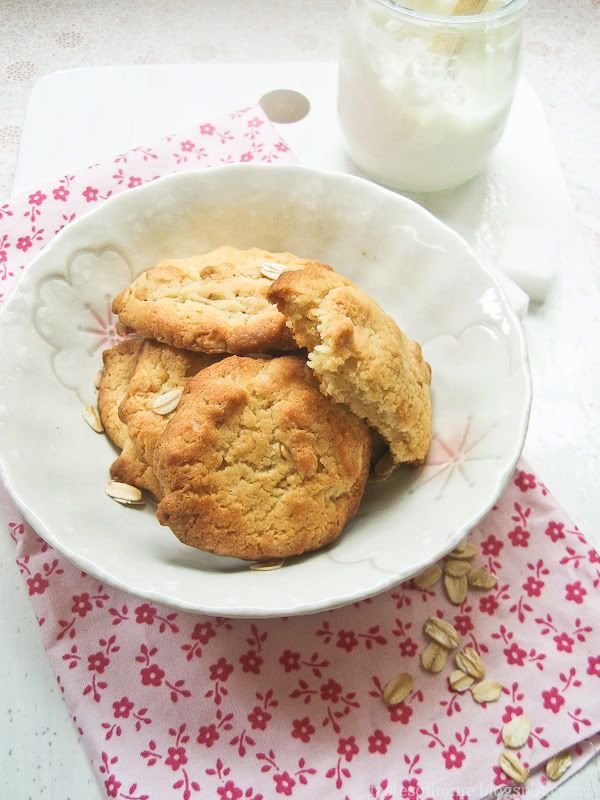 Serving suggestion: Love these served with a hot cup of tea or coffee

Makes about 15 cookies

Ingredients:

1/2 cup unsalted butter (or 125g), softened at room temperature
1/2 cup packed brown sugar
5 tbsps white sugar (or more if you prefer)
1 tsp vanilla essence
1/2 cup oats
1/3 cup natural yoghurt
1 1/4 cup all purpose flour
1 tsp baking powder
1/4 tsp salt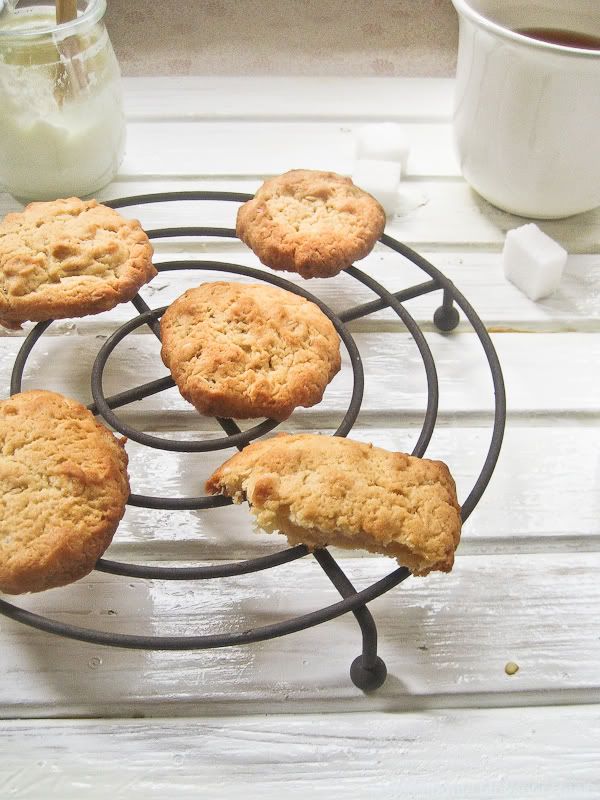 Method:

Preheat oven to 180 C (about 350 F). Prepare 2 baking trays by lining with lightly greased baking paper. You will have to bake the cookies in 2 batches as they should be baked on the middle rack, so prepare a rack for baking in the middle.

First, beat the softened butter until almost fluffy.. Add in the brown and white sugar. Cream until pale and fluffy. Add in the vanilla essence. Add the flour (mixed with the baking powder) in 2 increments and stir well to incorporate, using a spatula to scrape the sides for even mixing now and then.

Add the yoghurt and mix to incorporate. Since this is an eggless batter, you can do taste tests throughout and add more sugar if desired. Add the salt. Mix well.

Finally, add the oats and stir to mix. Spoon onto prepared baking trays, about 1 tbsp per cookie, making sure to leave about 2 inches at least between the cookies since they spread a little. Bake for about 15 minutes or until golden brown.

Cool on racks and serve.