I love love pasta, being the self-confessed noodle fiend that I am, I guess that should come as no surprise. Apart from cooking and eating (of course) I am always interested in the origins of dishes and more often than not, you can find many similarities in cuisine from markedly different cultures. Many apparently subscribe to the theory that when Marco Polo visited China and saw the variety of noodles in the Middle Kingdom, he introduced pasta to the Italians when he returned. Now, I am not sure if that is fully accurate but it does sound logical since the Chinese civilization is one of the oldest. Bolognese in particular has been said to have originated from China's famous zhaziangmian which is a noodle dish served with a meat-based sauce. Nevertheless, origins aside, can I say I love both zhaziangmian and spaghetti bolognese?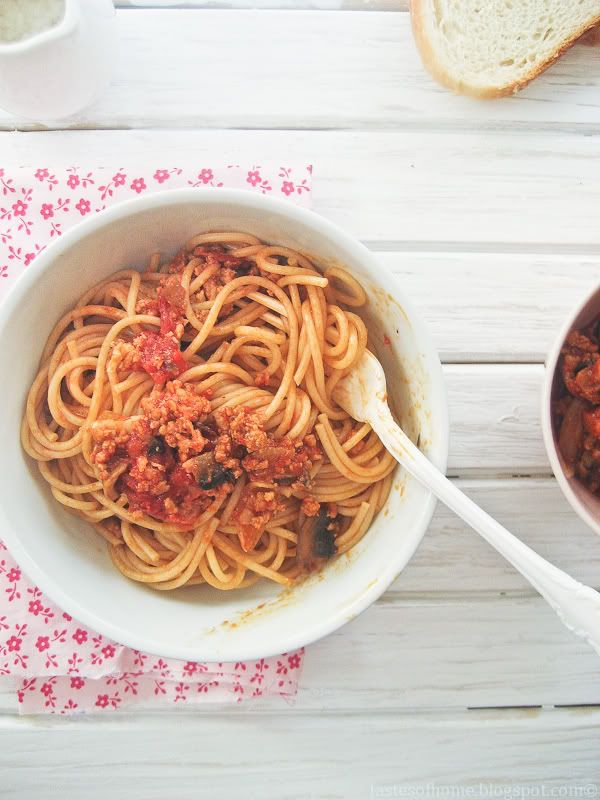 Today's feature is the result of yours truly trying to make bolognese sauce from scratch for the very first time. I used ground pork instead of beef as my mom does not eat beef for religious reasons and pork worked great, better than chicken as the texture of ground chicken is a bit dry (I am not a chicken breast fan) so that may be why. I added some mushrooms, garlic, rosemary and this may sound blasphemous to you purists out there - I added some ketchup for a bit of refreshing tang . I prefer my bolognese sauce with more meat and less tomato which is apparently the authentic style, so maybe that may sound a little 'redeeming'. This was served with my kaffir lime fritto misto for a little Asian twist to an 'Italian' dinner.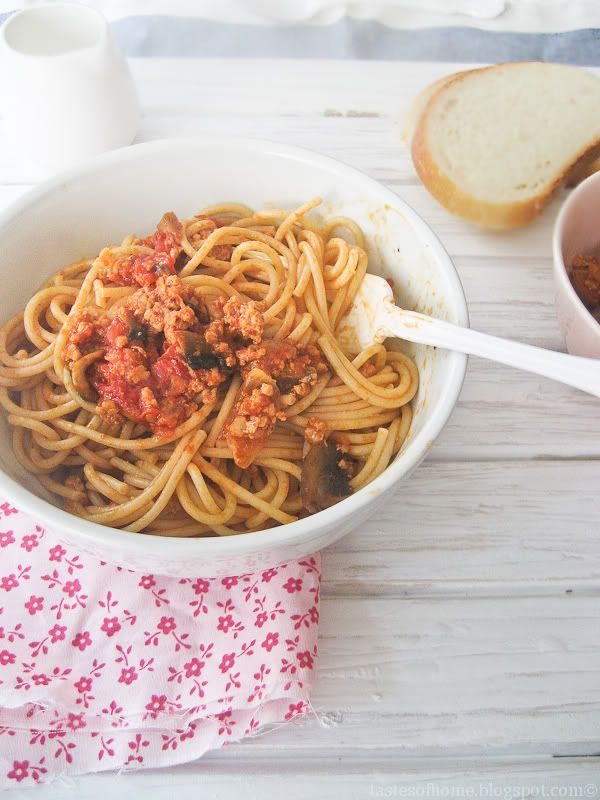 Since this is such a hearty dish, I used whole wheat spaghetti to lessen the guilt (and carbs) factor. I am submitting this as an entry to Presto Pasta Nights created by Ruth of Once Upon A Feast and hosted by Kirsten of From Kirsten's Kitchen To Yours this week.



Ingredients:

(Serves 6-8)

For the sauce:

100g tomato paste
4 whole canned plum tomatoes
300g ground pork (use beef or chicken to substitute if you like)
1 red onion, sliced
6 garlic cloves, smashed
1 sprig of fresh rosemary
3 tbsps ketchup (optional)
1 tbsp sugar
3 tbsps freshly grated parmesan (optional)
1 cup sliced button mushrooms
Pinch of salt

1 box whole wheat spaghetti, boil according to package instructions (in some lightly salted water)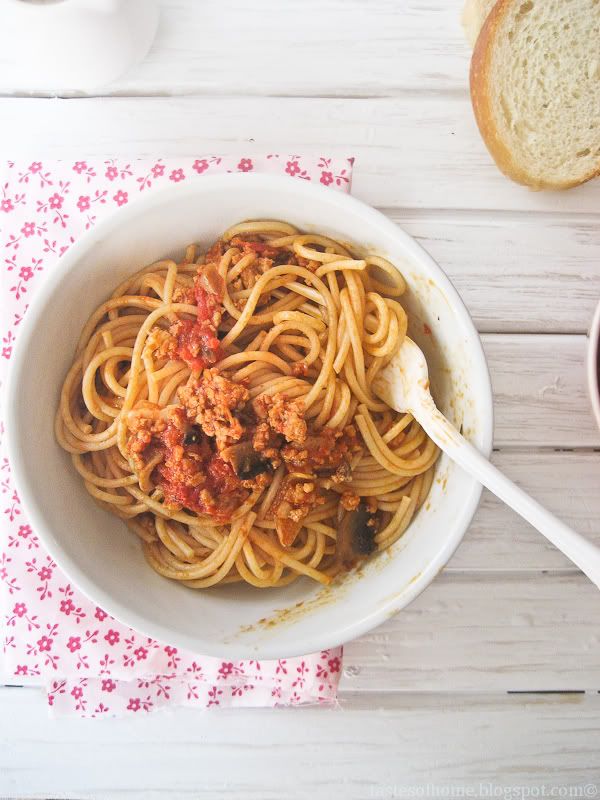 Method:

Saute the garlic and onions until aromatic. Add in the ground pork and saute until lightly browned but not entirely cooked. Add in the mushrooms and stir for about 1 minute. Add in the tomato paste and canned tomatoes, stirring all the while. Bring to a boil.

Add the sprig of rosemary and ketchup plus sugar and then lower heat to low for simmering. Simmer covered for about 30-40 minutes. The sauce should have thickened up considerably by now. Do a taste test and a pinch of salt if required. Once you are happy with how thick the sauce is, add in the parmesan cheese and give it a stir right before you want to dish out.

Serve with whole wheat spaghetti. Leftover sauce can be refrigerated and kept for up to 3 days.