The first time I made or rather helped made pizza was probably when I was in primary school or so. We got to know an English lady who absolutely loved baking and we were frequent visitors to her house. I remember being so intrigued with the various stages of the process, waiting for the dough to proof, getting to pick whatever toppings we wanted to put on the pizzas and so on. If I remember correctly, the crust her recipe produced was really good despite the fact that she did not use a pizza stone or baking tiles to bake on. Anyhow, for today's feature instead of using a classic pizza crust I used my favourite fool-proof naan recipe as the base and for the topping, I used Yuen Chun's Thai Stir-fry sauce in place of the usual tomato-based sauce and added some grilled chicken with a handful of fragrant of curry leaves (and of course cheese). The results of my little experiment was extremely delicious with the spicy, slightly sweet and sour notes from the sauce, the unbeatable fragrance from the curry leaves blended with the grilled chicken and surprisingly (or not?) the cheese provided the perfect 'glue' for all the ingredients.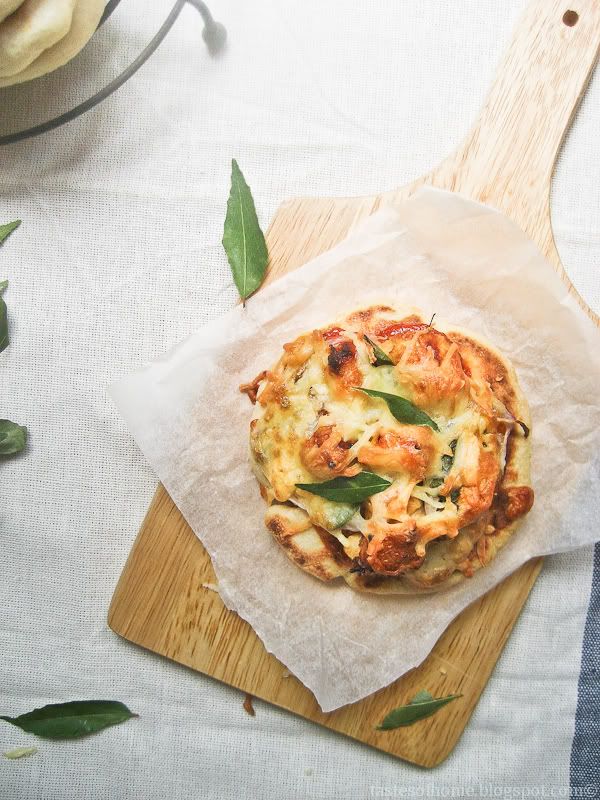 In other news, I was voluntarily unplugged for most of yesterday and at first I felt so uneasy without my beloved internet access and then I slowly got used to it. Hmm, I guess it's true that humans are really creatures of habit. I do hope you will give this naan pizza experiment of mine a try, if you are not interested in making naan from scratch, you can always substitute with store-bought versions although kneading dough to me is very therapeutic albeit a little tiring.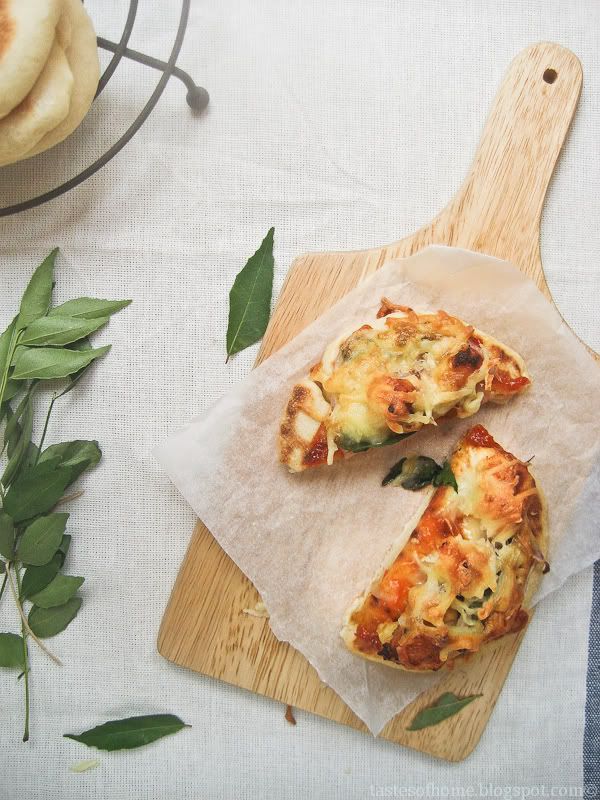 I am also sending this to Susan of Wild Yeast for her weekly Yeastspotting event. This post is part of my series of Yuen Chun Recipes, an ongoing project on this blog. Yuen Chun products have been in my family kitchens since the time of my late maternal grandmother and I am very pleased to be given the opportunity to work on this project with them.


For the Naan (please refer here for a photo tutorial if you prefer)

Ingredients:

1 tsp rice vinegar or white vinegar
50 ml full cream milk (I used warm milk) - fresh or powdered milk are both fine
1 tsp sugar
200 ml water/ 1/2 cup of water
1 1/2 tsp dry yeast
3 cups all purpose flour + more for dusting while kneading
1 tsp salt

Method:

Firstly, add the vinegar to the milk for soured milk and set aside for about 15 minutes. At the same time, dilute the sugar with 100ml of water and add in the yeast granules and set aside for 15 minutes.

After 15 minutes, the milk mixture should be curdled and the yeast mixture should be frothy. If the yeast mixture is not frothy at all, it means the yeast has died and you will have to repeat that step.

In a large mixing bowl, mix the flour and salt together. Now with your hands, create a well in the middle and slowly pour in the yeast mixture and the soured milk. Add in the rest of the water. Start kneading to form a soft dough.

Continue kneading until you get a smooth and elastic dough, about 15 minutes. Use flour to dust your hands as and when necessary although I did not need the dusting flour as the dough came together pretty quickly for me this time.

Lightly oil a bowl for proofing the dough in. Place the dough into the bowl and cover with a damp kitchen cloth/ towel.

Allow to proof for about 1 hour or until doubled in size. Proofing time may be longer if you live in colder weather.

After 1 hour, prepare a lightly floured surface.

Remove the dough from the bowl and knead lightly to get rid of some of the air. Roll into a thick cyclinder and divide into 8 portions. Take each portion and shape into a ball and place on a lightly floured surface. Repeat with the rest.

Allow to rest for about 20 minutes until they have risen. Take each ball and press it down with your palms to form a flat oval or circular shape. Place on lightly floured surface again. Repeat with remaining balls. Allow to rest for another 20 minutes covered with a piece of dry cloth.

Prepare a pan for frying (preferably heavy bottomed) on high heat and pan fry the naan (without grease) for about 1-2 minutes on each side (covered). The pan should be covered to recreate the tandoor-like effect. Do check frequently to avoid burning. Once fried, brush lightly with some butter and set aside.

For the Chicken Topping:

Ingredients:

Chicken breast from 1 chicken, cubed (I used free-range)
1 tbsp light soy sauce
Dash of black pepper
3 cloves garlic, smashed
1/4 red onion, sliced
1 tbsp olive oil

Method:

Pre-heat your oven to about 200 C (about 392 F) and use the grill function if you have one. In an oven-safe pan, add the garlic, onions and chicken. Add in the soy sauce and black pepper and olive oil. Mix to coat. Wait for about 10 minutes then place in hot oven and roast for about 15-20 minutes. Remove from oven and set aside. Do not switch off the oven as yet.



For the Assembly of the Pizzas:



Ingredients:

1 cup of mozzarella cheese or use cheese of your choice
1 handful of fresh curry leaves, rinsed
1/2 cup of Yuen Chun's Thai Stir-fry Sauce
1/4 red onion, sliced




Method:

Spread the Thai sauce on top of each naan with the back of a spoon. Arrange the grilled chicken, curry leaves and onions on top of each 'pizza' and top with cheese.

Bake in the oven at 200C for about 10 minutes or until cheese is melted and starting to brown slightly. Serve hot.