As I've mentioned earlier, the world of Indian spices is mostly foreign to me as in the past, I had mostly taken the easy way out and made curry with store-bought pastes, doctored-up of course but still store-bought. So, after making my korma chicken earlier, naturally I still had a lot of spices left i.e. cardamon, fennel and cumin. My mind set to work thinking of the myriad of ways I can use up these fragrant spices - that is how today's chicken skewers came about. I was deliberating between deep-frying spicy nuggets, grilling chicken and finally decided on today's easy grilled chicken skewers or satay so to speak. The chicken is first marinated in a mixture of the spices, smashed garlic, curry powder, curry leaves, some sea salt and natural yoghurt. The yoghurt serves to tenderise the chicken meat and if you feel like indulging, you can replace the yoghurt with thick coconut milk. If you have the space and time, these will taste even better if you could roast on a barbeque grill but in the interest of ease and uh, laziness, I merely roasted these skewers in the oven. The chicken skewers are packed with intense flavours from the spices and of course are quite spicy, if you wish, you can simply omit the bird's eye chilli peppers or use large red chilli peppers for milder heat.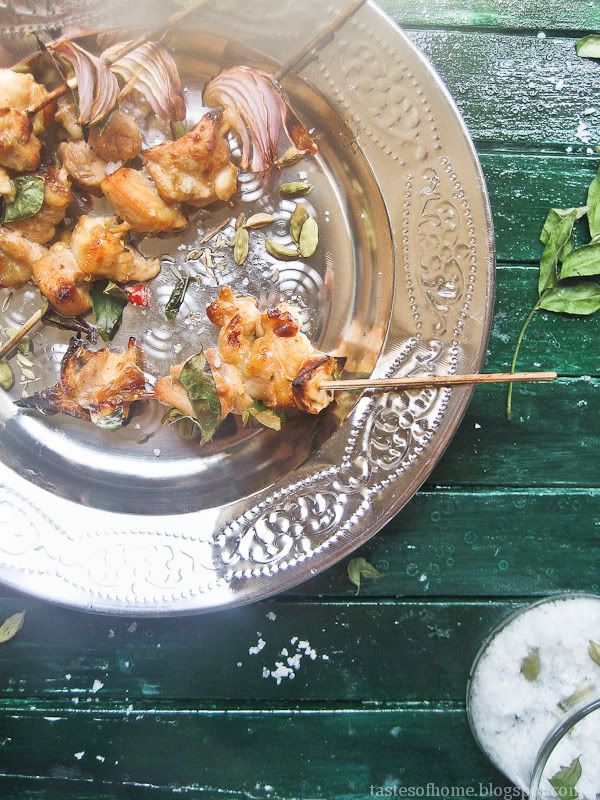 I am slowly discovering the wonderful or spices and seriously can't wait to experiment more. The possibilities are definitely boundless. I've always loved food on a stick, who doesn't? I only realised today that since my rather old post of fried shrimp balls, I had not feature any food on a stick since and that was back in 2008! Ooh, how time flies. How cliché but oh so true.




These easy skewers will be perfect for parties as they can made ahead and especially if you're up for a barbeque with friends, these will be good alternatives to the usual though no less delicious choices. In fact, I think I will be including these on the menu for a little party I'm planning for my brother and his university friends. I do envy them when I see them and wish I could go with them to UK and relive my student days - they are also frequent visitors of this blog and have actually made some of my dishes, yes even while studying abroad. In fact, they even made egg tarts earlier which I am a little embarassed to admit, I keep procrastinating on to make although I bought the tart moulds weeks ago. I digress, anyway I hope you'll give these easy skewers a try and if you don't like the spices used, please feel free to substitute with other condiments of your choice and create your very own 'signature skewers'! :O (If you do that, I would love if you could give me some feedback on what you adjusted)




Makes 16 skewers

Ingredients:

2 boneless chicken thighs, cubed

Marinade:

1/2 tsp cardamon
1/2 tsp fennel
1/2 tsp cumin
1 jar (about 1/2 cup) natural yoghurt
1 tbsp meat curry powder
1 tsp sea salt
3 cloves smashed garlic
2 sprigs curry leaves (removed from stem)
2 bird's eye chilli peppers, sliced

1 red onion, cut into wedges
Additional sea salt to serve with or alternatively serve with natural yoghurt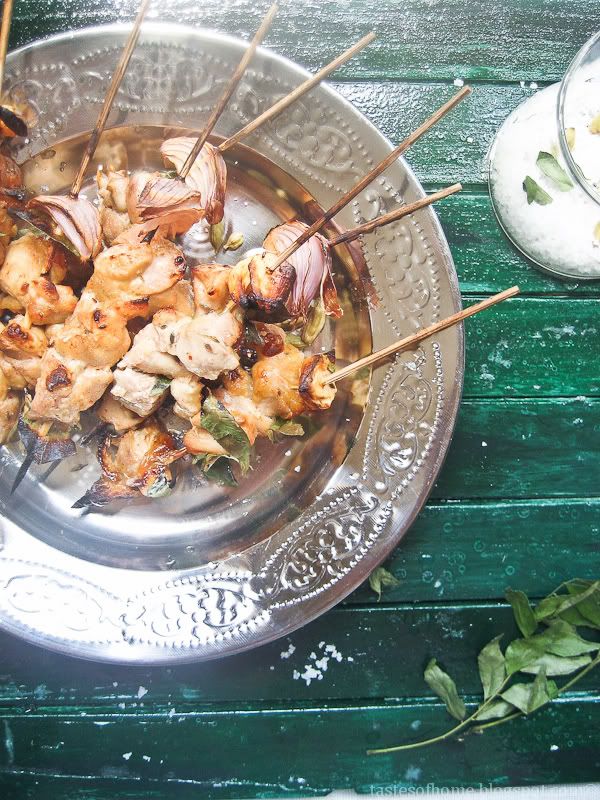 Note: I soaked the sticks in water for a ten minutes before leaving to dry overnight, this is especially important if you are planning to cook over the bbq to avoid any possible accidents.

Method:

Marinate the chicken in the above and set aside for at least 30 minutes, longer if you can. About 15 minutes before you're ready to roast the chicken, pre-heat your oven to about 200 C (about 380 F) and use the roast chicken function if your oven has one.

Assemble the skewers with one wedge of onion on each skewer and alternating with the chicken if you wish.

Place the skewers on a small tray or oven-proof dish without the chicken meat touching the tray. This ensures better overall cooking and with this step, you will not have to turn the skewers over in the middle of cooking. I don't know about you but I find turning cooking food in a hot oven rather difficult and a little risky - I've definitely burnt myself!

Serve hot with some sea salt or natural yoghurt.