I just love love braised dishes and it's quite interesting how there are many similarities between the braised dishes of various cultures. For instance, today's dwaeji galbi which is the spare ribs or pork ribs version of popular Korean dish, galbi jim really reminded me of the classic Chinese braised spare ribs with daikon and the popular Japanese homey dish of niku jyaga. Daikon is usually a common denominator in most Asian braised dishes, at least based on my experience as daikon lends a natural sweetness to dishes and absorbs all the flavours in braised dishes perfectly. Today's dish is usually considered a fall dish as mostly root vegetables are used and also chestnuts. This is in fact the first time I cooked with chestnuts, chestnuts always remind of my childhood as we loved (and still do) enjoy eating them right out of their roasted shells. I always considered it a treat in my childhood also maybe because it required quite a bit of peeling to get to the tasty chestnuts and it was always a challenge between my siblings and I to see who peels the quickest or is able to peel one whole without breaking. Biting into the almost powdery chestnut inside then becomes just so much more fun.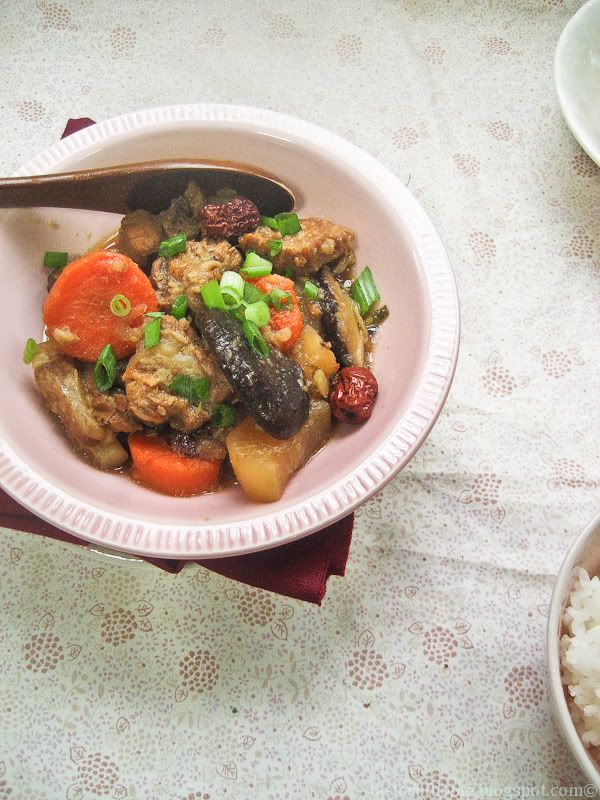 Anyway I digress - apart from the usual 'suspects' in braised dishes, cue daikon, onions, garlic, today's dish includes potatoes, shitake mushrooms, red dates, sesame seeds and of course chestnuts which I don't see being used in Chinese or Japanese braised dishes. One of my favourite things about Korean cooking is the ingenious use of a variety of vibrant and delicious vegetables all in one pot and today's dish displays that perfectly. You can use this recipe if you are using beef short ribs as well, being Chinese, I always add rock sugar when I braise beef instead of just granulated sugar as rock sugar helps to tenderise the meat. The Korean method of tenderising meat however is usually Asian pear or kiwi juice - interesting is it not? Anyway, I like both methods but the fruit juices do add natural sweetness but if you don't have these fruits readily available, you can try rock sugar.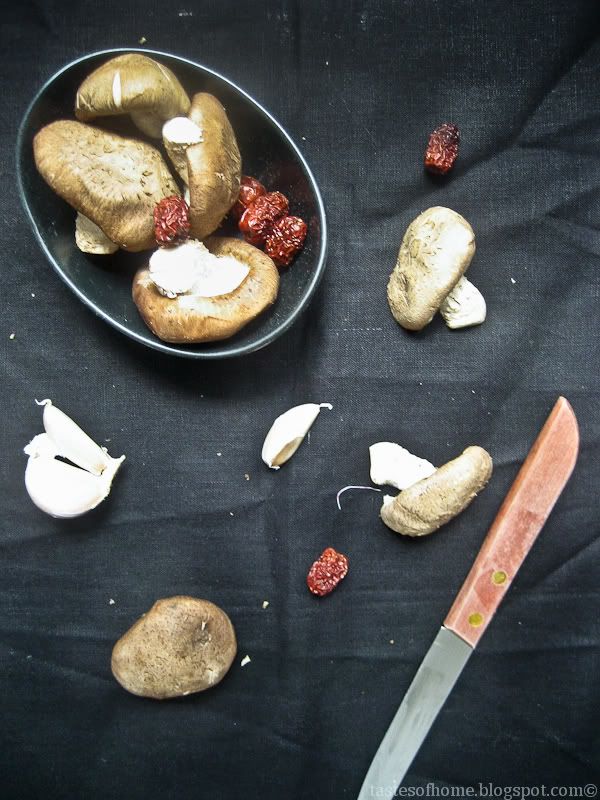 Recipe adapted from Book of Japanese & Korean Cooking

Serving suggestion: with rice

Ingredients:

12 inches worth of spare ribs, rinsed and sliced to 1 or 2 inch lengths
1 small potato, cut into wedges
2 red dates, pitted
1 daikon, cut into wedges (remove skin)
1 carrot, sliced to 1/2 inch thickness
1 red onion, cut into wedges
4 green onions, sliced finely (save some for garnish)
8 fresh shitake mushrooms, halved and remove stem
6 raw chestnuts, skin removed
2 tbsps mirin or sake
1 tbsp light soy sauce
1 tsp salt, or to taste

Seasoning:

3 cloves smashed garlic
4 tbsps light soy sauce
1 tsp sugar
Juice from 1 Korean pear or 1 kiwi fruit
1 tbsp freshly grated ginger
1 tsp sesame oil
1 tbsp toasted sesame seeds
1 tsp salt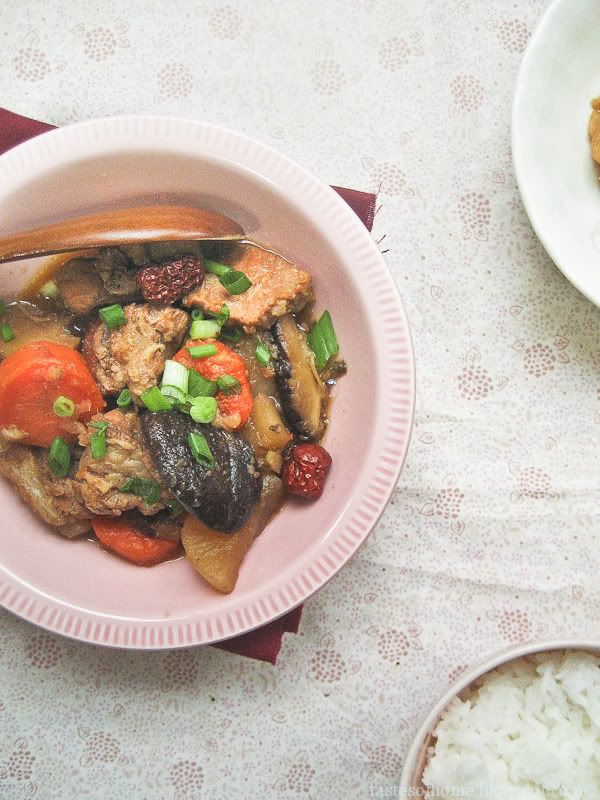 Method:

Firstly, rinse and pat dry the pork ribs. Place in a large pot with enough water covering the ribs and bring to a boil. Once boiling, remove the pork ribs and rinse with cold water. Discard the water in the pot.

Mix the seasoning ingredients together in a large enough bowl to place the ribs. Place the blanched ribs in the bowl and mix well to coat. Allow to marinade for at least 20 minutes.

Prepare a large claypot or regular pot for braising. Place the ribs together with the seasoning into the pot and add the vegetables including the chestnuts and mushrooms. Pour about 1 1/2 cup of water into the pot and add more to just barely cover the ingredients. Bring to a boil.

Add the mirin or sake then turn heat to low for simmering, covered (my claypot cover has little vents in the cover so if yours does not, tilt the cover a little bit). After about 30 minutes, do a taste test and add more of the soy sauce or salt if required. Allow to braise for another 30 minutes or until tender. Remove from heat and serve hot with rice.

Note: As this is a braised dish, you can prepare this in advance and reheat when it's time to serve. In addition, this is an even more flavourful dish the next day if you manage to save some leftovers!