My entire family loves korma curries and today's dish is a classic korma curry made with chicken. Korma curries are usually milder but you can of course kick up the heat by adding more chilli peppers. Growing up in Malaysia, I am lucky to have been exposed to Indian curries at an early age and kormas remain one of our favourites, serving with steamed rice is a given for us but kormas served with Indian breads make a great meal as well. I have to admit that the world of Indian spices is a little foreign to me as I had always taken the easy way out and made short-cut curries with store bought pastes, doctored up of course but still essentially store-bought. So, that explains my predicament at the grocery store earlier when I was trying to buy the spices for this dish, I was totally confused as I only had the names of the spices in English whereas the local grocery store I frequented only had the names in the Malay language - I was so lucky as there was a very kind Indian lady who patiently showed me the spices I required. Hence I shot a photo of the spices labelled with their names for your easy reference just in case.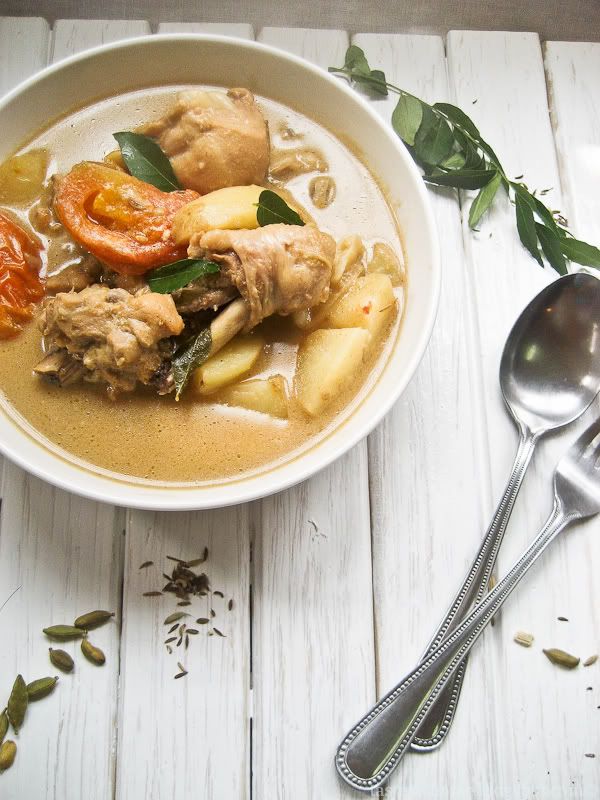 Instead of coconut milk, you can also use natural yoghurt as the cream in this curry - the recipe I adapted this dish from suggests the addition of some fresh lime juice to thick coconut milk which results in your very own coconut yoghurt which was extremely delicious I must say. Korma curry is also a little more unusual in the sense that tomatoes and ginger are added which differ from the other curries I have attempted but then again I still consider myself a curry newbie not in eating of course but when it comes to cooking (from scratch). This dish combines flavours that are slightly spicy, tangy, fragrant from the herbs with smooth creamy textures that are altogether just so delicious and comforting. I did add my Chinese influence to the dish by adding some light soy sauce which I thought did a great job in bringing out the savoury flavours of the dish. I do hope you will give this a try but then again, I suppose you can always opt for store-bought curry pastes. A disclaimer, I cannot vouch that this recipe is a hundred percent 'authentic' (there seems to be many different versions) but I can vouch that this was delicious :O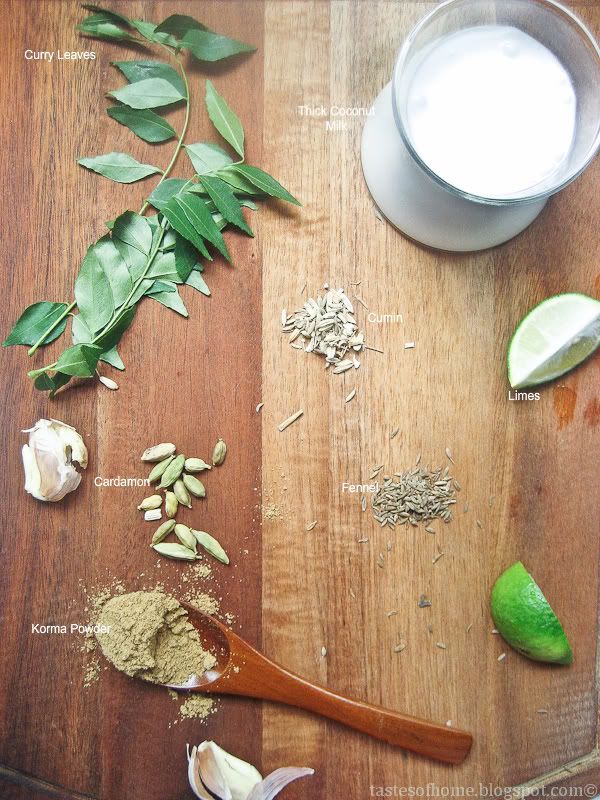 Recipe adapted from Feminine Magazine (Chinese Magazine)

Note: This recipe calls for marinating of the chicken so plan ahead (marinade for about 30 minutes to 1 hour)

Serving suggestion: with rice or Indian/ Malay breads

Ingredients:

8 chicken drumsticks, chopped (or use boneless thighs/ other meats)
4 small potatoes, peeled and cut into wedges
2 tomatoes, cut into wedges
3 cloves garlic, smashed
3 cm of young ginger, sliced
3 tbsps korma powder and more to taste
1/4 tsp cumin
1/4 tsp fennel
3-4 cardamons
1 red or yellow onion, sliced
3-4 bird's eye chilli peppers or 1 large red chilli pepper (milder)
1 sprig of fresh curry leaves (only add the leaves), rinsed
1 cup of thick coconut milk + 1 tbsp fresh lime juice (mixed in)
2-3 tbsps light soy sauce or to taste (optional)
Pinch of salt
2 tbsps of cooking oil or ghee (I used oil)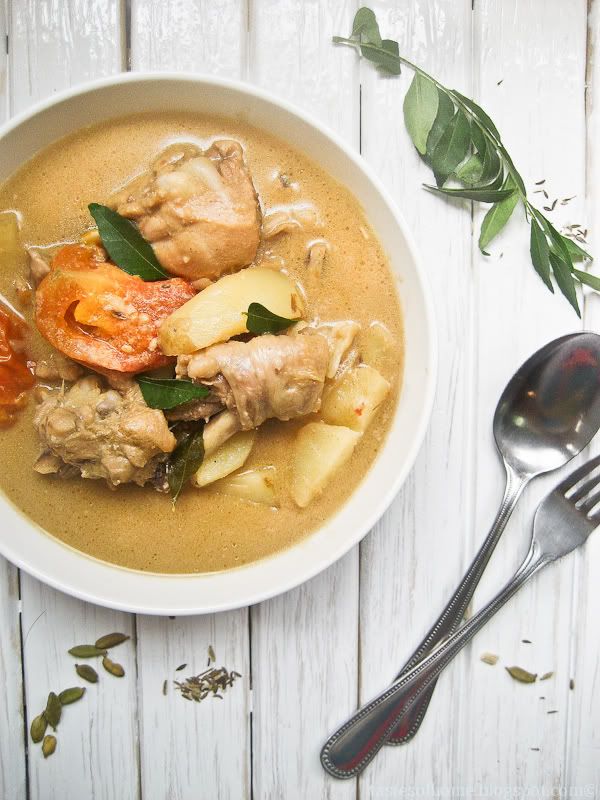 Method:

Firstly, rinse the chicken well and pat dry with a kitchen towel. Marinate the chicken pieces with the garlic, ginger, korma powder and about 1/2 cup of water for about 30 minutes to 1 hour.

Once the chicken is marinated, drain and set aside. Heat about 2 tbsps of oil in a pan or wok and once hot, stir-fry the potato wedges until the sides become slightly browned. Remove from pan and set aside.

In a wok or pan, heat about 2 tbsps of cooking oil. Once hot, turn the heat to medium and add in the cumin, cardamons, fennel and curry leaves. Once aromatic and you see the cardamon pods popping out, add in the onion slices and chilli peppers and stir fry until the onions turn translucent. Add in the chicken pieces together with the garlic and ginger and stir fry around until slightly browned.

Add about 3/4 cup of water into the mix and bring to a boil. Add the potatoes from earlier. Pour in the coconut milk mixed with lime juice gradually while mixing. Bring to a boil again and add in the tomatoes. Add another 1 tbsp of korma powder and mix well. Turn heat to low and allow to simmer covered for about 30-40 minutes, checking occasionally. The curry should thicken up with simmering.

Add the soy sauce to taste and a pinch of salt. Serve hot.