I know it has not been that long ago that I just featured the classic spaghetti bolognese but I just could not resist making a Thai version of sorts, hence culminating in today's post. As a self-confessed noodle fiend I guess my recent frequent noodle posts should come as no surprise eh? Anyhow, I know I've been displaying a penchant for fusion foods lately as I have been so excited to discover that Thai spices seem to be very versatile and add just enough of a twist to otherwise classic Western dishes. For my Thai bolognese today, I used Thai basil, shallots and a little lemongrass to flavour the sauce, oh and not forgetting the small handful of bird's eye chilli peppers thrown in for added heat. In addition, instead of using tomato paste as is traditional, I used a Thai sauce (from Yuen Chun) which has spicy, sweet and slightly tangy flavours, you can probably find this in most Asian grocery stores. If you are unable to find Thai basil, you can substitute with Italian basil where the latter is slightly milder in flavour so feel free to be more generous with the portion used and also have fun experimenting with different spices in your kitchen.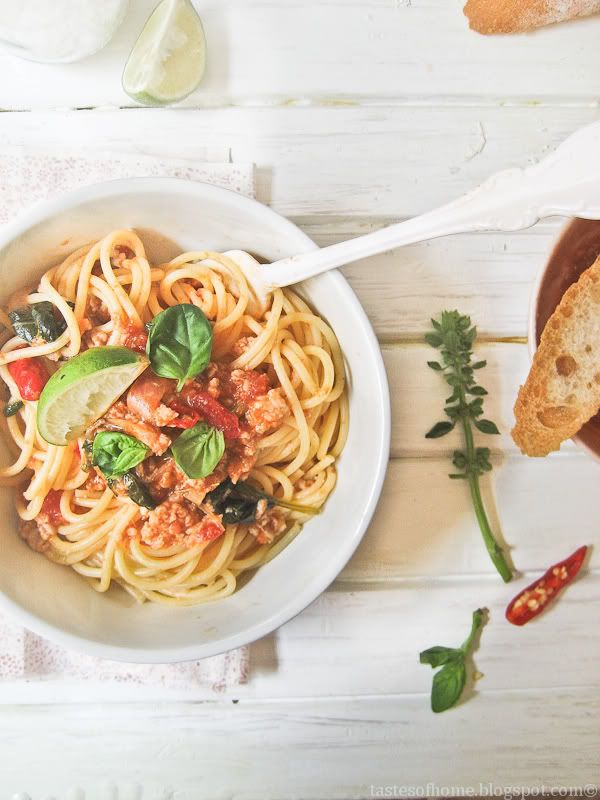 In other news, I have been reading about how food bloggers have been receiving a especially restaurant reviewers have been receiving lot of flak from say print-media journalists, chefs, restaurants etc and like many others, I do find the phenomenon interesting. I guess if you 'put yourself out there' for lack of a better description (I know that phrase is badly overused), criticism is bound to come and you obviously can't expect everything to be positive however I think that readers should be able to judge for themselves and obviously the onus is not on the blogger entirely. I guess I'm 'safer' in a way since I just feature recipes for home cooking and despite the rude comments that come in now and then, my blogging experience has been nothing short of fun and inspirational. By the way, I shall disclose though that I usually delete rude comments immediately :O. Update: I may have spoke too soon! I entered one of these photos for a spaghetti contest here and there you are, one of the rudest (and rather childish what with the 'ewww') comments I've seen. Anyway, open contests seem to be breeding ground for rude commenters, this is not the first rude comment I've seen on these contests and I'm sure it will not be the last. Funny how rude commenters are never the participants...boggles the mind...oh well :O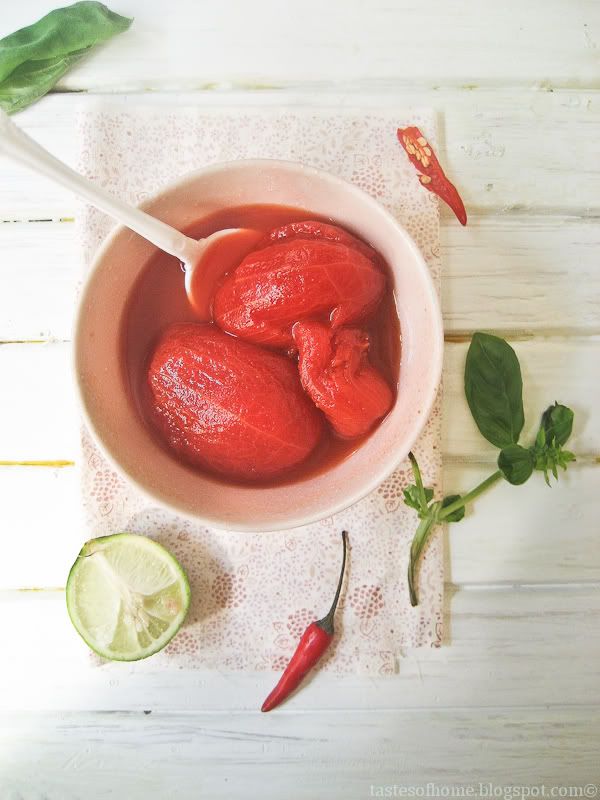 This post is part of my range of Yuen Chun Recipes, an ongoing project on this blog.




Serves 4




Ingredients:

1 packet of spaghetti
1 pound ground pork
1/2 cup of Thai basil leaves, rinsed quickly
1 stalk lemongrass (only white parts - smashed)
3-4 bird's eye chilli peppers, sliced (seeded if you want less heat)
3 cloves garlic, smashed
4 shallots, sliced
4 whole canned tomatoes
6 tbsps Thai stir-fry sauce
4 tbsps ketchup (add more if desired)
1 tsp sugar
1 tsp salt or to taste
1/2 cup parmesan cheese (optional)
Dash of freshly ground black pepper (optional)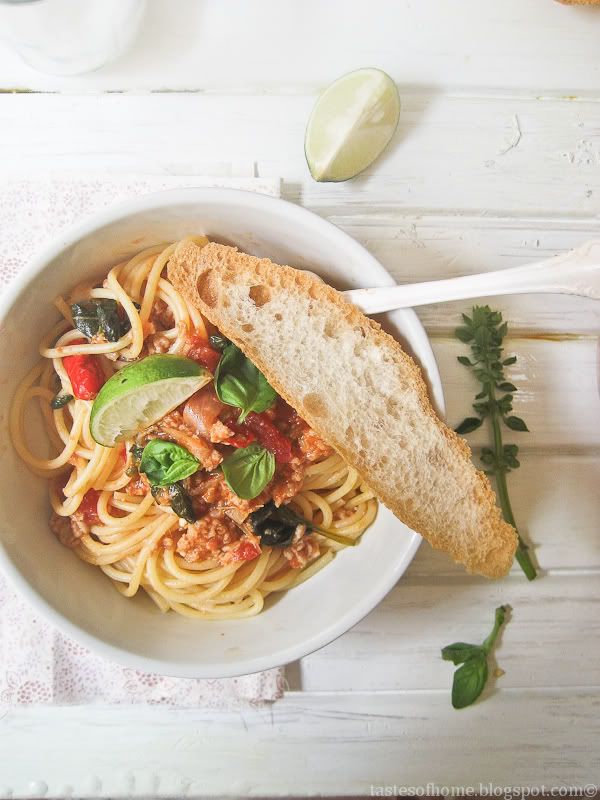 Method:

Cook the sauce first as it will need time to simmer and also it can be reheated when your pasta is ready.

Heat up a pan and add about 2 tbsps cooking oil. Once hot, add in the onions, garlic and chilli peppers and saute until aromatic. Add the ground pork and stir-fry until lightly browned. Add in the basil leaves and lemongrass. Add the tomatoes including the liquid and bring to a boil.

Turn heat to low and add the Thai sauce and ketchup. Bring to a boil again. Add the salt and sugar. Remove lemongrass and discard. Turn heat to low and allow to simmer half-covered for about 20 minutes. Add the parmesan cheese. Do a taste test and add more ketchup or salt if desired.

Cook the pasta according to package instructions until 'al dente'. Drain and set aside.

Serve the pasta and sauce at the table with extra salt and black pepper on the side for guests to season according to individual preferences. Reheat the sauce if necessary of course.