Cheesy and savoury flavours combined in pillowy soft and fluffy buns -right up my alley. The tangzhong method is a fool proof way to achieve pillowy soft bread and is always a winner. This method is a Japanese method for baking bread and requires a starter, tangzhong (汤种) which can be loosely translated to mean a water roux starter. This method of baking bread produces the characteriscally soft and fluffy textures found in Japanese breads and if you're a fan of the latter, you really have to try this method the next time you're in the mood for some homemade bread. When I lived in the US, one of the things I missed about living in Asia was the close proximity of good or at least decent Japanese/ Asian bakeries.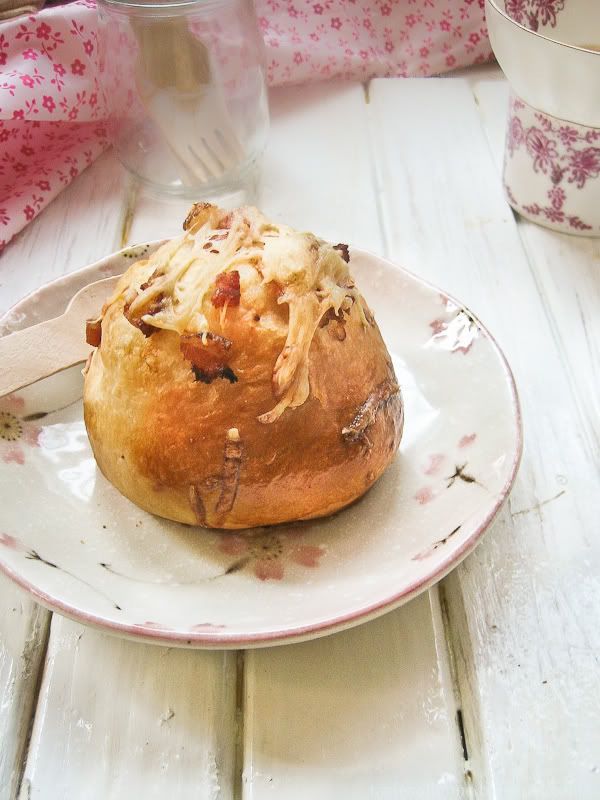 I had read about tangzhong fleetingly in the past but it was not until I saw the lovely bread posts by Christine of Christine's Recipes that tangzhong really caught my attention. I used to be a total noob at bread making and trust me, these were really easy although a little time-consuming but totally worth it. The payoff will be more than worth the efforts, I promise. I actually made these little buns by hand without a breadmaker so don't worry if you don't have one. For today, I topped the slightly sweet buns with a savoury topping of bacon and cheese and as always, you can modify the toppings to suit your preferences and availability of ingredients. I also stuck to just making round buns today although the buns were flattened and folded a couple of times before being shaped into a ball - you can shape them into whatever shapes that take your fancy like my heart-shaped buns or simply braid them up like what I did for brioche here.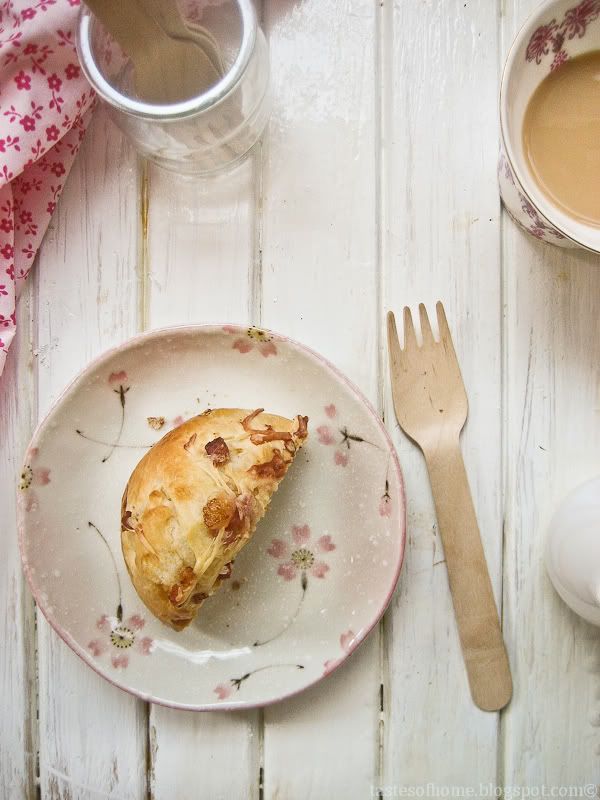 Recipe for tangzhong from Christine's Recipes

Ingredients:

For the Starter:

1/3 cup bread flour (high protein) flour
1 cup water (room temperature)

For the Bread:

2 1/2 cups bread flour + more for dusting while kneading
3 tbsps + 2 tsps sugar
1 tsp salt
1 large egg, room temperature preferred
1/2 cup milk
1 tbsp milk powder
2 tsp yeast
3 tbsps butter
1/2 of the starter above

Topping:

1/2 cup bacon, diced
1/2 cup grated cheese (I used mozzarella)

1 egg, beaten for brushing

Notes from Jen:

1. Before using the yeast in your dough, I suggest that you dissolve a small bit in some water and sugar to make sure the yeast froths up (still alive) just in case, especially if your yeast has been sitting around for a while.

2. This starter requires an overnight waiting time so do plan accordingly.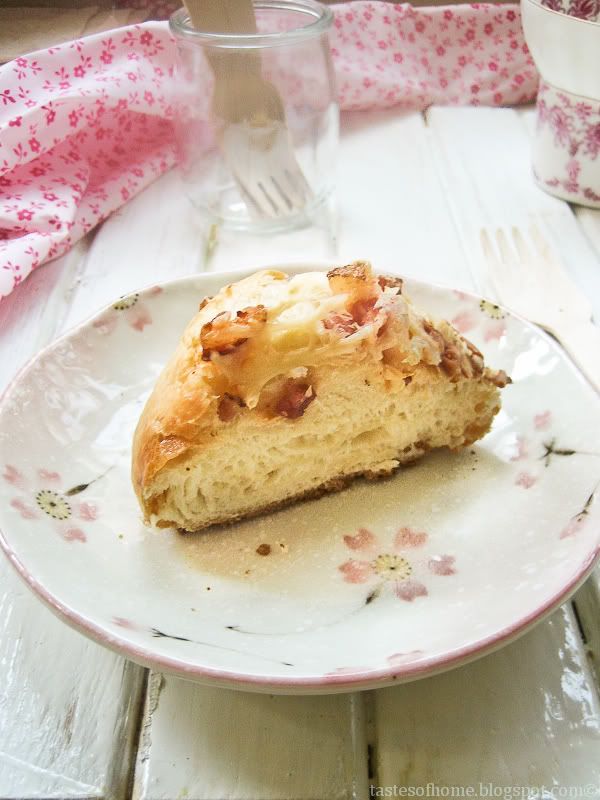 Method:

For starter:

1. Prepare the starter by mixing the bread flour with the water in a small pot well. Make sure there are no lumps.

2. Cook over medium heat while stirring all the time with a wooden spoon until mixture thickens up, the starter is ready when the stirring action with your spoon creates little 'lines' on the mixture. The consistency will be like glue.

3. Remove from heat and spoon into a bowl. Cover with a piece of cling wrap with the wrap touching the top of the tangzhong, this is to avoid a 'skin' from forming. Allow to cool to room temperature then place in fridge.

Bread:

1. Remove tangzhong from fridge. Mix the dry ingredients together i.e. the bread flour, yeast, sugar, salt and milk powder in a large bowl.

2. Whisk the wet ingredients i.e. the egg, milk and tangzhong in a medium sized bowl. Create a well in the middle of the dry ingredients and pour in the egg mixture. Mix with a wooden spoon until you see the beginnings of a formation of dough.

3. With your hands, start kneading until the dough takes more shape. Add in the butter and continue kneading, dusting with extra flour as required. You would probably need to knead the dough for about 15 minutes at least until the dough is smooth and elastic. Make sure that the dough is not sticky.

4. Place dough in a well greased bowl and cover with a wet kitchen towel or cloth. Allow to proof for about 1 hour, or until doubled in size. The duration of time needed for proofing will differ according to the weather, the hotter and more humid the weather, the faster it should take to proof.

5. After the dough has doubled, remove from bowl and place on a well floured surface. Punch the dough down and knead again slightly for about 3 minutes. Divide the dough into 8 roughly equal pieces. Shape each portion into a ball.

6. Cover the dough balls with cling wrap and allow to rest for about 15 minutes.

7. Take a dough ball and flatten with a small rolling pin. Roll up from top to bottom. Flatten again with a rolling pin and shape into a ball. Repeat with the rest of the balls.

8. Prepare a greased baking tray. Take each ball and flatten each ball. Add the bacon and cheese on top in the center of each flattened ball. Place on baking tray. Allow to proof again for another 40 minutes.

9. Pre-heat your oven to about 180 C and prepare a rack in the middle of the oven.

10. Brush some egg wash on top of the buns. Bake for about 30-40 minutes or until the buns turn golden brown. You can serve these warm from the oven, if not, allow to cool to room temperature on a wire rack and place in an airtight container. These can keep for a few days, longer in the fridge.