These pork skewers were a result of me experimenting for a party dish - I used the popular Korean condiment of doenjang (bean paste) and thick caramel sauce for the marinade. For some fruitiness and to tenderise the pork, I added a bit of fresh Korean pear juice as well. The results were really satisfying and my test-skewers were gone in no time. I have been busy testing out dishes and also recooking my older dishes since little brother has been back, these skewers will be presented at a little party for his friends, incidentally his friends do read my blog and I think a few of them have even tried out my recipes while studying in the UK so I am feeling a little extra pressure to make sure the food turns out good :O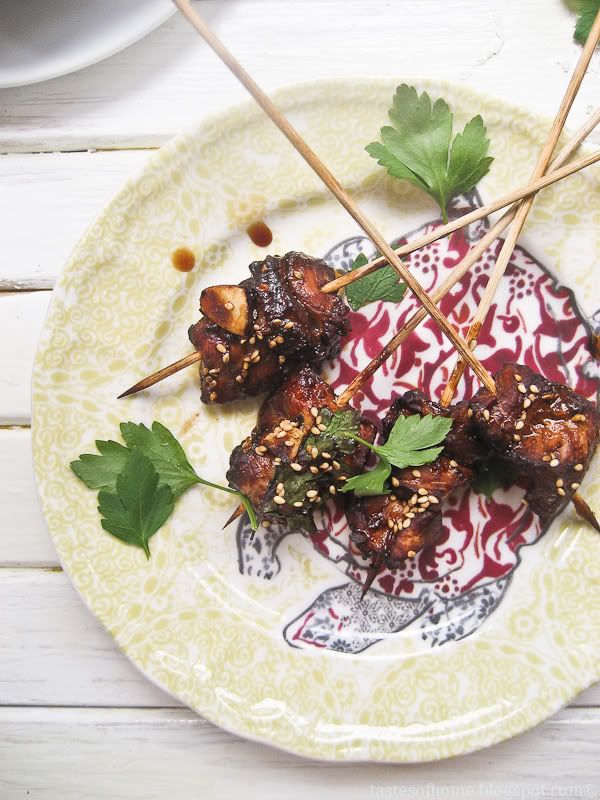 Anyway, I do hope you give these easy skewers a try, if you don't like pork you can substitute with chicken thighs. You should try to marinate these for at least an hour for the flavours to seep in. Instead of a grill, I roasted these in the oven but if you have a grill handy, these will taste even better grilled on open flame. The doenjang lends savoury and earthy flavours while the thick caramel sauce provides a slight hint of sweetness and of course gives the skewers a gorgeous glaze.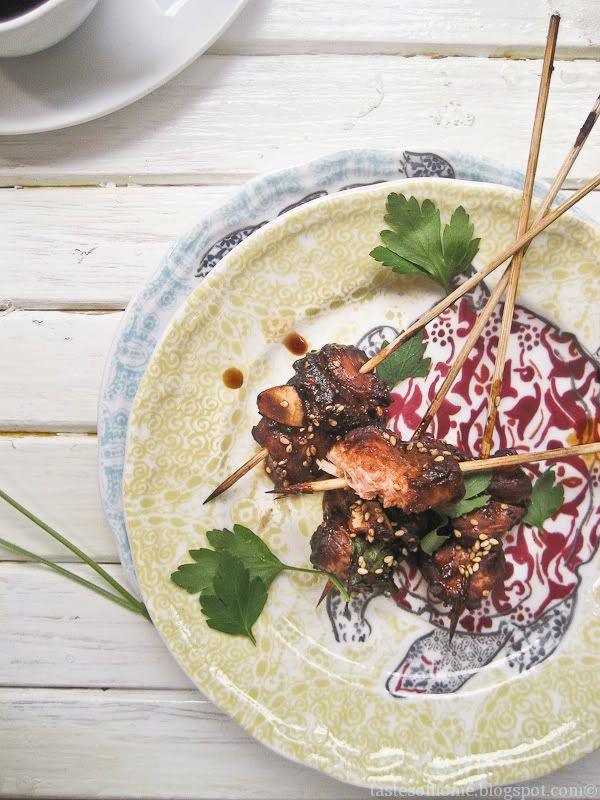 This post is a part of my series of Yuen Chun Recipes, a project on Tastes of Home.


Makes 2 dozen skewers

Ingredients:

1 pound of pork loin, sliced to 2 inch by 1/2 inch pieces


Marinade:

4 cloves garlic, smashed
1 tbsp doenjang
1 tbsp thick caramel sauce (from Yuen Chun)
1/2 tbsp sugar or to taste
1 tsp sake or Chinese rice wine
Juice from 1 Korean pear
1 tbsp mirin (optional - but adds more fragrance)
1 handful of Italian parsley

Handful of toasted sesame seeds

Thick caramel sauce by Yuen Chun



Method:

Firstly, marinade the pork in the ingredients listed above. Set aside for 1 hour.

Pre-heat the oven to about 200 C. Assemble the skewers with one piece of pork on one stick. Sprinkle some toasted sesame seeds on the skewers. Balance the skewers on a tray or oven safe dish (without the meat touching the dish), this ensure more even cooking.

Roast for about 15 minutes or until cooked. Serve hot.