I have been so absent minded lately, first I forgot to add eggs into my banana bread which resulted in my still fortunately delicious eggless banana bread and then I almost forgot to add eggs into my chocolate swirl cheesecake that I made for little brother's birthday last week. Hmm, what's up with eggs and I? For the naan pizzas I am featuring today, I actually used the 'wrong' flour, yes my go-to naan recipe calls for all purpose flour but I happily used bread flour and it was too late by the time I read the label of the packet just right when I was proofing the dough for the first time. Luckily, the naan pizzas turned out great and I actually preferred the ones made with bread flour as they were fluffier and rose much higher although if that's not what you like, do stick to all purpose flour.




I really really love naan and I think they make a great crust as 'pizzas' - there's so much one can experiment and come up with that I am already thinking about my next topping for yet more homemade naan pizzas. Today's toppings were just inspired by one of my family favourites from of all places, Pizza Hut i.e. their 'Hawaian Delight' which is mainly made out of pineapple and ham. Sweet, savoury and tangy, these were pretty hard to resist. Making your own naan at home is really straightforward and fun (I actually find kneading dough very therapeutic)- I really encourage you to try it at least once but if you find it too time-consuming, do go ahead and use store-bought versions. For a photo tutorial, please refer here - this is totally fool-proof by the way :O.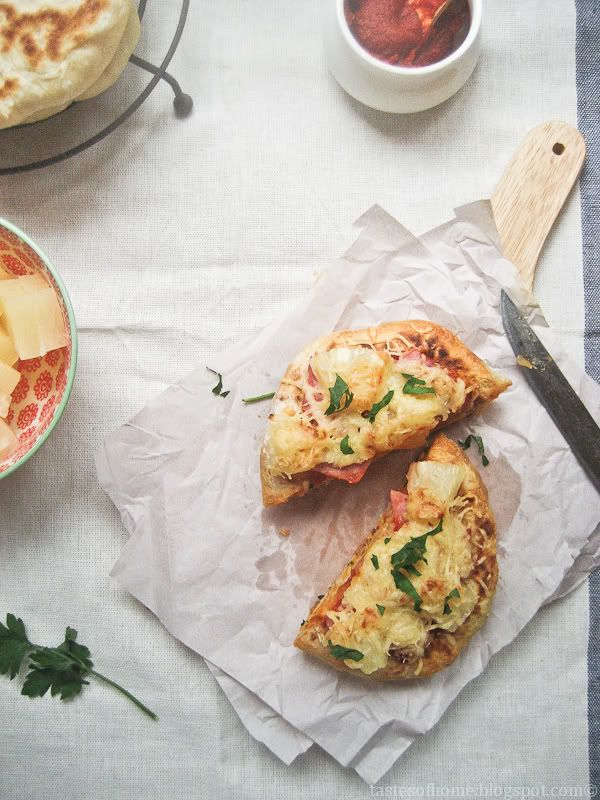 Note from Jen: One round of proofing (1 hour) and resting time of 20 minutes twice. (Proofing time may vary depending on the climate you live in).

Makes 8 small naans

For Naans:

Ingredients:

50 ml /1/4 cupmilk (powdered or fresh are both fine) with 1 tsp rice or white vinegar (to make soured milk)
1 tsp sugar
1 1/2 tsp dry yeast
200 ml water/ 1/2 cup of water
3 cups bread flour plus more for dusting
1 tsp salt

Method:

1. Make the soured milk by mixing the milk and vinegar together in a bowl. Set aside.

2. Mix the yeast, sugar and half of the water (100ml) in another cup or bowl and set aside.

3. After 15 minutes, the soured milk should have curdled while the yeast mixture should have frothed up. If the yeast mixture does not, you will have to redo this step with some new yeast.

4. In a large bowl, add the flour and salt together. Make a well in the center and pour in the yeast mixture plus soured milk. Use a wooden spoon to stir until the dough starts forming.

5. Use your hands to start kneading until dough is smooth and elastic. Dust with the extra flour as you are kneading. This will take around 15 minutes.

6. Lightly grease a large bowl and shape the dough into a ball-shape. Place in the lightly greased bowl and cover with a damp kitchen cloth/ towel. Allow to proof for about 1 hour or until doubled in size. Note that proofing time may be longer if you're in cooler climate.

7. Prepare a lightly floured work surface. Remove dough from bowl and place on lightly floured surface. Punch down the dough a little and start kneading again, dusting with extra flour as needed. Roll into a thick cyclinder and divide into 8 portions.

8. Shape each portion into a ball and allow to rest (covered with a damp kitchen towel) for about 20 minutes. They should rise a little.

9. Take each dough ball and flatten into an oval shape with your hands or with a small rolling pin. Place on lightly floured surface and repeat with the remaining. Allow to rest again for about 20 minutes, covered with a dry kitchen cloth.

To cook the naan:

1. Use a non-stick pan that comes with a cover. Do not add oil to fry the naan. In the absence of a tandoor oven, I thought that this method produced satisfactory results.

2. On medium heat, pan-fry the naan for about 1 minute on the first side (covered) then about 30 seconds on the other. Do check frequently to avoid burning. Place on plate and brush with some butter (optional). Repeat with the rest of the naan.

For the 'pizzas':

Ingredients:

6 slices of cooked ham, sliced to about 1 inch squares (approximate)
1/2 cup of canned pineapple rings, quartered
1/2 cup tomato paste
Handful of Italian parsley (optional), chopped
1 cup of mozzarella cheese or other cheese of your choice
Olive oil for brushing the baking pan

Method:
1. Pre-heat your oven to 200C (392F). Prepare a rack for baking in the center.

2. Assemble the pizzas by brushing about 1 tsp of tomato paste on the naan and placing the ham and pineapple quarters on top.

3. Add the cheese to the top and sprinkle with some chopped parsley if using.

4. Brush your baking pan with some olive oil. Bake for about 25 minutes or until the cheese is melted and turns a slight golden brown.

5. Serve immediately. These were still good the next day, warmed up in the oven or just use a toaster oven if you have one.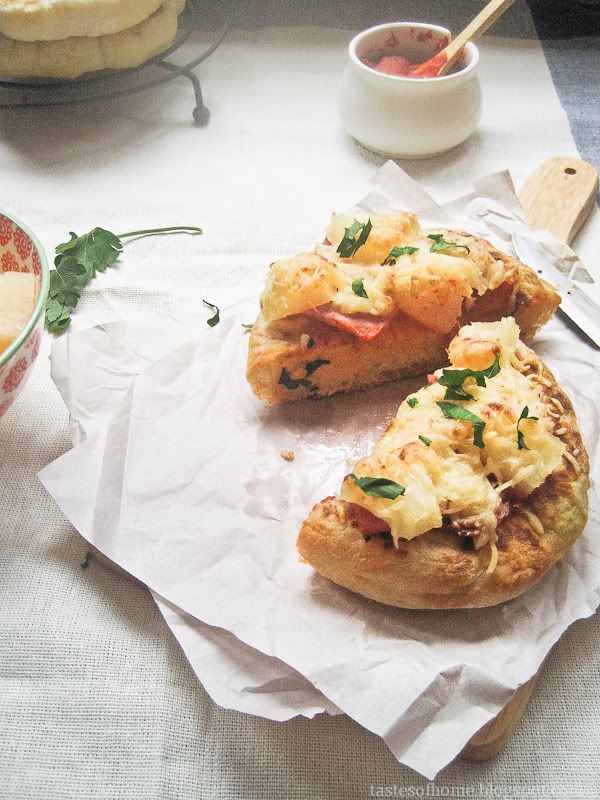 For a more fusion styled pizza, see my Thai Grilled Chicken Pizzas.