One of the things I love about maintaining a cooking blog is that it makes me more inspired to try out new recipes or new dishes that I might not otherwise have tried. So for today, I finally made the effort to make soybean milk at home. I had always thought that you have to own a soybean milk machine to make soybean milk at home and was I pleased that all you need is a regular blender (a tip from my aunt). I am a total newbie at this and I was really happy with the results. Soybean milk is my little brother's absolute favourite drink and since he just flew back from the UK a few days ago, I thought it would be fitting to try making this at home for him. The milk was smooth and just utterly delicious - beats store bought versions by a mile and more. So if you have not tried making this at home, you really should - you definitely won't regret it!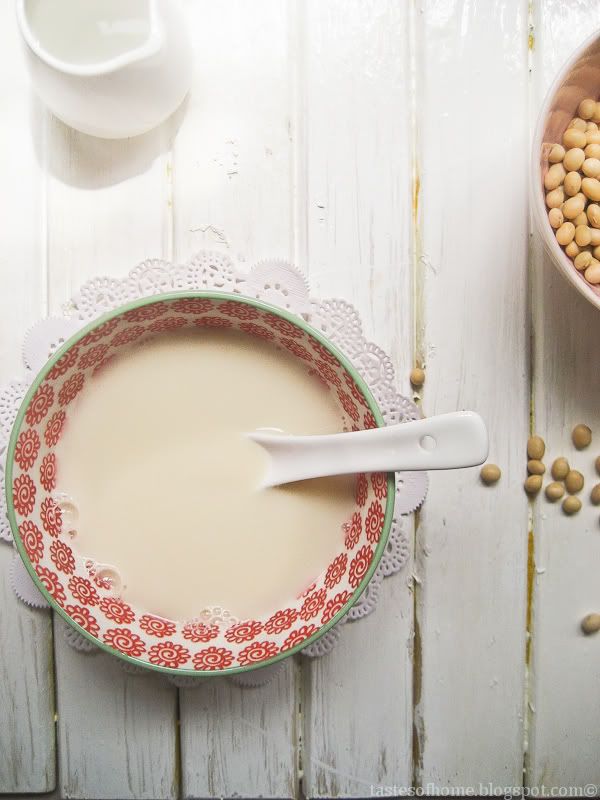 You will just need soybeans, water, muslin or cheesecloth and of course a blender. Another good thing about making this at home is that you can adjust the amount of sugar you use in the milk or even add some other flavourings like pandan (screwpine) leaves for added fragrance. The important thing to note is that you can't shirk from the straining of the soybean milk as there are lots of remnants of the soybeans left behind. Apart from that, it is very straightforward and extremely easy to make. Please trust me on this :O.




You will need a blender and muslin or cheesecloth

Ingredients:

1 1/4 cups soybeans, soaked overnight in water (place in fridge (covered) to avoid the beans spoiling)
6 1/4 cups water
3 tbsps of sugar or to taste (or use rock sugar)




Method:

Drain the soybeans after soaking overnight. The beans should have expanded a little and turned soft overnight.

Place one third of the soybeans together with about one third of the water in a blender and blend until thick and smooth. Place liquid in a large bowl. Repeat with the remaining soybeans and water. Clean the large bowl. You will need this again to strain into later.

Run the liquid through a sieve and strain into another bowl or pot (you will use the pot to boil the milk later). Now, clean your sieve and cover with a piece of muslin or cheesecloth. You can also use uncoloured/ unbleached cotton for this. Strain the liquid again into the large bowl you used earlier. Finally, strain the liquid again into the large pot (just use the sieve without the cloth).

Bring the milk in the pot to a boil. Once boiling, turn heat to low and add the sugar. Do a taste test and add more if desired. Bring to a boil again and turn heat to low for simmering. Simmer (covered) for about 5 minutes. The soymilk is ready. You can either serve this hot or cold.