The Chinese love their noodles and I may be a bigger lover than most - today's feature is a stir-fried version of the humble 'Yang Chun Mian', a plainer type of Chinese noodles and is usually served simply in hot broth with a handful of fragrant chopped scallions and some garlic oil. These noodles however can be very versatile and after going back and forth between making a lo mein or a chow mein, I decided to go the latter route. For this dish, I must emphasise yet again the importance of wok breath or 'wok hei' as it just gives the noodles the extra layer of flavour that unfortunately cannot be reproduced with say a non-stick pan though the noodles may tend to stick to the wok if you're not careful so washing time may not be too fun (don't say I didn't warn you!). I added some slices of pork, fresh shitake mushrooms and Chinese broccolini as the accompaniments but really, the main star to me were the noodles.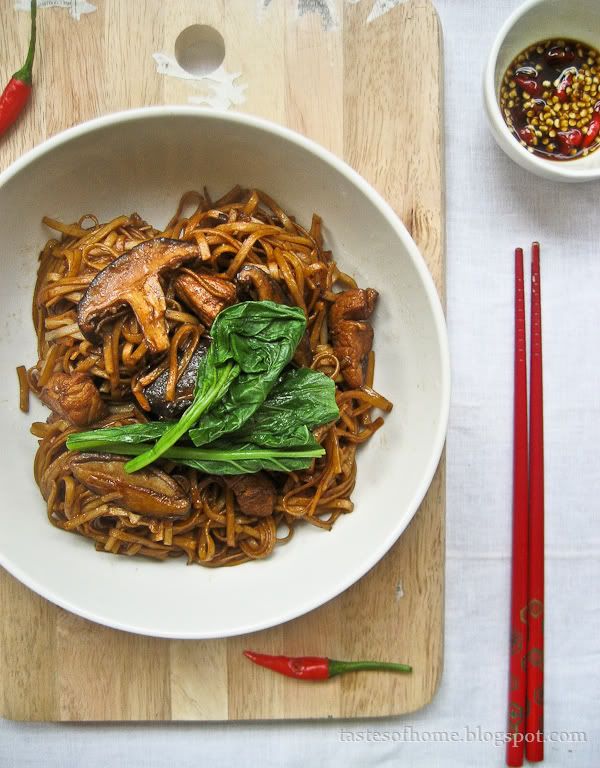 Yang Chun noodles are sold in fresh and dried form although the latter is more commonly found based on my experience. Yang Chun noodles are basically plain noodles typically made out of wheat flour, salt and water - of course varying ratios of the above will produce different textured noodles. Being the self-confessed noodle fiend that I am, I think the next step would be to make my own Chinese noodles - well I did make my own udon noodles at home earlier so I think making some type of Chinese noodles at home will be on my agenda. For this dish, the soy sauce used is also very important, for my stir-fried noodle dishes, I prefer to use Mushroom flavoured dark soy sauce which can be found in most Asian grocery stores and most major soy sauce brands have their own version.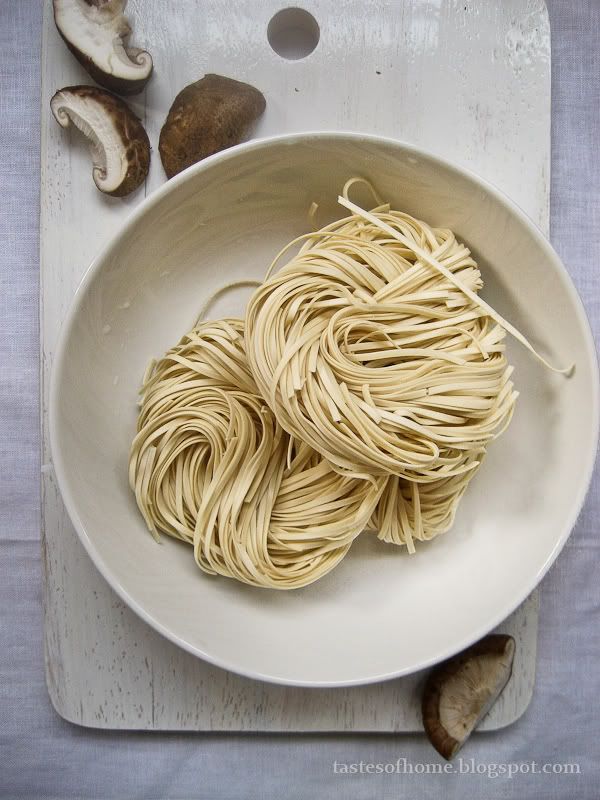 Well, apart from blogging about today's dish, as some of you may know if you read my tweets, I am quite the drama enthusiast but it is not often very rare that I find a drama making a big impression on me. When that happened earlier this week, I was amazed at myself - perhaps the drama reminded me of a different time in my life when I still had dreams of playing in an orchestra someday (alas, I was quite very lax with practice :O). Well, it was actually a Korean drama called Beethoven's Virus and honestly I was very late to the game, this drama screened in 2008 but somehow it never looked appealing to me and I just skipped it until earlier this week and all I can say is better late than never. This is not your typical romantic drama where either the heroine has a terminal illness or the mains are long-lost siblings (!) (I skip those by the way) so it was refreshing and I loved the use of all my favourite classical music pieces. Last but not least, I was glad to discover Kim Myung Min who is an amazingly charismatic actor and I am such a fan now .


Serves 2 generously

Ingredients:

4 dried 'Yang Chun' noodles (substitute with spaghetti or other kinds of noodles if you wish)
8 fresh shitake mushrooms, sliced thickly or halved if they are small
6 garlic cloves, sliced
1/2 pound of pork, sliced or cubed
1 bunch of choy sum (Chinese broccoli), rinsed and cut to about 3 inch lengths
1/2 cup chicken broth or water

Marinade for pork:

1 tbsp of Chinese Shaoxing Rice Wine
2 tsps light soy sauce

Seasoning:

3 tbsps Mushroom Flavoured Dark Soy Sauce, or to taste (as salt levels vary in different brands)
1/2 tsp sugar
1/2 tsp sesame oil

Water for boiling noodles and blanching the vegetables
Cooking oil for stir-frying

Optional: (for serving together with the noodles)

3 bird's eye chilli peppers
2 tbsps light soy sauce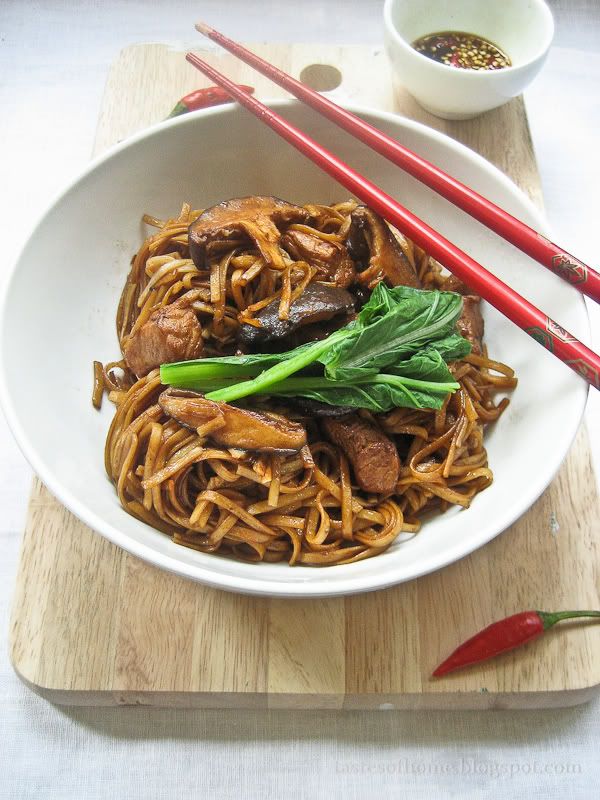 Method:

Marinate the pork in the above ingredients. Boil the noodles according to package instructions. Rinse quickly under cold water, drain and set aside.

Heat up a large wok until almost smoking. Add about 2 tbsps of cooking oil. Turn heat to low and add garlic. Fry till aromatic then add mushrooms and pork slices. Turn heat up. Stir-fry quickly and once pork is at least lightly browned, add about 1/2 cup of chicken broth (or water). Bring to a boil and turn heat to medium. Add the sugar and cover. Allow to simmer for about 10 minutes. Remove cover and stir around until liquid has almost dried up. Remove from wok and set aside.

Prepare some boiling water to blanch the vegetables. Set aside once the vegetables are blanched.

Now for the last part.

Heat up your wok again until almost smoking. Add about 3 tbsps of oil and swirl to coat your wok.

Turn heat to low and add the noodles into the wok all the while stir-frying briskly to avoid the noodles sticking to your wok. Add the 3 tbsps of mushroom flavoured dark soy sauce via the sides of the wok so that the soy sauce will drip into the middle of the wok where the noodles and please continue to stir-fry around briskly to mix the noodles well with the soy sauce. If you pour the soy sauce directly on top of the noodles, the noodles may appear to be in 'patches' where some parts are darker (where the soy sauce was poured atop) than others. Quickly add in the mushroom and pork mixture from earlier and stir fry around to coat well. You have to be firm yet not too rough while stir-frying as we don't want to break the noodles up too much.

Do a taste test and add more soy sauce if needed (again via the sides of the wok). Turn heat to high and quickly stir-fry the noodles around for a quick 30-40 seconds. This step is essential for the fragrant wok hei.

Serve with the choy sum placed on top of the noodles but if you like you can just add the choy sum into the wok and toss together before serving.