Happy Friday everyone! I am back again with another skewer styled dish - do excuse me as I seem to be especially fascinated with satay dishes recently. There are just so many different possibilities/ interpretations when it comes to skewered meat dishes. For today's offering, I used mainly Thai condiments hence the name of the dish and I am extremely pleased to report that these were gone in no time at the little party I cooked for last night. Flavours in this dish are sweet and savoury, with hints of spiciness and tartness, extremely appetising I would have to say. I would like to share a little tip I picked up along the way as well - I made a lemongrass 'brush' by smashing the white part and brushed a mixture of corn syrup and oil on the skewers right before roasting. This really makes all the difference, trust me - apart from the scent of lemongrass, you get the delicious looking shiny glaze as well. If you can't find corn syrup, you can substitute with just regular syrup or make your own by mixing up sugar and water.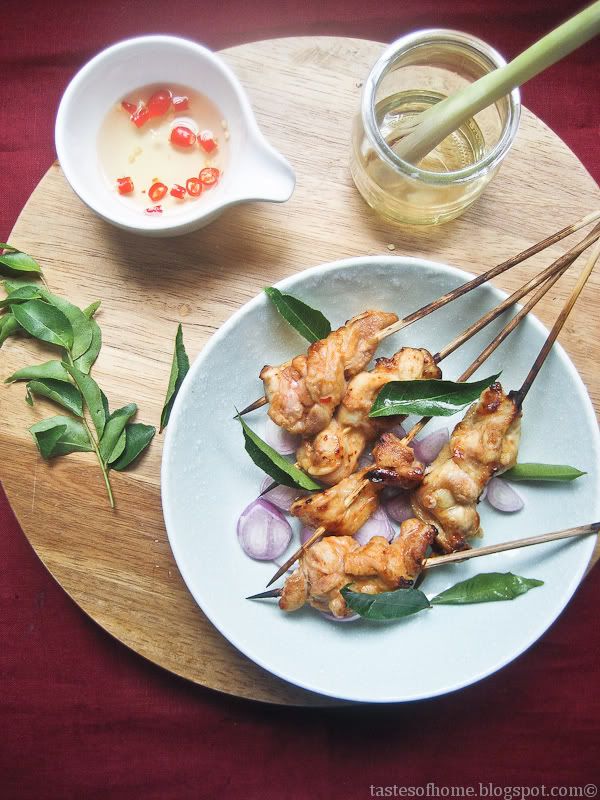 For the marinade, I used Yuen Chun's Thai stir-fry sauce, fish sauce, ketchup, a tiny bit of sugar, garlic, bird's eye chilli peppers and Thai chilli sauce. If you have difficulty finding these condiments, do substitute according to what you can find - just keep in mind that we want a marinade that is spicy, sour, savoury and slightly sweet. I did not add in too much sugar in the marinade as I was going to brush the skewers with the oil-corn syrup mixture before roasting so do keep that in mind. All in all, I was extremely happy with the results and totally excited to share with you how easy it is to make these at home. I also whipped up an easy dipping sauce of sweetened vinegar with lime juice and chilli peppers but I thought the chicken skewers were flavourful enough on their own so a dipping sauce is really optional.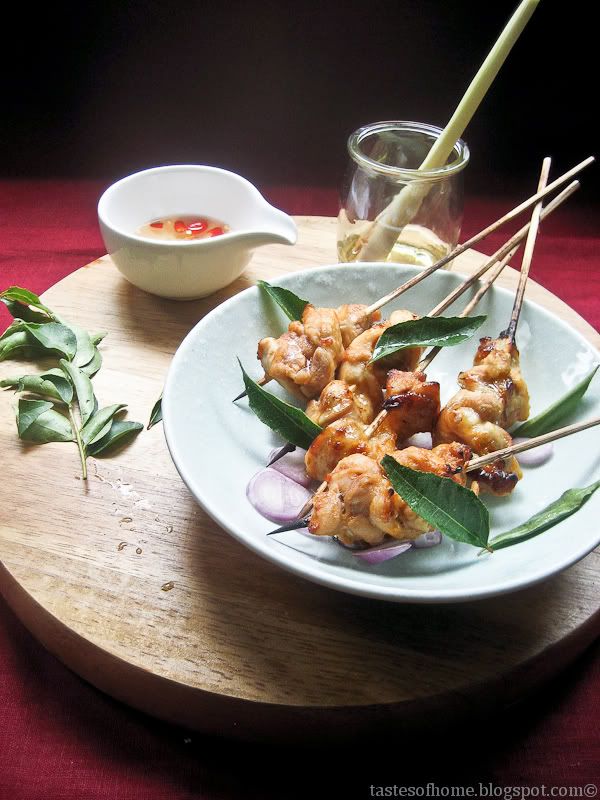 This post is a part of my series in my Yuen Chun Recipes, an ongoing project on this blog.

Note: This recipe requires a marinating time of at least 1 hour so please plan accordingly.

Makes about 40 chicken skewers

Ingredients:

4 chicken thighs, cut into strips
Handful of fresh curry leaves (optional)

Marinade:

6 tbsps Thai stir-fry sauce
1 tbsp Thai fish sauce (substitute with light soy sauce if unavailable)
2 tsps sugar
2 tbsps ketchup
2 tbsps chilli sauce
6 smashed garlic cloves
3 bird's eye chilli peppers, sliced (lessen for less heat and vice versa)




Glaze:

1 stalk lemongrass, white part smashed to create a brush-like apparatus
4 tbsps oil
4 tbsps corn syrup (or just use syrup)

Dipping sauce: (optional)

1/2 cup white vinegar
2 tbsps of sugar or to taste
2 bird's eye chilli peppers, sliced




Method:

Mix up the ingredients in the marinade in a large bowl. Marinade the strips of chicken in the mixture (covered) in the fridge for at least an hour. The longer the better, overnight (maximum).

Pre-heat your oven to about 180 C (356 F). Prepare a rack in the top third of your oven. I used the heat from top option. Use this if available.

Thread the strips onto the skewer sticks. Place the sticks on a lightly oiled roasting pan or tray. Brush each skewer with the oil-corn syrup mixture using your lemongrass brush. Scatter some curry leaves on the tray, this is entirely optional but it gives the skewers an added hint of fragrance.

Roast the skewers for about 15 minutes until they start to look cooked. Turn up heat to 200 C (392F) for the last 5-10 minutes to get the charred look and flavour. Do keep a close watch to ensure the skewers don't burn.

Serve hot.