This dish has actually been lingering in my mind for quite a while as a feature on this blog as apart from being one of my favourite ways of serving prawns/ shrimp, I thought the sheer simplicity of preparing this impressive looking dish would get your attention, so here it is finally. The Chinese love steaming seafood, and believe that steaming is probably the 'best' way to enjoy most seafood in all its' natural 'sweetness. For the prawns today, I am sure if you are a fellow Chinese/ Asian or frequent visitor to Chinese restaurants, you will probably have seen or try this dish before. Prawns are butterflied, filled with minced garlic, dressed in some Chinese rice wine and then steamed on a bed of ginger and green onions. Sounds so simple right? Indeed it is, although there is a small caveat, the garlic mincing can get rather tedious - the rest of the preparation is so simple and it only takes about 5-8 minutes to cook the prawns (depending on the size you used), and the best part? Minimal mess!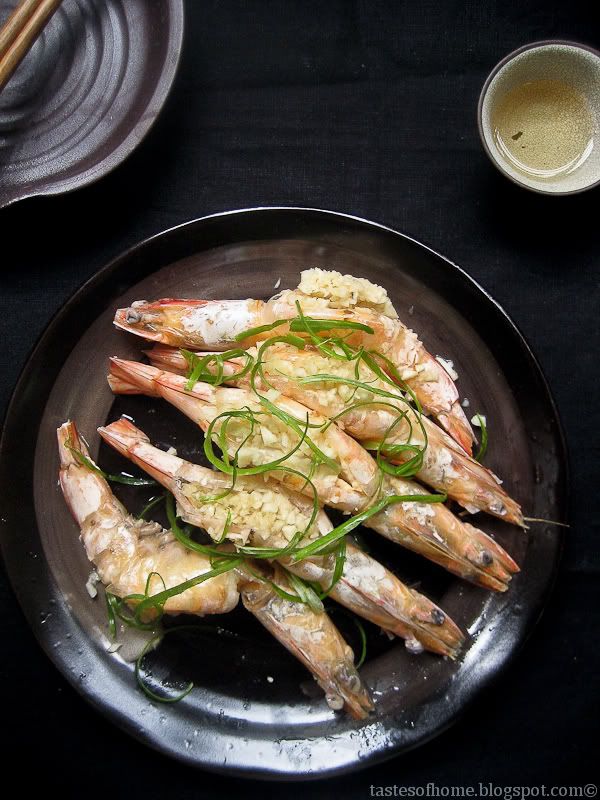 As the prawns take such a short time to cook, I suggest that you cook this dish as the last dish if you are cooking a usual Chinese dinner that consists of a few dishes served with rice. This dish should of course be served piping hot, preferably right from the stove top to the dining table. I used Chinese rice wine (Shaoxing wine) to marinate the prawns as well for an hour or so before steaming as I am a huge fan of the fragrant cooking wine and it really added to the briny and umami flavours of the prawns. Do remember to avoid overcooking the prawns as there is really very little nothing that can be done to 'save' rubbery, overcooked prawns. Chinese cooks usually have an instinct for timing these things but I know that sounds very abstract so I purposely kept track today and my prawns were just perfectly cooked at the seven minute mark. The five minute mark is a good time for you to check on the doneness of the prawns if you want to be safe and if the flesh still looks translucent, cook for another two minutes, again I have to emphasize that the exact duration of time required mainly depends on the sizes of prawns used.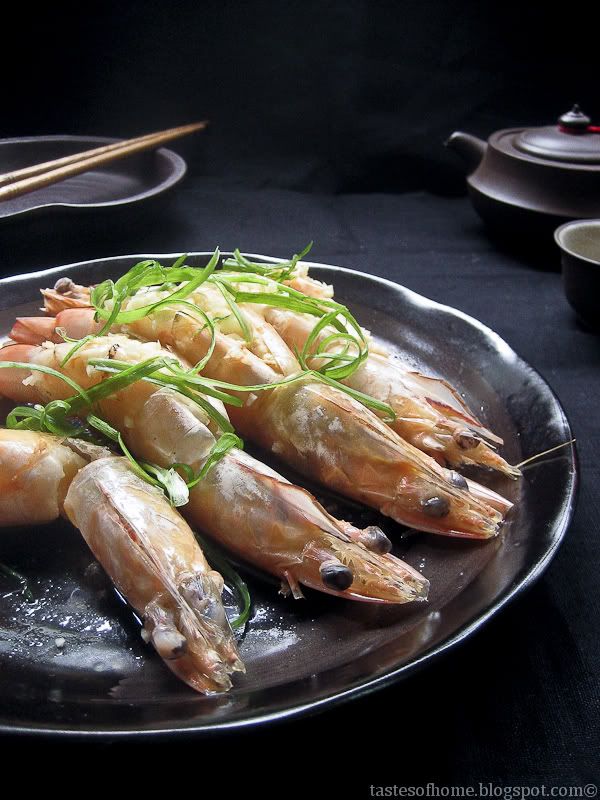 Serving suggestion: Steamed rice

Serves 4-6 as part of a meal with other dishes

Note from Jen: Requires a marinade time of about 1 hour so please plan accordingly.

Ingredients:

12 large sized shell-on prawns, butterflied with heads intact
6 slices of fresh ginger
2 stalks green onions, roughly chopped and keep some of the green parts for garnish (garnish is optional)
1 whole garlic, minced finely

Seasoning for garlic mixture:

2 tsps light soy sauce
3 tbsps Chinese Shaoxing wine (Chinese rice wine)
1 tsp sesame oil
1 tsp cooking oil

Marinade for prawns:

1 tbsp Chinese Shaoxing wine
2 tbsps salt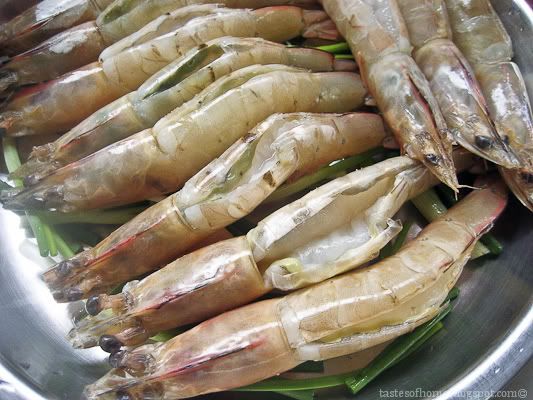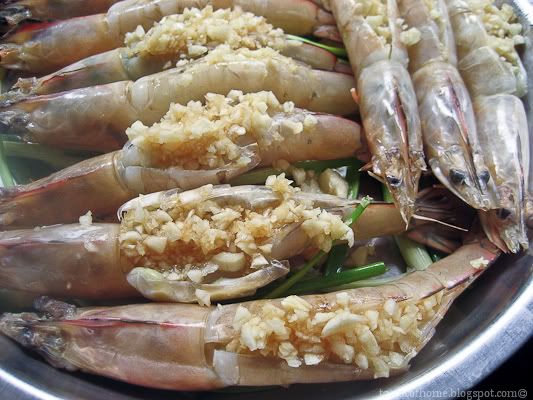 Method:

Firstly, clean the prawns and remove the whiskers and the legs. With a pair of sharp kitchen shears, gently butterfly the prawn and remove the entrails. With the kitchen shears, make a slight cavity in the prawn but be careful not to cut too deep to avoid a 'hole'. The minced garlic mixture will later be placed into the cavity of each prawn. Repeat with remaining prawns.

Marinade the prawns in the above for about 1 hour.

Prepare a large wok for steaming. Mix the minced garlic with the above seasoning and set aside. Fill the wok with water and bring to a rapid boil. While you are waiting for the water to boil, spoon the garlic mixture into the cavities of the prawns. Place the slices of ginger and green onions on a plate for steaming and place the prawns on top, making sure they lie in a single layer on top of the ginger and green onions.

Once the water is rapidly boiling, place the prepared prawns and steam for about 5-8 minutes. Remember to check at the 5 minute mark for doneness to avoid overcooked prawns. Garnish with additional green onions if using. Serve immediately.