Today's feature is an extremely straightforward yet delicious way of cooking chicken - sea salt and rosemary encrusted chicken thighs are first pan-fried to golden perfection then finished in the oven. In my opinion, no sauce is needed but if you like, please refer here for my wasabi butter sauce. I always keep at least one type of fresh herb in my pantry as adding just a sprinkling of herbs makes a huge difference in many dishes. One of my favourite herbs is rosemary - I love the almost tea-like fragrance of the versatile rosemary but do go ahead and substitute with your favourite herb.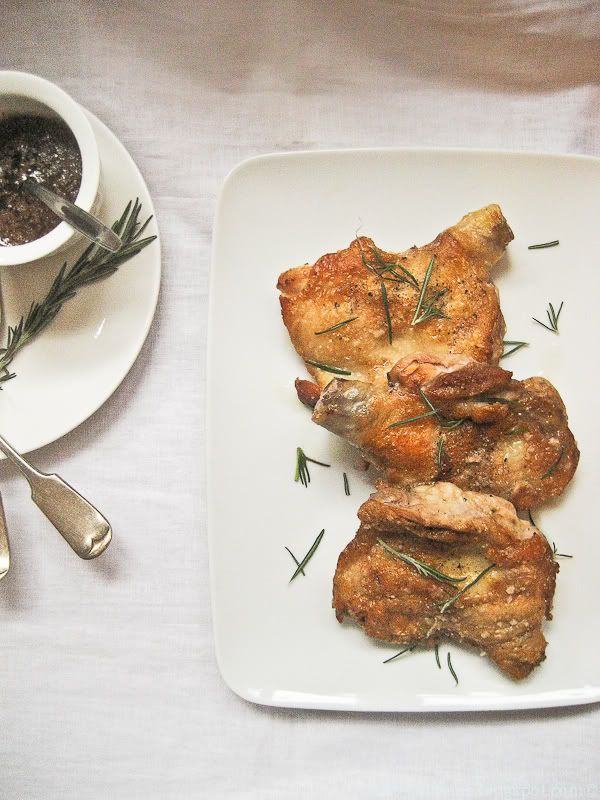 I just love using the oven to cook my dinners as it frees my time up to make the side dishes and for today, I served the crispy chicken with a simple salad and some garlic buttered mushrooms. This is definitely my 'lazy-day' dish although I have to admit the pan-frying bit does make a bit of a mess but then the results were definitely worth it - you will realise this when you bite into the perfectly crispy skin!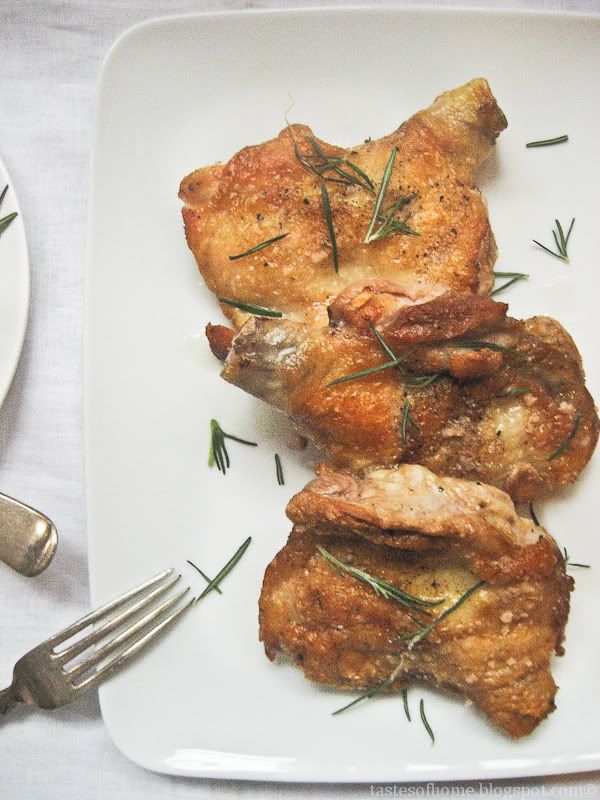 Serves 6 (with side dishes)

Recipe adapted from Donna Hay Magazine

Ingredients:

6 boneless chicken thighs
Enough sea salt to lightly rub the surface of the chicken thighs
3 sprigs of fresh rosemary
Enough olive oil to brush the surface of the chicken

Method:

Pre-heat your oven to 200C (about 398F). Prepare a rack for roasting by lightly brushing with oil in the middle of your oven.

Meanwhile, brush each piece of chicken thigh with olive oil and sprinkle some sea salt and rosemary on top of the chicken.

Pan-fry the chicken thighs skin-side down in a non-stick pan until skin turns crispy and golden. Place the thighs on the prepared rack and roast for about 25 minutes or until chicken is fully cooked.