Brownies probably mark my very first foray into baking back when I was still a teenager- prior to that I was never really allowed in the kitchen as my mom had (and still has) an impossibly high set of standards which made me question now and then the necessity for the kitchen help since she still can't resist 'doing stuff' even after the help has completed the cleaning. I think she inherited this 'neat gene' from my late grandmother and according to mom, I am sorely lacking when it comes to that department, by the way I do need to stress though that I am not a slob by any means, just that my mom has impossibly high standards when it comes to neatness and the like. Anyway, I digress - today's feature is the ever popular brownies - there are so many versions around nowadays, we have the rustic basic kinds, we have the elegant 'dressed-up' versions but to me brownies mean very simple things = chocolatey deliciousness and just good old comfort food.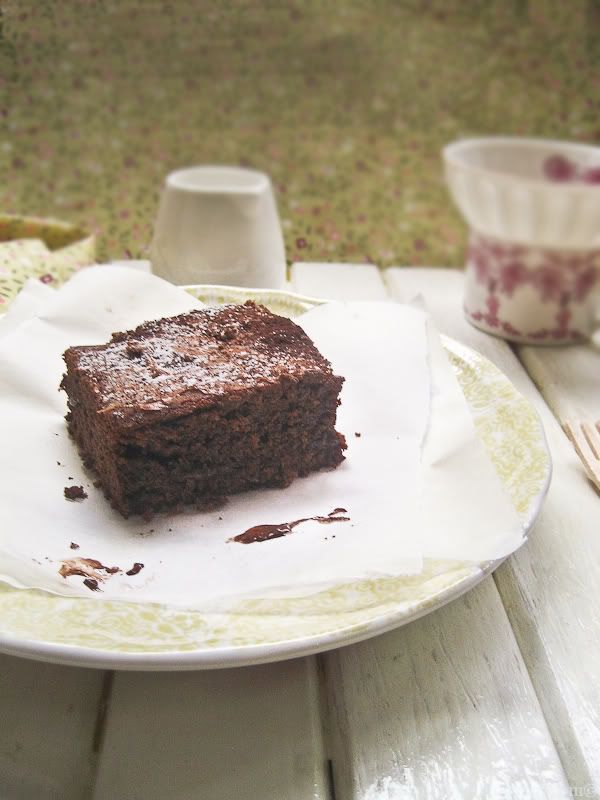 It is a wonder to me now as I am typing this post on how I could abandon baking brownies for so many years - baking this brought back so many wonderful memories, (I admit I was using a brownie mix back when I was a teenager though!) I am still kind of basking in the nostalgia as I am writing up this post. I guess it's really true what they say, food is more than just a means of filling up your hunger but food is emotionally connected and can mean a lot of different things to different people. Making brownies from scratch is pretty simple - you will just need to melt some chocolate with butter, beat some eggs together with sugar, add in flour, baking powder and just bake - so easy and totally beats the cardboard copies that I had unfortunately bought now and then. Anyway, brownies is probably one of the easiest desserts to prepare and I do hope you will enjoy today's double chocolate version.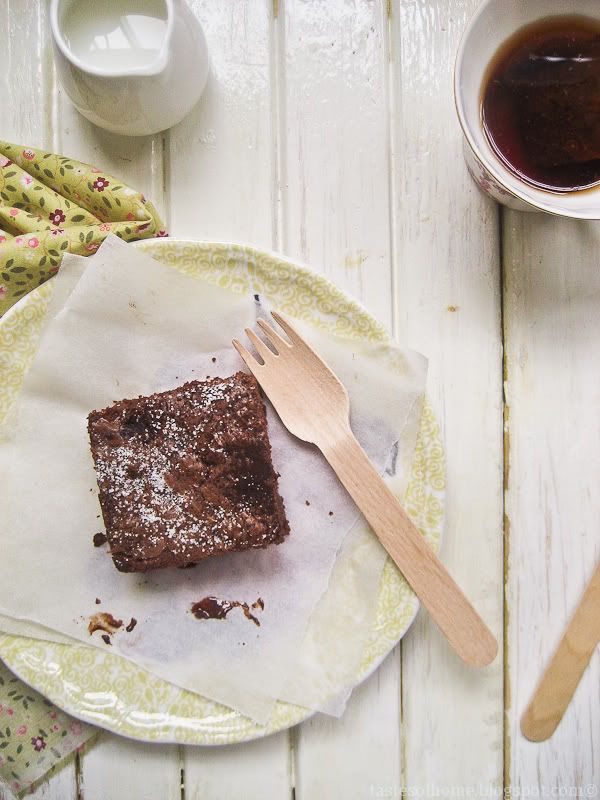 Recipe lightly adapted from Donna Hay's "Entertaining"


Ingredients:

250g unsalted butter
250g dark chocolate
200g white or dark chocolate, chopped roughly
1/2 tsp baking powder
2 cups all purpose flour
3 eggs
slightly less than 1 cup sugar
Cocoa powder or icing sugar for dusting (optional)

Method:

Pre-heat the oven to 180C (356F). Prepare a 9 x 9 inch square tray by lining it with baking paper.

Melt the butter and the dark chocolate in a heavy saucepan over very low heat until smooth. Remove from heat and set aside.

In another bowl, mix the sugar and the eggs together until thick and light. Pour the chocolate mixture into a large bowl and beat in the egg mixture. Beat in the flour, baking powder and chopped chocolate as well.

Pour the entire mixture into the prepared pan. Bake for about 30 minutes. I prefer the middle of my brownies to be a little fudgier so I take it out of the oven at 30 minutes but if you wish, you can bake for a total of 40 minutes for a firmer texture.

Allow to cool. Slice and dust with icing sugar or cocoa powder if you wish.

Notes from Jen:

As the dark chocolate I used was already slightly sweetened, I adjusted the amount of sugar to be added into the mixture. The original recipe called for 1 1/2 cups of sugar but I knew that would be too sweet for me, so please adjust accordingly.

For storage, make sure the brownies are entirely cooled before placing in an air-tight container. They should keep for at least a few days in the fridge. You can microwave it lightly (the refrigerated ones) for about 30 seconds before serving if you wish.

This recipe is a great basic recipe and you can add almonds or other nuts of your choice for more texture and a slightly different take if you wish.