Hong Kong is famous for its' culinary offerings and rightfully so I would say - it is my pleasure today to share with you one of my favourite methods of cooking seafood from the island, the 'Typhoon Shelter' method. Crabs are usually used for this dish but for today, I used some la la clams instead. La la clams are a species of bamboo clams that are found in abundance in South East Asia. The natural umami and briny flavours from the clams were perfectly combined with the fierce flavours in this method of cooking. Copious amounts of shallots, garlic, red chili peppers, dried chilli, dried shrimp and a sprinkling of chilli powder are used so I'll bet you can imagine the vivid and fiery flavours in the dish.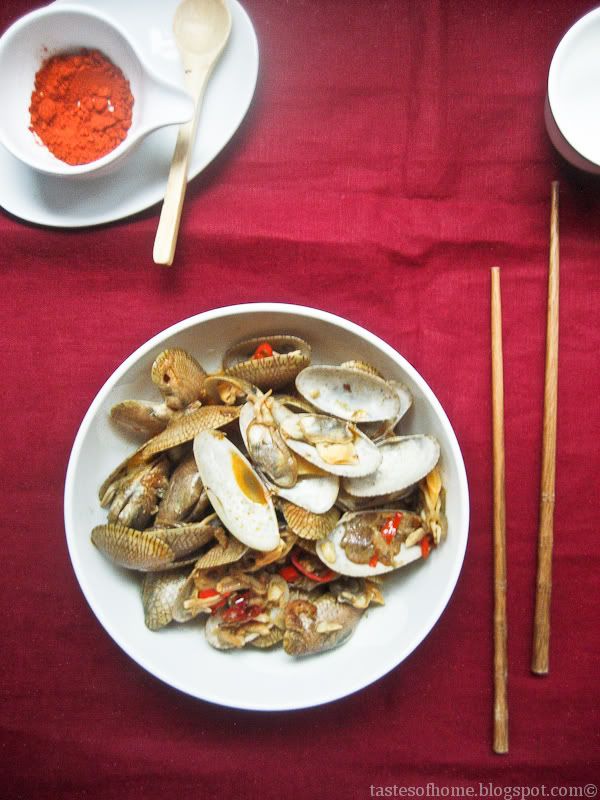 It is quite easy to recreate this dish at home and using a Chinese wok will give you the irreplaceable wok breath that is vital to this dish in my opinion. If la la clams are not available where you are, you can use razor clams, other species of bamboo clams and of course the classic crabs. If you use crabs, do remember to deep-fry the crabs before adding to the sauce mixture.






Ingredients:

1 kg of la la clams
1/2 cup shallots, minced
1/4 cup garlic, minced
1/2 cup dried shrimp, rinsed and minced
5 dried red chilli peppers, rinsed and minced
2 red chilli peppers, sliced
1 tbsp sugar
1 1/2 tbsps chilli powder
1 tbsp chicken granules
1-2 tbsps water

Method:

Firstly, rinse the clams to get rid of any dirt on the shells. Set aside.

Heat a wok until almost smoking. Add about 3 tbsps of cooking oil and turn heat to medium low. Add the shallots, garlic, dried shrimp, dried chilli peppers, red chilli pepper slices and fry until aromatic. If the mixture looks dry, add a bit more oil.

Add the chilli powder, sugar and chicken granules. Do a taste test and add more chilli powder if you desire. Do adjust the seasoning according to your preferences.

Quickly add in the la la clams and stir fry around briskly. Do this for about a minute or two. Sprinkle about 1-2 tbsps of water into the wok and cover on medium heat for about 2 minutes. Remove cover and turn heat to high and stir-fry briskly again for another minute. Turn off heat and dish up. Serve immediately.

Note from Jen: Remember to discard any clams that remain shut after cooking.