There's really nothing like homemade curry and it's so worth it to make your own curry paste when time (and your mood) permit. Living in Malaysia which basically means year-long summer (humid though), you might think that we would be eating more cool foods but apparently spicy foods are great to combat the humidity which is also the reason why most Sichuanese food is hot and spicy - think the Chinese philosophy of balance, the heat in spicy foods supposedly help to balance out the 'wetness' due to the humidity. This was a relatively new discovery for me as growing up in Malaysia, eating hot and spicy foods were part of everyday routine until I moved overseas and 'discovered' eating seasonally. Maybe that is why I still love hot pot in the sweltering summer and love cold noodles in winter - probably the Malaysian in me, we just eat whatever our appetitites dictate with little regard to the weather?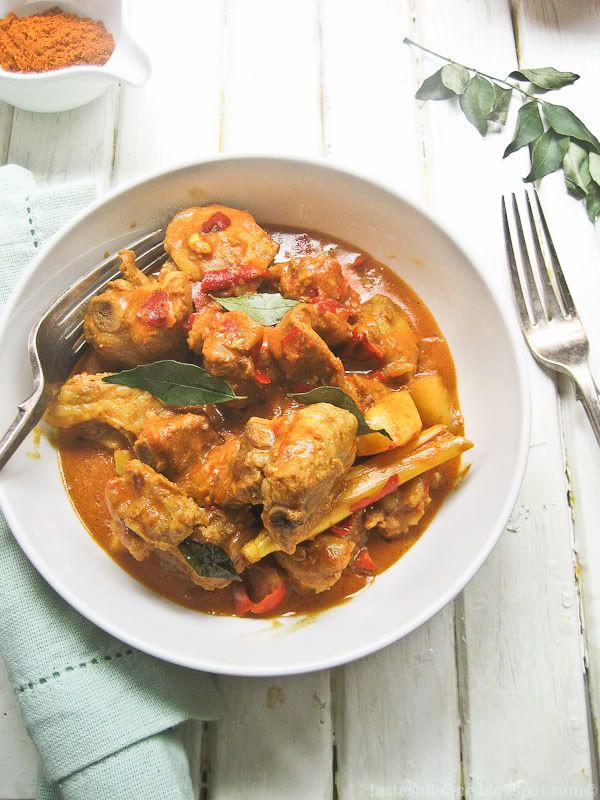 Today's feature is a classic Chinese Malaysian curry dish which is based on a chilli paste made with red chilli peppers, dried chilli peppers, turmeric, candlenuts, belacan (shrimp paste), shallots and garlic, I'm sure you can imagine the fiery flavours. I made my curry paste the traditional way with a mortar and pestle although a food processor will definitely save you time and energy. I do admit that I can be a stickler for (certain) traditions at times - most curry aficionados though will definitely tell you that a paste made the traditional way is far superior in texture and taste, in which I wholeheartedly agree. But, making your own curry paste even with a food processor is far superior to cooking with store-bought curry pastes although the convenience is extremely tempting and I do succumb now and then. If you prefer using store-bought pastes, do take a look at how I doctored up some A1 curry paste for my short-cut chicken curry here.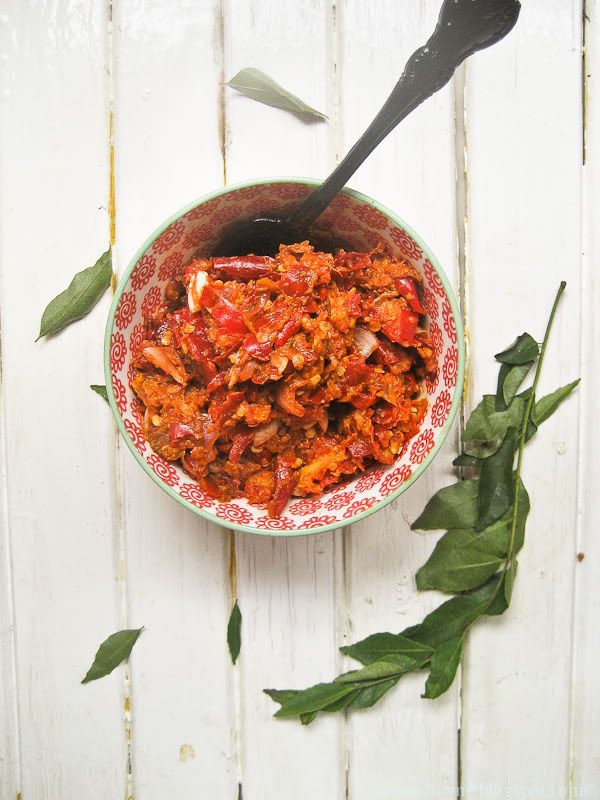 Oh, and another thing - I love seasoning my curries with some light soy sauce in place of salt as I think it gives a deeper savoury flavour to the curries. Do give it a try and let me know what you think!
Notes from Jen:

This serves 5-6 people so do adjust the quantities accordingly and is best served with steamed rice.

In addition, I like to marinate the spare ribs in some corn flour for about 1 hour before cooking so please plan accordingly if you decide to do so as well. I find that this step helps the texture of the pork i.e. more tender yet 'chewy'.

You will also need to plan for a bit of time for preparing the chilli paste before you actually start cooking.

Ingredients:

1 pound worth of spareribs, cleaned and marinated in 1 tbsp corn flour for at least 1 hour
2 stalks lemongrass, white parts smashed with a cleaver or the back of a heavy knife
1 handful of fresh curry leaves (discard the stems), rinsed (these can be found in most Indian grocery stores)
3 tbsps curry powder mixed with about 1 tbsp of water or slightly more
3 medium sized potatoes, skin removed and cubed
1/2 cup coconut milk
1-2 tbsps light soy sauce or to taste

Chilli paste: (pound these together with a mortar and pestle or use a food processor)

Small piece of belacan (shrimp paste), say about 1 tsp worth - toasted in the oven or dry-fried in the wok
5 red chilli peppers, sliced - seeded for less heat
5 candlenuts
8 dried red chilli peppers, soaked in hot water for about 10 minutes to soften
5 shallots, peeled
3 garlic cloves, smashed
1/2 inch worth of turmeric (or use turmeric powder - about 1 tbsp)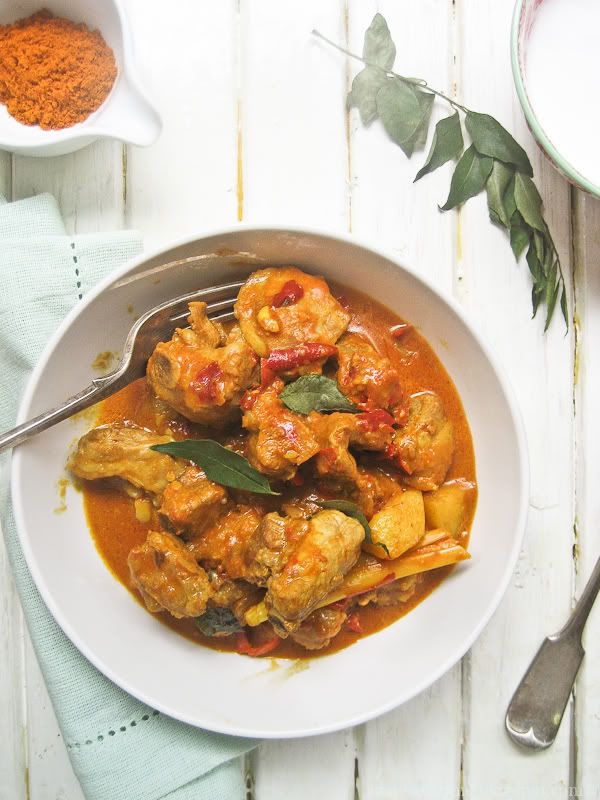 Method:

Deep or shallow fry the potato wedges in hot oil until lightly browned. Remove from pan/ wok and set aside.

With the same oil, fry the spareribs briefly until the surface starts turning whitish. Remove from heat and set aside. Discard oil and clean your wok.

Heat your wok again until almost smoking. Add about 3 tbsps of oil. Turn heat down to medium and add in the chilli paste you prepared earlier. Fry until aromatic. If you see that the mixture is getting dry, do add more oil. Once aromatic, add in the smashed lemongrass and curry leaves. Fry again till you smell the curry leaves and lemongrass. Add in the curry powder mixed with water and stir around to incorporate.
Add in the previously fried spareribs and stir around to coat well. Turn heat to high and add about 3/4 cup of water, or just enough to cover the spareribs. Bring to a boil. Turn heat to low and allow to simmer, covered for about 10 minutes.

Remove cover and do a taste test, add a bit of soy to taste. Add in the potatoes. Turn heat to high again and bring to a boil. Add in the coconut milk and bring to a quick boil, the sauce should start thickening. Do another taste test and add more soy if required. Dish out and serve hot.