This dish is a potent combination of spicy, sour and umami flavours - all in one neat homey dish. Today's feature is a classic favourite amongst Malaysians and the version I am sharing today hails from the Straits Chinese or the Peranakans, hence 'Nyonya' style. The women of the Straits Chinese are known as 'nyonyas' whereas the men are known as 'babas' - in the olden days, the women were the ones who did most of the cooking hence the namesake of this dish. This style of cooking is a unique blend of cuisine combining classic Chinese culinary methods with the local Malaysian spices, a result from the partial assimilation of the early Chinese immigrants with the locals years ago, most notably in Malacca, the oldest state in Malaysia. History aside, this is just a heavenly combination of flavours in an extremely appetising dish, you may find yourself reaching for another bowl of hot steamed rice for second, third helpings. I recommend for you to use either regular mackerel or Spanish mackerel in this dish and if you prefer, you can substitute the fish altogether with some medium-sized shelled shrimp.




As with most curry or spicy dishes, the spice paste is the backbone of the dish - lots of shallots, garlic, dried chilli peppers, lemongrass, a bit of turmeric and shrimp paste is used. Just add some tamarind juice for the sour notes and for the final fragrant touch, add some slices of fresh ginger flowers (bunga kantan), note though that this may be a little harder to source if you live outside Asia. From what I recall I don't remember seeing ginger flowers sold while living in the US although I could be wrong or I frequented the 'wrong' grocery stores. Please do let me know if you have tips on where to find these overseas. The ginger flowers add a slightly lemony and grassy scent to the dish which add the perfect finishing touches but if you can't find them, they are not vital that is, provided you are not too too picky with your tamarind curries :O.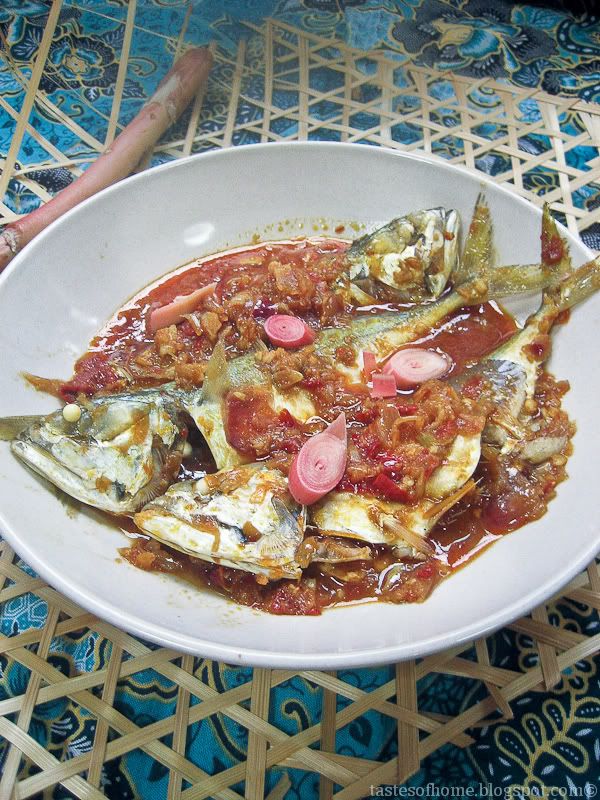 This is an extremely easy dish to prepare although the paste may be a tad time-consuming, you can definitely use a food processor to mix the paste up but I do recommend for you to use a mortar and pestle if you can. The superior texture and flavours are so worth the effort. Funnily enough, while I was in the US, I hunted for a mortar and pestle at my local Ranch 99, couldn't find it and actually found mine at Crate & Barrel - this amused me to no end at the time. Finally, note that tamarind curries are also lighter on the palate as coconut milk is not used.



Serves 4

Serving suggestion: with hot steamed rice

Ingredients:

10 small mackerels, cleaned and scaled
2 stalks ginger flower (bunga kantan), sliced for topping (pictured in the photos)
1 tbsp of tamarind paste, mixed with about 1 cup of water
1 tbsp light soy sauce or to taste

Spice paste:

1 stalk lemongrass, sliced (discard the top hard parts)
1 inch worth of shrimp paste/ belacan (toasted until fragrant in an oven or dry-fried)
15 dried red chilli peppers (if using fresh chilli peppers, use about 20) - soak the dried chillis in hot water until soft and drain
20 small shallots, skin removed
1 pip of garlic, skin removed
1 inch worth of turmeric, skin removed (if unavailable, you can use turmeric powder and just add to the paste after it's done and mix to incorporate, about 1/2 tbsp)

3-4 tbsps cooking oil




Method:

Firstly, prepare the paste by either using a mortar and pestle to pound it all together or use a food processor. Set aside. Remember to toast the belacan before using, toasting it will make sure your paste is aromatic.

Now, heat your wok until almost smoking. Add the oil. Turn heat to medium and add in the paste. Stir-fry till aromatic. Add in the turmeric mixture. Turn heat to high and bring to a boil. Season with the light soy sauce until you are happy with the taste. If you like, you can add in more turmeric juice if you prefer your dish to be more sour.

Add the fishes into the mix and allow to boil. Turn heat to medium and cover for about 5-10 minutes, this really depends on the size of the fishes you use. If you are using shrimp, be sure to adjust the timing accordingly. Medium-sized shrimp won't require much more than 5 minutes to cook. Once the fish is cooked, remove from heat and top with the sliced ginger flowers. Serve hot.