I am not quite sure whether cooking in banana leaf or the famous French 'en papillote' cooking came about first but nevertheless, if you're more familiar with 'en papillote', you could probably say that cooking/ grilling in banana leaf is Asia's interpretation. For today's feature, I decided to cook some chicken drumsticks first wrapped in some lightly oiled banana leaves and then broiled under high heat (with the leaves peeled away) to achieve that gorgeous deep golden hue. The drumsticks were first marinated in some green curry paste, garlic, shallots, chilli sauce, soy sauce and a handful of curry leaves. Grilling food wrapped in banana leaves is very popular in Asia as apart from the convenience of it all, banana leaves perfume the food with its' distinct fragrance that is popular in both sweet and savoury dishes. If you are living in the West, you can probably find frozen banana leaves in the frozen foods aisle at most Asian grocery stores.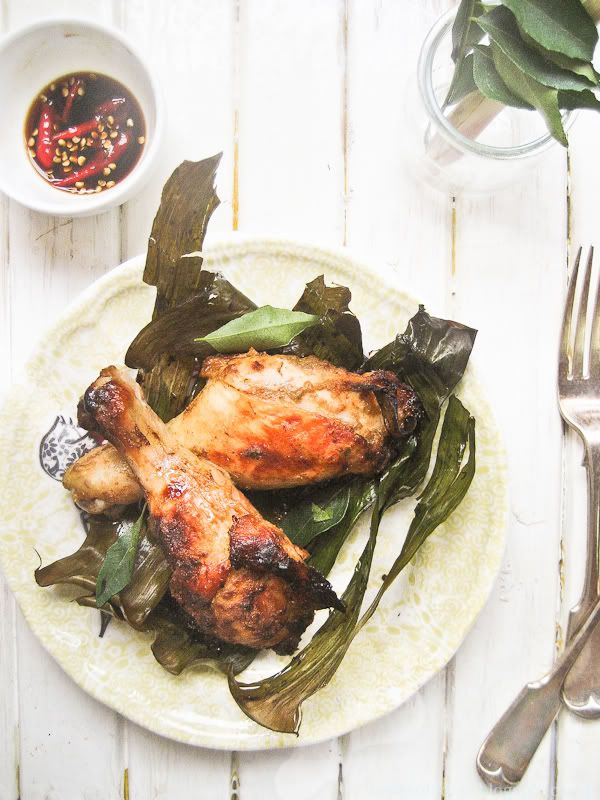 This is an extremely easy and yet impressive dish you can serve whenever you have guests over or just when you feel like doing a little more for yourself. The vibrant combination of the explosive flavours together with the rustic presentation will definitely be very popular at any dinner party :O. As always, you can personalise this recipe to suit your preferences e.g. you can use fish or prawns instead of chicken but do remember to adjust the cooking times accordingly.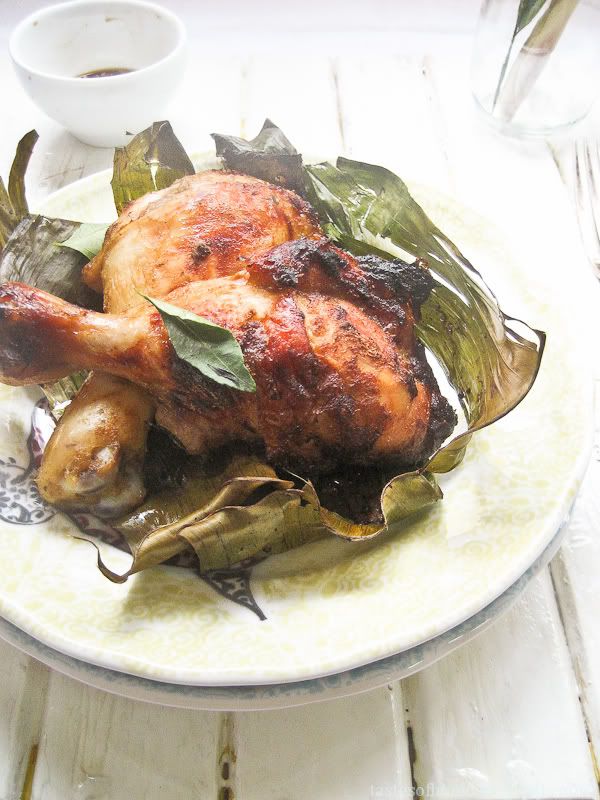 Note from Jen: This recipe requires a marinating time of at least 2 hours, best to marinade overnight in fridge (covered) if time allows.

Ingredients:

4 large banana leaves, rinsed and dried with a kitchen towel
8 chicken drumsticks (or breasts if you prefer)
Enough oil to lightly grease the banana leaves

*A stapler may be needed to seal the edges together if using string is too fiddly.
*I used a lemongrass 'brush' to brush the oil onto the banana leaves to leave a hint of lemongrass but this is entirely optional.

Marinade:

6 tbsps green curry paste (you can substitute with red or other varieties)
2 tbsps light soy sauce
1 tsp salt
4 shallots, quartered and smashed lightly
4 garlic cloves, smashed
Handful of curry leaves, rinsed (discard the stems)

1 lemongrass stalk, white parts smashed (used as a brush)

Method:

Firstly, mix the ingredients for marinating in a large bowl. Do a taste test and add more salt if required. Set aside for 2 hours (covered) in the fridge.

Pre-heat your oven to about 180C (356F).

Cut the banana leaves into 4 portions for wrapping and lightly grease each leaf. I wrapped two drumsticks in one piece of banana leaf together. Place the chicken drumsticks in the middle of the leaf and wrap into a parcel, you can either use a stapler to staple the ends together or use kitchen string according to your preference. I was not too particular about the wrapping as long as the chicken were covered as I want to open up the banana leaf packages and broil the drumsticks before serving.

Repeat with the remaining chicken and banana leaf portions. Place on a baking tray and bake in oven for about 30 minutes.

Remove tray from oven and untie or cut open the banana leaf parcels. Place in oven again and roast on 200C (392F) for another 15 minutes. Remove chicken drumsticks from oven and serve hot sitting on the banana leaves.