Today's feature is an extremely appetizing noodle dish - rice noodles to be precise cooked Thai style, so think sweet, sour and of course spicy flavours all mixed together in this vibrant dish. I love rice noodles for their texture and their (relatively) lower carb content compared to say egg noodles. If you like Thai flavours, I am quite sure you will like this. Stir-frying rice noodles is really easy, you have to soak the rice noodles in warm water for about 30 minutes before cooking and you will have to add a bit of water to the wok after frying the ingredients to ensure that the noodles don't get too dry and start burning. In addition, the accompanying ingredients just like fried rice can be tailored to what you fancy. For today, I used some chicken cubes and the beansprouts to stir-fry together with the noodles and topped the noodles with some freshly fried shallots before serving. For the unmistakable Thai flavour, I used lemongrass and a bit of kaffir lime leaves as well. Serve these easy noodles with some fresh calamansi limes for your guests to squirt on the noodles for an additional refreshing tang.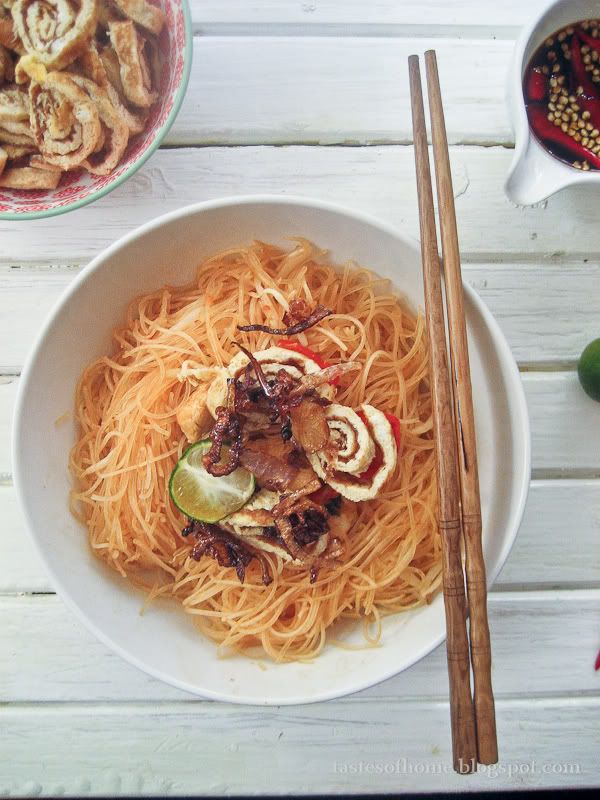 I used Yuen Chun's Thai stir-fry sauce as a short-cut for my paste, mixed in with some chilli powder, fish sauce and some Thai chilli sauce. This post is part of my Yuen Chun Recipes, an ongoing project on this blog.




In other news, I am very excited to share with you that I have just completed my first food photography assignment and I am also now an official contributor for Getty Images, so I've had a busier (in a good way) week than usual. Hope you have a great week too!
Serves 6

Ingredients:

6 rice noodle 'rounds', soaked in warm water for 30 minutes
2 stalks lemongrass, white parts smashed
Handful of kaffir lime leaves, bruised
3 red chilli peppers, sliced
4 shallots, minced
4 cloves garlic, minced
1/2 cup cubed chicken thighs/ breasts (marinate in corn flour for 15 minutes for tenderising effect)
1 cup beansprouts

Sauce: (mix in a separate bowl and set aside)

4 tbsps Thai stir-fry sauce
1 tbsp chilli powder (lessen if you require less spicy)
1 tbsp Thai chilli sauce
Fish sauce, to taste

Homemade fried shallots and oil (optional), for serving
Omelette, sliced into strips for garnish
2 calamansi limes, cut into halves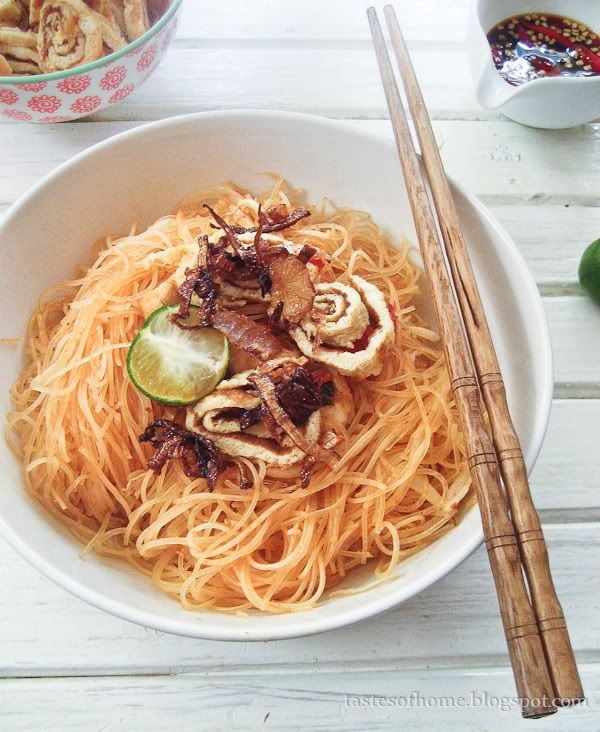 Method:

Firstly, prepare the shallots if using. Deep-fry the shallots for until golden brown with low heat. Do not use high heat to avoid burning. Once golden brown, dish out and set aside. Save some of the oil from the shallot oil and use to fry the rice noodles.

Heat up the same wok until almost smoking. Add 3 tbsps of the oil and turn heat to medium, add the garlic, shallots, chilli peppers, lemongrass and lime leaves. Stir fry until aromatic.

Add the sauce that was mixed up earlier into the wok and stir again until aromatic. Add the chicken and beansprouts, stir fry until almost cooked. Add about 1 tbsp of water and add in the rice noodles (I added so little water as the beansprouts and chicken will release moisture while in the wok), so please adjust accordingly. Stir-fry the rice noodles until all the liquid is absorbed.
Garnish with some omelette strips and shallots before serving with some calamansi limes.




Omelette:

Ingredients:

2 eggs
1 tbsp water
1 tsp oil

Method:

Mix the above and whisk well. Fry in a flat pan as you would an omelette. Slice into strips for garnish.