This deceptively simple spinach dish is one of my favourite vegetable dishes to order whenever I visit Chinese restaurants.Today, I am quite pleased to be able to share with you my recipe for recreating this popular restaurant-style dish at home which was quite successful if I may say so myself, judging from the lack of leftovers from this dish earlier tonight. For the uninitiated, this is simply spinach cooked with whitebait, garlic and century eggs in chicken broth or 上汤(loosely translated as superior or deluxe broth). For this dish, it is essential that you use good quality chicken broth and for today, I used organic free-range chicken broth (Pacific brand) that yielded excellent results. Of course, if you are so inclined, you can make your own chicken broth but if time is of the essence, using store-bought versions is totally fine. Note too that there may be other versions of the broth (or other elements) used in this dish, as always there is no 'right' or 'wrong' way but cooks are a flexible bunch, and recipes may be modified to suit personal preferences and availability of ingredients locally.




The relatively mild flavours of the spinach are complemented perfectly by the natural umami and sweet flavours from the chicken broth while the garlic, whitebait and century eggs provide the final flavour accents. I refer to pan-fry the century eggs (thousand year old eggs) before adding them to the broth to eradicate the slight 'fishiness' and for added fragrance. A caveat though, if this is your first time eating century eggs, the consistency of the yolk especially may seem too 'exotic' but you've really got to try it for yourself and although I am a huge fan of century eggs, I admit that there are plenty of people, Chinese included who dislike eating century eggs - for this dish however, I think it is quite essential to use the eggs, if not for eating but more for the unique savoury flavours they impart to the broth. I hope that you will give this dish a try and I think this is a great Asian/ Chinese style vegetable dish to keep at your fingertips as it is easy enough to whip up in almost no time and is a little more unique than the usual stir-frys. As for my fellow spinach in superior broth fans, I do hope you will like this version :O.




Note from Jen:

As the century eggs and whitebait are naturally salty, there is usually no need to add salt to season the broth but if you prefer, you may do so depending on your taste preferences.

Serves 4
Serving suggestion: with steamed rice
Ingredients:

3 bunches of spinach (avoid the 'old' weathered ones, baby spinach is fine) - about 5 cups worth
4 garlic cloves, smashed lightly
1/4 cup worth of whitebait (white anchovies), rinsed
2 century/ thousand year/ preserved eggs, shelled and sliced into wedges
2 cups of chicken broth
2 tbsps cooking oil

Seasoning (if required):

Salt, to taste

Century eggs or preserved duck eggs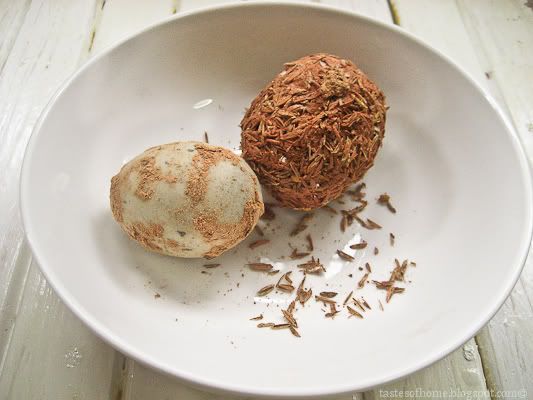 Method:

Firstly, pan-fry the egg wedges until the surface starts getting a little wrinkly. Remove from pan/ wok and set aside.

Prepare a wok or shallow pot for preparing the broth. Heat about 2 tbsps of cooking oil in your wok. Once hot, turn heat to low and add the garlic cloves. Stir-fry until aromatic. Add the whitebait and the pan-fried egg wedges. Stir around for about half a minute. Turn heat to high and add in the chicken broth. Add in the spinach and cover to bring to a boil. Spinach wilts by a great amount so don't worry if it looks like there is 'too much' spinach.

Once rapidly boiling, wait for another 1 minute before removing the cover. By now, the spinach should have wilted entirely in the broth. Do a taste test and add salt IF required. Your dish is ready! Serve immediately.