I have always wanted to make chicken lettuce wraps at home for the longest time and finally got around to it when I saw some extremely fresh iceberg lettuce at the local grocery store a few days ago. For the filling, I diced some chicken thighs lightly marinated in some five spice powder and stir-fried it with some shitake mushrooms, Chinese pickled radish (choy po) and green onions in oyster sauce, Chinese rice wine and some soy. Water chestnuts are usually added as the latter provides crunchy texture but for today, I wanted a little something more flavourful hence I used pickled radish which is not only crunchy but has deep savoury flavours. You really need very fresh iceberg lettuce for this dish as the lettuce is a big part of the dish itself, the lettuce has to be crisp and 'sweet' to complete this easy chicken dish.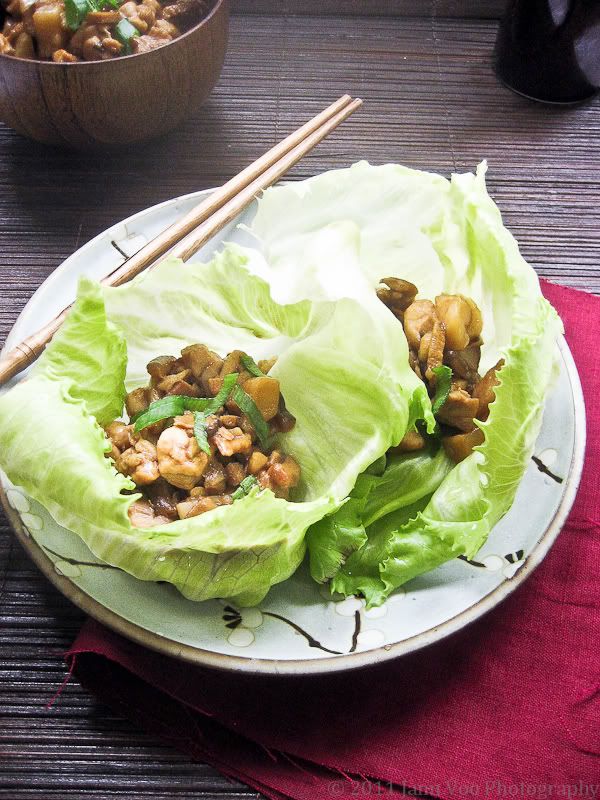 The filling alone actually went pretty well with rice but really, it tastes much more refreshing wrapped in the crisp iceberg lettuce leaves. These are great served as part of a main Chinese dinner or as appetizers, your guests will enjoy making their own little lettuce parcels at the table. If you have the time, you can also deep-fry a handful of rice noodle sticks, break them up and serve them on the side for your guests to sprinkle onto their chicken wrap right before eating.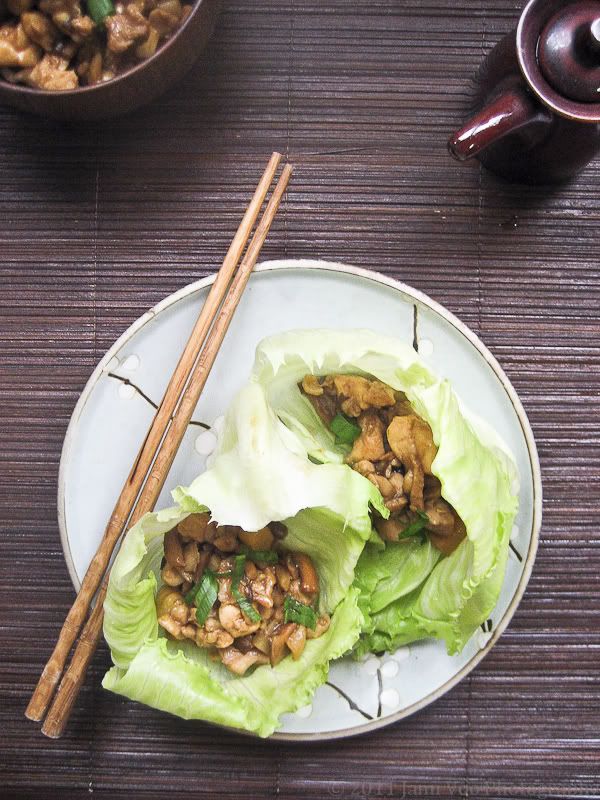 As you may have noticed, the name of this blog has just been changed to "Smoky Wok" and is now on its' brand new custom domain. The name change has been mulled over for a while and I hope this did not take you by too much of a surprise, anyways apart from a new name and a new domain, I will still be featuring easy (mostly) Asian homecooking recipes so nothing much will change apart from constant improvement, that is. I do hope you continue supporting this blog and I really appreciate your support thus far. The new name is a play on how in almost all of my Chinese recipes (that require a wok) I constantly tell you to 'heat your wok till almost smoking' :O.




Serves 5-6


Ingredients:


4 boneless chicken thighs, sliced into 1/2 inch cube squares (just a rough guide) - marinate in 1/2 tsp five-spice powder and 2 tsps corn flour
1/2 head of iceberg lettuce leaves
Handful of Chinese pickled radish (the salty variation), soaked in water for at least 30 minutes, diced
8 shitake mushrooms, diced (fresh or dried versions are both fine)
2 stalks green onions, sliced
3 cloves garlic, roughly chopped

Seasoning:

2 tbsps Chinese Shaoxing Wine (Chinese rice wine) + 1 tbsp light soy sauce

Mix the below ingredients together in a small bowl and do a taste test, add more soy or oyster sauce if desired: (note: As I am used to making stir-frys, I add each condiment separately straight from the bottle as I cook, the method here makes life easier and is ideal if you are not used to Chinese cooking)

2 tbsps oyster sauce (add more if needed)
2 tsp light soy sauce, or to taste
1/2 tsp dark soy sauce (more for the colour)
1 tsp sugar
1 tsp sesame oil
2 tbsps water

Method:

Firstly, rinse the lettuce leaves well and keep covered in the fridge to maintain crispness.


Heat up your wok till almost smoking. Add 2 tbsps cooking oil and swirl to coat. Turn heat to low and add garlic and green onions. Fry till aromatic. Gently add in the 2 tbsps of Chinese rice wine.

Turn up the heat and add the mushrooms and radish. Fry till aromatic. Add the diced chicken and stir fry around briskly. Add in the seasoning and stir-fry to mix well. As I diced my chicken into pretty small pieces, they should not take too long to cook. Continue stir-frying the chicken until almost all the liquid has been soaked up. Do another taste test and if not salty enough, add more soy sauce.

Finally, add in another 1 tbsp of Chinese rice wine, give the chicken a brisk stir in the wok again. Dish out onto serving platter. Serve hot with the cold iceberg lettuce leaves on the side.