Today's feature is one of those Chinese dishes that can be listed under the 'acquired taste' category. Spareribs marinated in a pungent, savoury and oh so aromatic red fermented beancurd mixture, then dusted in some flour and deep-fried to crunchy, reddish perfection, sounds perfect to me! (?) The main star of this dish is the red fermented beancurd or 'nam yu' (pictured below) in Chinese which is one of the many condiments you will find in most Chinese households - the texture of the beancurd is creamy and rather like cheese but do be warned that it has a distinctly different taste profile from regular cheese. The fermented beancurd combines very pungent savoury, slightly smoky and fragrant flavours - nam yu is essentially beancurd that has been fermented in a mixture of red rice, wine and five spice powder (usually). Again, this is really a condiment that you will have to smell and taste for yourself - but don't make a decision at first whiff or taste, the flavours of nam yu are rather complex and this is a Chinese condiment in my opinion that has distinct layers in taste - the initial pungence, then the savouriness (umami), smokiness and even a slight sweetness.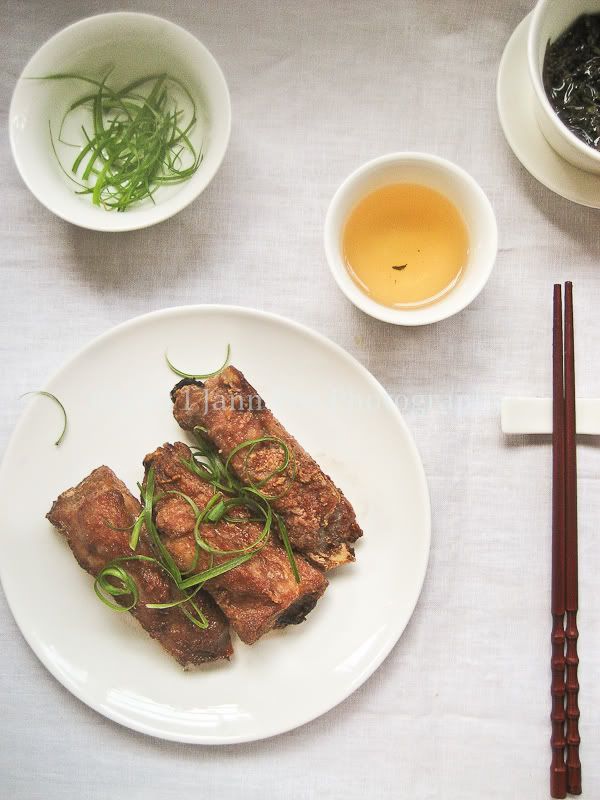 Anyway, I do hope that you will give this condiment a try someday and as for my fellow nam yu fans, I am guessing that this dish does not need much more introduction from yours truly. I think the secret to this dish is really the length of time you marinade the ribs for - definitely important to make sure that each crunchy bite is full of flavour. For the marinade, I mashed up a few cubes of nam yu then added a tiny bit of soy sauce to bring out the saltiness further, a splatter of rice wine and a tiny bit of sugar. For the dusting, I used a mixture of rice flour, potato starch and corn flour before frying the ribs on medium-low heat until they were done. This dish is very easy to prepare although the frying does require a bit of time and maybe mess (?), but this pungently delicious dish is totally worth and if you are a nam yu fan, I'm sure you'd agree.




Note from Jen: The ribs require a marinating time of at least 2 hours and up to 5 hours (in the fridge covered), so please plan accordingly.

Serves 4

Serving suggestion: with steamed rice

Ingredients:

12 large spareribs (or equivalent)

Marinade:

2 tbsps corn flour
6 cubes nam yu (note that different brands' nam yu may have different sodium levels so please adjust accordingly)
1 tsp light soy sauce
1 tsp sugar
1 tbsp Chinese rice wine (Shaoxing rice wine)

For dusting:

3 heaped tbsps rice flour
2 heaped tbsps potato flour/ starch
4 heaped tbsps corn flour

Garnish: Green onion curls (optional)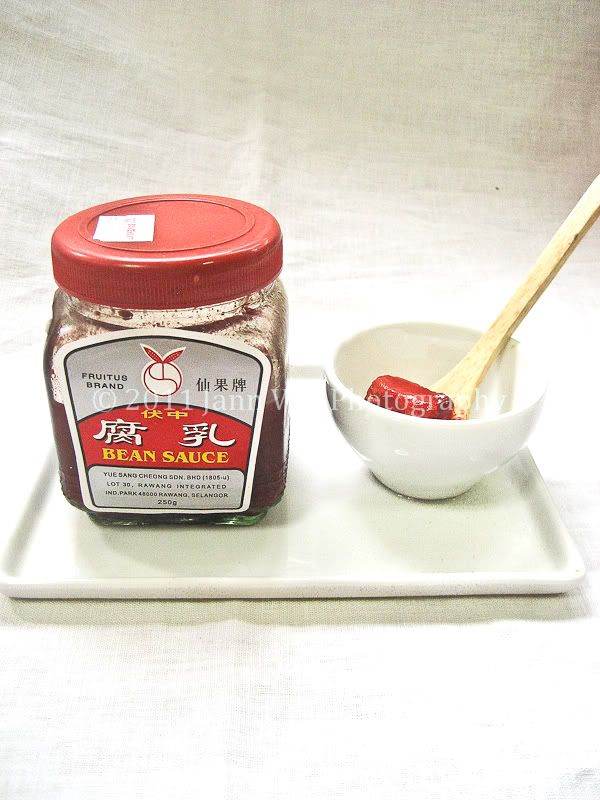 Method:

Firstly, mix up the ingredients except for the corn flour for the marinade in a bowl large enough to marinate all the ribs. Do a taste test and add slightly more soy if needed. Clean the ribs and add to the bowl for marinating. Add the corn flour and with your hands, coat the ribs well with the nam yu mixture. Place covered in the fridge for at least 2 hours.

When you are ready to cook the dish, heat up a wok and then add enough oil for deep frying the ribs. Use medium-low heat for frying. Fry the ribs in batches if your wok is not large enough, it is important not to overcrowd while frying. You will probably need to fry the ribs for at least 5 minutes but then of course this is dependent on the size of the ribs you bought so please adjust accordingly. Since we are dealing with pork, it is better to slightly 'overcook' than undercook.

If in doubt, by all means, remove the largest piece from the batch and slice it to check if it is cooked. Repeat with remaining ribs. Drain on some paper towels briefly then plate and serve hot with steamed rice.