It's been awhile since I have featured one of my absolute favourite Chinese comfort foods, the ever-nourishing and soothing slow-fire soup or 老火汤 for those of you who read Chinese. Slow-fire soups are a genre of soups usually Cantonese in origin and as the name implies, you have to boil or rather simmer this soup for hours before it is considered done. Usually there will be a kind of protein, a meat of some sort, chicken or pork are popular choices, boiled with a type of vegetable or even peanuts all combined with a myriad of Chinese dried goodies including dried scallops, red dates, maybe a herb or two and the list goes on. For today, I am presenting the classic favourite of winter melon soup and you know what? I find that no matter where I am living, while suffering the humid heat in Malaysia OR while living in cooler weather in the US and UK, slow-fire soups are welcome anytime or maybe is it just me and my crazy soup-loving ways?




Anyways, the main 'star' of this soup is the winter melon, apart from the soothingly mild flavours it gives, I love eating the melon wedges as well. I prefer to use chicken with winter melon instead of pork as I think chicken provides a slightly 'cleaner' and clearer flavour profile while the Chinese Yunnan smoked ham, dried scallops and red dates provide perfect savoury accents to this traditional Chinese soup. The Chinese believe that these slow-fire soups are not just soups but are more like tonics. This again comes back to the concept of balance in one's body as the Chinese believe - winter melon soup is thought to bring down heat in one's body and so is especially suitable in the hot weather although I must admit, for me, this is an all-weather comfort food. It is also incredibly easy to put together, you just need to put all the ingredients in one pot and simmer for a few hours - how easy is that? Of course, do keep watch on the simmering soup just in case AND never add additional water while boiling which will be a guaranteed way of irreversibly messing up your precious soup :O.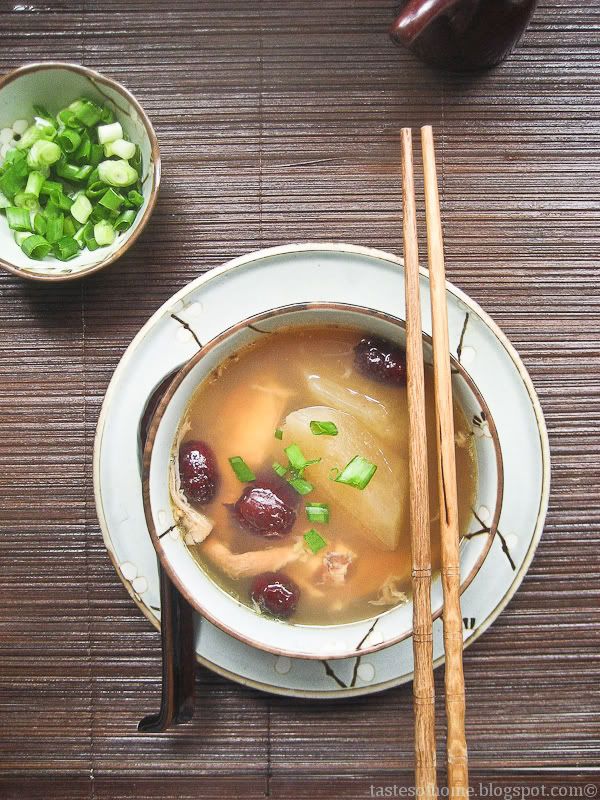 Serves 6

Ingredients:

12 cups of water
1 winter melon, skin removed and cut into wedges
3/4 cup worth of dried scallops 干贝, rinsed quickly
1 free range chicken, skin removed
5 red dates, seeds removed
Sliced green onions, for garnish (optional)
2 inches worth of dried Chinese Smoked Yunnan Ham(云南火腿)

Method:

Firstly, blanch the chicken quickly in boling water to remove impurities. Remove from the water as soon as the surface turns white which will just take a flash. Discard water and set chicken aside.

In a large soup pot (I use a large claypot), place all the ingredients inside, add the water and bring to a boil, covered. Once boiling rapidly, turn heat to low and allow to simmer but allow some space for the steam to escape by tilting the cover a little. I have to do this as my clay pot does not have a big enough vent but please adjust accordingly. Simmer for at least 5 hours. Do a taste test and and salt if you wish but usually with slow-fire soups that have been cooked this long, all the natural savoury flavours from the ingredients will be adequate and there is no need to add salt. Your soup is ready.

Ladle the soup into invidual soup bowls. Garnish with some green onions if you wish. Serve piping hot!