This is probably one of the few instances where I prefer to use the imitation version as compared to the real thing - this time when it comes to the infamous Chinese delicacy of shark's fin. Without launching into all of the whys, I'm just pretty much on the same page with much of the rest of the world on the consumption of this 'delicacy'. Admittedly, when I was probably too young/ too ignorant (?) I did have my fair share of shark's fin, ask any Chinese person and he or she would probably have tasted shark's fin someway or another. Anyway, for today's feature, I made the faux version of one of my favourite dim sum dishes - 'sharksfin' dumplings, a mixture of pork and shrimp laced with some toothsome 'sharksfin' makes up the filling while the addition of fresh bamboo shoots gives us more texture. These dumplings or 灌湯餃 are usually first steamed then served together with a luxurious yet clear broth instead of being boiled nowadays.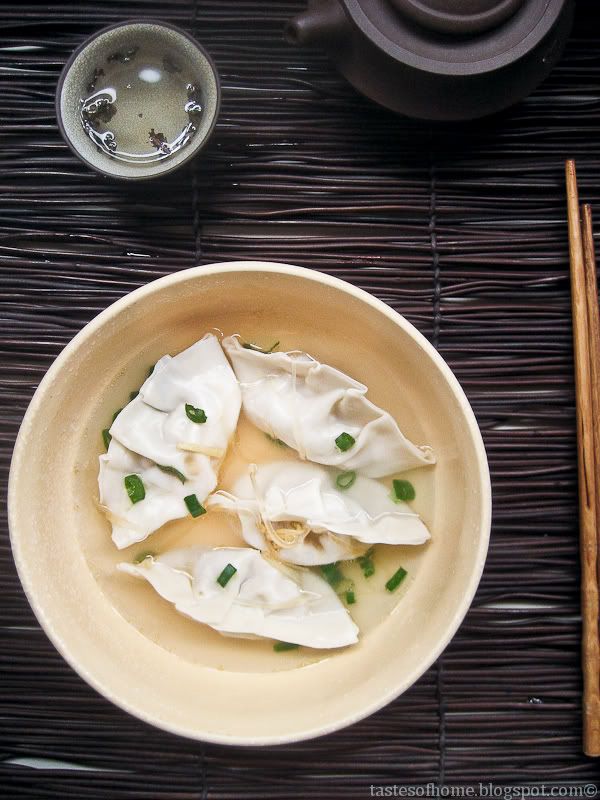 These dumplings are extremely popular especially in the Guangzhou/ Hong Kong/ Macau area (to the south of China) and my version is actually a simplified version as traditionally, these dumplings were actually served with the broth inside the dumplings, much like Shanghai's famous 'xiao long baos' with slight variances. For the broth, I used homemade chicken broth which I clarified a few times as I wanted an extremely clear broth add added some abalone sauce for an added touch of luxury. Anyhow, these dumplings combine savoury, 'sweet', umami flavours with great texture from both the 'sharksfin' and fresh bamboo shoots - these little morsels are sure to please and will definitely be popular with you and your guests alike. On a side note, if you can't find fresh bamboo shoots where you are, go ahead and substitute with canned water chestnuts.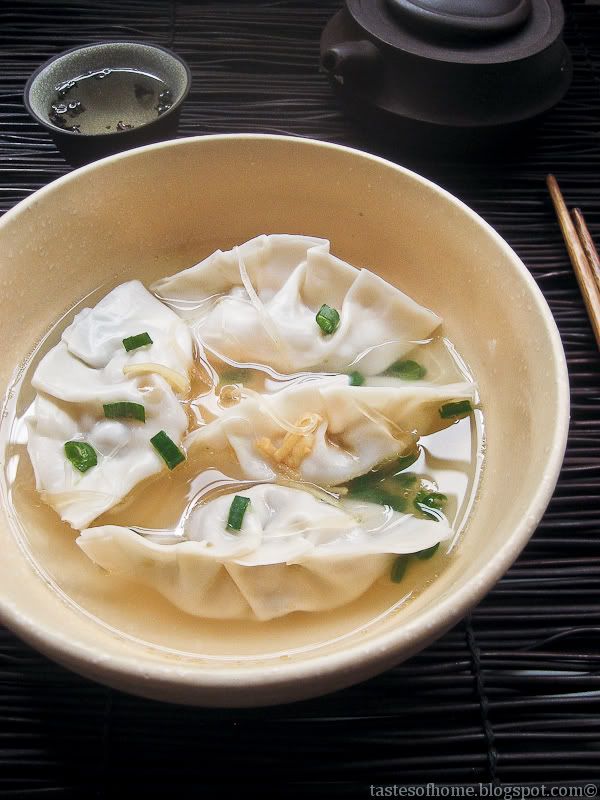 This post is part of my Yuen Chun Recipes, an ongoing project on this blog.



Notes from Jen:

The marinade will take at least 1 hour, so please plan accordingly.

Remember to buy jiaozi (dumpling) or sui gow wrappers instead of wonton wrappers as the taste of the latter is a little stronger since it has the addition of eggs in the dough.

You can make a big batch and freeze the dumplings for later use. To freeze them well, place the wrapped dumplings on a tray/ platter and cover, freeze for about 1 hour before placing in air-tight containers. This step will harden the dumplings and will prevent the dumplings from sticking to each other in the containers. When you are ready to cook the frozen dumplings, do not thaw but cook immediately according to your desired method.

Makes 40 dumplings

Ingredients:

40 dumpling wrappers

Filling:

1/2 pound or around 1 cup worth of pork (to be minced or just buy ground pork if you wish)
1/2 pound or around 1 cup worth of shrimp, shelled
3 stalks green onions, sliced (save a small handful for garnish if you wish)
4 slices ginger, slivered/ sliced
1 cup worth of imitation shark's fin
1 fresh bamboo shoot, sliced (or about 4 inches worth) - substitute with canned water chestnuts if unavailable

Marinade:

3 tbsps abalone sauce
1 tbsp oyster sauce
2 tbsps Shaoxing Rice Wine
2 tbsps light soy sauce
1 tsp sesame oil
1/2 tsp sugar

Abalone sauce from Yuen Chun



4 cups of chicken broth (store-bought or homemade) - use less of the broth if not cooking the entire batch of dumplings at one go.

Dipping sauce:

2 tbsps Chinese black vinegar
1 tsp of ginger slivers

Method:

Firstly, mince the pork by hand. Even if you bought ground pork, I still like to chop it up a little, somehow I think this adds better texture than just using it straight from the packet. Set aside.

Mince up the prawns as well. In a medium bowl, mix the ingredients for the marinade together. Add in the prawns, pork, 'sharksfin', bamboo shoots and green onions into the marinade and mix well with your hands. Allow to marinade in the fridge for about 1 hour or more if you have the time.

Prepare a lightly floured tray for placing the wrapped dumplings onto as you work. Prepare a bowl of water for the sealing of the dumplings. Now you are ready for the wrapping.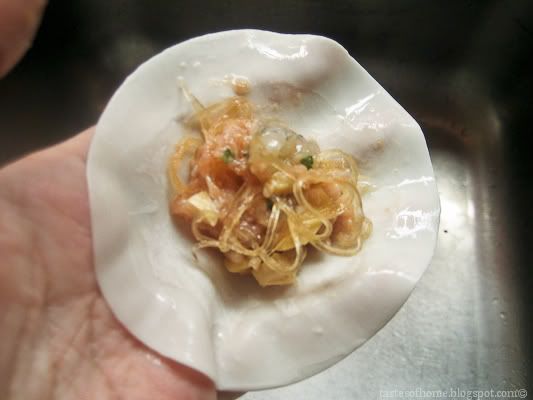 Place a wrapper on the palm of your left hand (if you are a rightie), place about 1 tsp of the filling onto the center of the wrapper. Brush the edges of the wrapper with water and fold the wrapper in half, without the corners being sealed yet, pleat the wrapper beginning from the center of the sealed edges and once at the side, tuck the corners in and pleat to seal. If this sounds too complicated, simply seal by pressing the edges together after you've applied the water.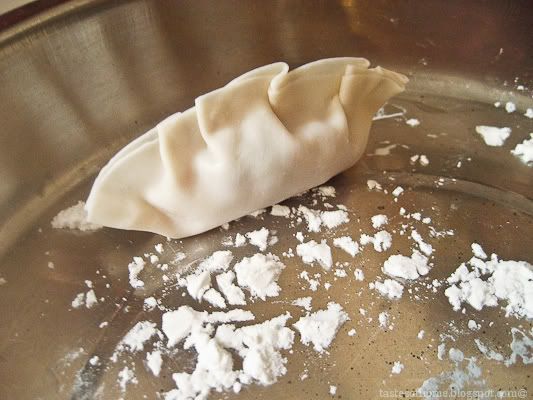 Place the wrapped dumpling on the floured tray and repeat with the remaining until you've used up the filling.

To cook:

Steam the dumplings over high heat for about 5-10 minutes. Remove and set aside. Spoon a few dumplings into separate serving bowls for each guest and ladle the chicken broth over the dumplings. Serve hot with the vinegar and ginger slivers. I added some more cooked 'sharksfin' to the broth right before serving as well, but this is optional.

Alternatively, you can pan-fry these much like pot stickers for a different take on serving these versatile dumplings.