Everyone has a type of chocolate chip cookies that they like in particular right? Some like it soft and chewy while others (like me!) prefer them crispy although I have to admit I liked these cookies that I just made quite a bit as well. These cookies were also incredibly easy and straightforward to make unlike the slightly more complicated 36 brown butter chocolate chip cookies that I made (again) earlier in the week. Apart from having to be careful while browning the butter, you'll have to wait an excruciating 36 hours for the dough to rest before baking. Sometimes though, you may just want a bit of instant gratification (well this is relatively instant) right? I highly recommend today's recipe for those times - actually my brother who is a huge fan of chocolate chip cookies said he preferred today's version as he thought the browned butter made the cookies a little 'too aromatic' - well go figure! I thought, hey wow, I can bake these with much less work so I'll probably just stick to these from now since he is the person who eats most of the cookies anyway.




For today's easy cookies, you do not have to rest the dough at all and instead of using chopped chocolate, I just returned to the basics and used store-bought chocolate chips. I do find using chopped chocolate a chore sometimes as I tend to get chocolate all over the place while chopping - maybe I just don't know the secret method yet for chopping chocolate without bits scattering all over so do enlighten me if you know how. This will be my go-to recipe for fast chocolate chip cookies from now onwards and I have already been reminded to bake another batch for the brother to bring back to England when he returns to university after the summer holidays :O.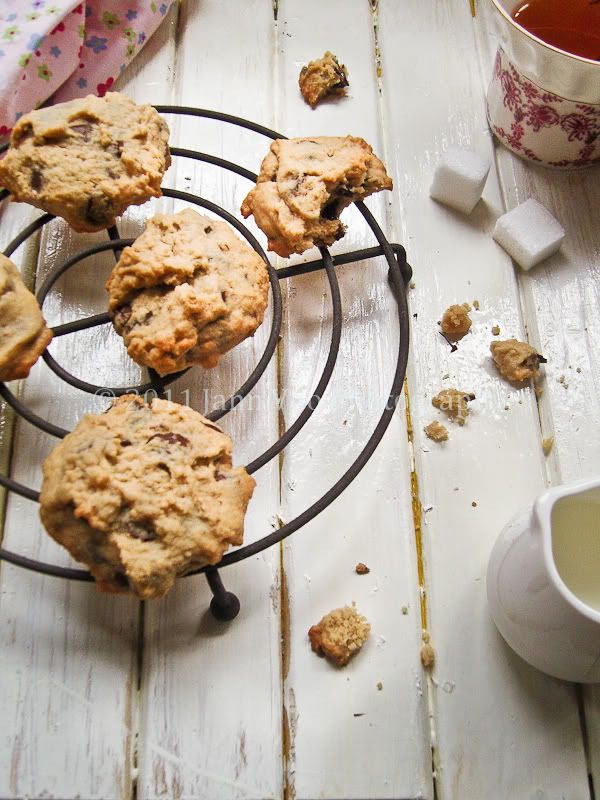 Recipe lightly adapted from Martha Stewart

Ingredients:

2 sticks/ 1 cup/ 225g unsalted butter, softened
1 1/4 cup brown sugar
1/3 cup white sugar
2 cups bittersweet chocolate chips (ratio of chocolate chips to cookie is quite high)
2 1/4 cups all purpose flour
1/2 tsp baking soda
1/4 tsp salt
2 eggs, room temperature
2 tsps vanilla extract

Method:

Firstly, pre-heat your oven to 175 C (about 350 F) mix the all purpose flour and baking soda together well (I used a whisk as recommended). Set aside.

Chop the softened butter into a few large chunks and add to a large bowl for creaming. With a wooden spoon, 'beat up' the butter as this will make for easier mixing with the sugars. Add the white sugar and brown sugar and mix well until incorporated. You should do this for at least 5 minutes.

Next, add the eggs, vanilla extract and salt into the mixture and mix to incorporate. Finally, add in the flour while mixing in 3 portions. Stir in the chocolate chips and you're ready to bake!

On a tray lined with baking paper, drop rounded tablespoons full of the dough onto the tray, leaving a 2 inch space in between. Bake for about 10 minutes. Remove from oven and allow to cool.

Note from Jen: I prefer to bake cookies only on the middle rack of my oven, so I baked these in about 4 batches. If you do so, refrigerate the dough in between baking especially if you live in warmer climate.