I'm back with another 'cheater's recipe' for puffs, spicy tuna puffs this time- if you don't have the time (or inclination) to bake from scratch, these should be right up your alley. Admittedly, I have not been baking much (from scratch) recently as well but since I wanted to try making some spicy tuna puffs, the ready-made sheets turned out really handy. The spicy tuna filling I used in today's puffs is something that is commonly seen in a lot of Malaysian bakeries and is probably a result of a clever combination of western and local flavours. I added some chopped shallots, chilli peppers, lime juice and mayo to some canned tuna and voila, easy and appetite-inducing spicy tuna puffs that were devoured pretty quickly I may add.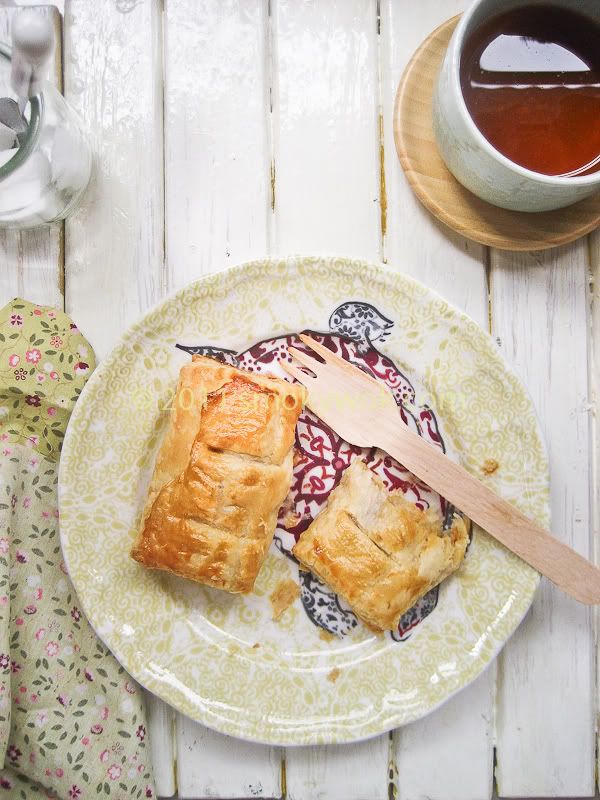 I just love how puff pastry lends itself so well to both savoury and sweet fillings, the possibilities are just endless. If you prefer a sweet version, do take a look at my blueberry turnovers. Sometimes, it feels really good to cheat (at baking that is!) - apart from the speediness, I feel it gives me more room to experiment with different fillings as although doable, it is quite a production to make puff pastry from scratch at home, at least for yours truly who is no pâtissier. But, if you insist, do take a look at my foray into making puff pastry at home complete with my step-by-step photos.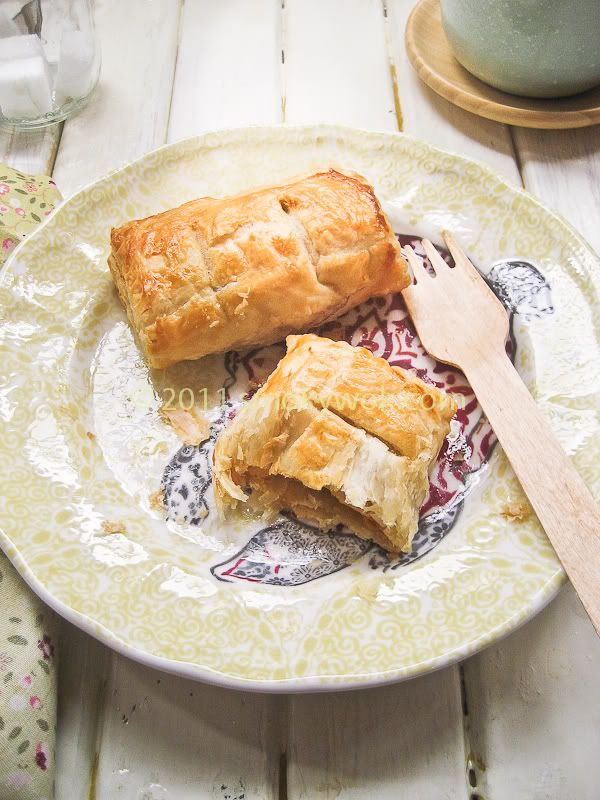 Makes 10 puffs

Ingredients:

10 square puff pastry sheets
1 egg mixed with 1 tbsp water for eggwash

Filling:

1 can of tuna in water, drained
1 shallot, sliced
2 bird's eye chilli peppers, sliced (seeded for less heat)
Squirt of lime juice (optional)
2 tbsps mayonaise

Method:

Firstly, pre-heat your oven to about 150 C (302 F). Prepare a baking tray by lining with some baking paper. Lightly grease the baking paper.

Prepare the filling by mixing the ingredients listed above together well. Set aside.

Take one sheet of puff pastry and spoon about 3 tsps of tuna filling onto the middle. Brush the edges with the egg wash and fold over, pressing down gently. Use a fork to seal the edges by crimping the edges.

Make two slits on the top of the puff (this is for steam to escape). Repeat the above until you've used up your puff pastry sheets. Brush each puff with some eggwash and place in oven to bake.

Bake for about 20-25 minutes or until golden brown. Serve either warm from oven or allow to cool on a wire rack before storing in an air-tight container.