If you've been around for a while, you may notice that I am a noodle fanatic amongst other things :O. So I was thinking to myself that it was high time for me to feature one of my favourite noodle dishes, the very humble ramen stir-fried with some vegetables and protein (of your choice). I don't eat ramen much nowadays but every now and then, there is a craving and who hasn't succumbed to ramen especially while cooking for one although I of course do not recommend it on a daily basis.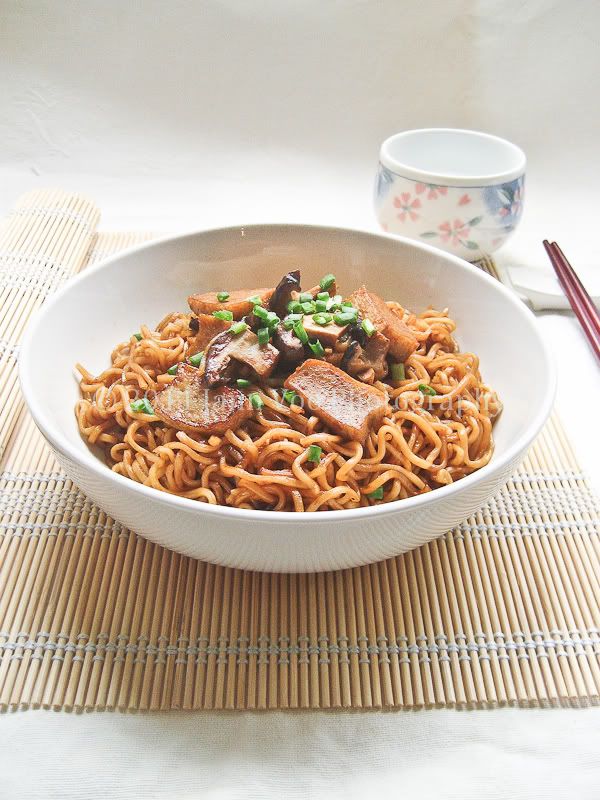 Instead of the usual cooked- from- a- packet ramen, I decided to make it a little 'fancier' and stir-fried the noodles with some shitake mushrooms and fish cakes in fragrant mushroom dark soy sauce. As stir-frying ramen can be rather delicate as well, eschewing a wok this time and using a non-stick pan will make life easier. If you go the traditional route and decide to use a regular Chinese wok, do remember to have the wok almost smoking before you add the oil (as usual) and do not overboil the ramen to avoid the noodles from turning overly soft as we will be cooking them twice. For this dish, I would not recommend for you to use the 'regular' ramen you get from grocery stores, the ones from the Asian grocery stores taste much better and have much better texture, or maybe it's just my Chinese taste buds acting up. Anyhow, you can use this recipe for other noodles like whole wheat pasta, regular Chinese egg/ dried wheat noodles and the list goes on.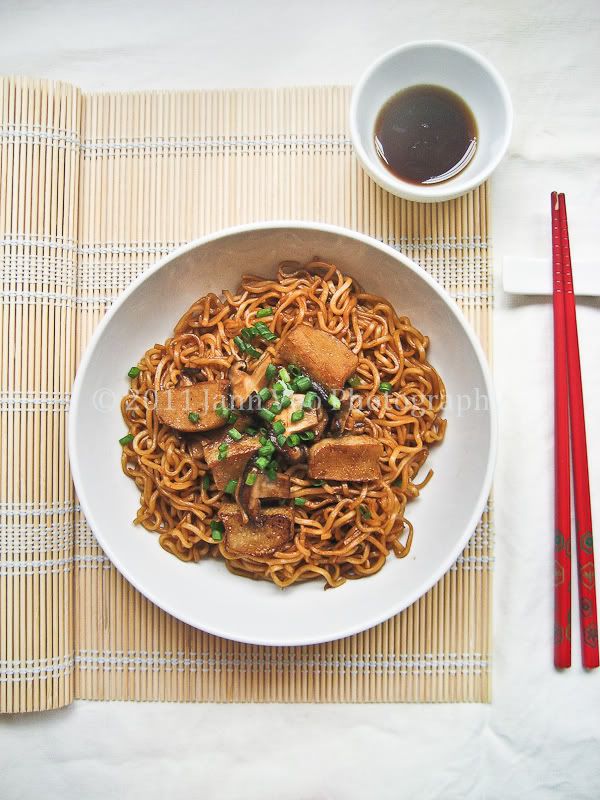 Serves 4

Ingredients:

4 packets of dried ramen noodles
3 cloves garlic, minced
2 stalks green onions, sliced (save the green parts for garnish)
1 packet of fish cakes, sliced (these can be found in any Asian grocery stores), alternatively substitute with chicken or other protein of your choice
6 fresh shitake mushrooms, sliced (you can also use dried ones but you'll have to soak them)
2 tbsps of mushroom flavoured dark soy sauce and more to adjust for taste preferences
1 tbsp light soy sauce
Dash of sesame oil
Dash of white pepper

Method:

Firstly, boil the ramen according to package instructions. Do not overboil. Remove noodles from water, drain and set aside.

Heat up your pan. Add about 2 tbsps of cooking oil. Turn heat to low and add garlic, green onions and stir fry until aromatic. Add in the mushroom slices and fish cakes. Stir-fry around until fish cakes are lightly browned.. Add the 2 tbsps of dark soy sauce and about 1 tbsp of water. Add the light soy sauce. Add in the noodles from earlier and stir around briskly to coat well. Add a dash of sesame oil. Add the pepper as well.

Do a taste test and add more soy if needed. Once the noodles are well coated, remove from pan and plate. Garnish with some of the saved green onion slices. Serve hot.