Kimbap which literally means rice in seaweed (bap means rice while kim/ gim means seaweed), is one of my favourite Asian snacks which I should mention is also very easy to put together and very portable, hence it's immense popularity as picnic or lunchbox food. Although there are some usual ingredients you may find in a kimbap, like omelette strip and the vibrant yellow pickle (danmuji), you can really tailor-make the ingredients in these rolls according to what you fancy. For today, I made a tuna and a kimchi version where I used canned tuna flakes with omelette strips, softened carrots, cucumber and just replaced the tuna with some chopped up cabbage kimchi in the other version. You can also add minced beef stir-fried in some soy and sesame oil or fishcakes so really, making kimbap is like a playground for your culinary creativity.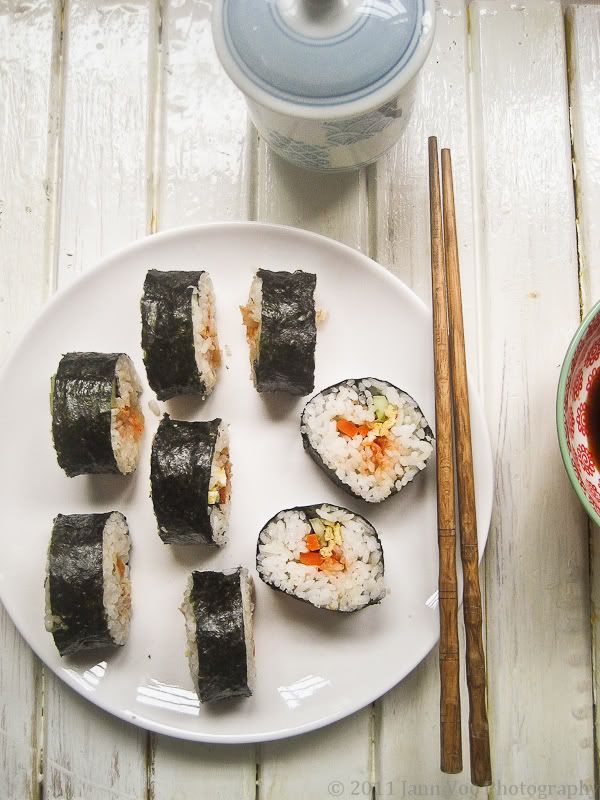 The main differences with sushi just in case you were wondering is that much less rice vinegar is used to dress the rice, the ingredients are cooked and sesame oil is added to kimbap which is definitely absent from its' Japanese 'look-a-like'. To me, kimbap is heartier and is also easier to eat as a dipping sauce is not needed whereas sushi usually has more delicate flavours that are highlighted with the requisite dipping sauce. I do hope you will give these a try and really, kimbap is not 'Korean sushi'! :O.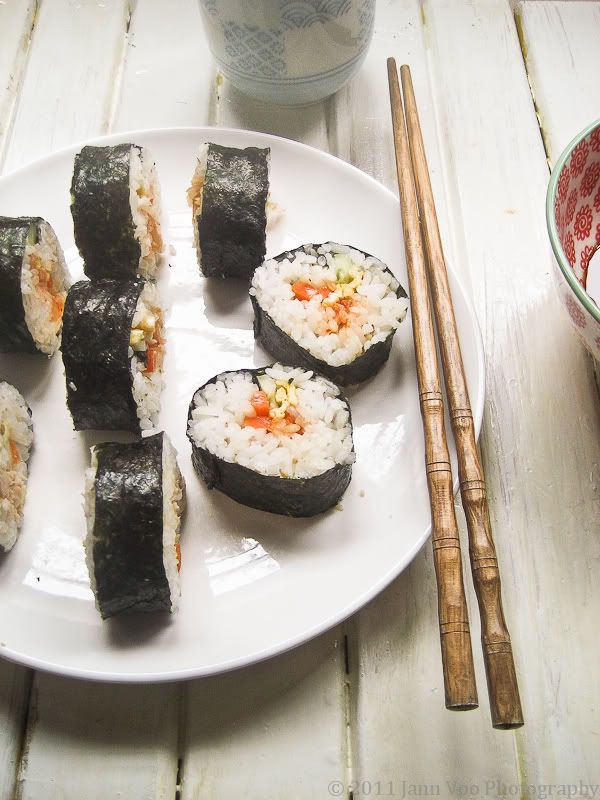 I tried making these again and used light soy sauce from Yuen Chun - slightly deeper flavours but I found it acceptable and in fact tastier (at least to us). This post is part of my Yuen Chun Recipes, an going project on this blog.

Makes 6 rolls

Ingredients:

6 pieces of seaweed (nori/ laver/ gim/ kim)
3 cups cooked short-grain rice
1 carrot, cut into long strips (stir-fried with a bit of salt)
1 cucumber, cut into long strips
2 eggs, beaten
1/4 cup of kimchi, chopped
3 tbsps plain tuna flakes, mixed with about 1/2 tsp light soy sauce (I used Yuen Chun's)

Dressing for rice:

1/2 tsp sugar
1 tsp light soy sauce
1/2 tsp sesame oil
1 tbsp sesame seeds
1 tbsp rice vinegar




Method:

Firstly, prepare the rice by cooking in rice cooker as how you usually cook rice. Once cooked, remove from cooker and allow to cool for about 20 minutes.

At this point, you can start preparing the ingredients that will go into your kimbap. Start by stir-frying the carrot strips until slightly softened (about 2 minutes) with about 1/2 tsp salt. Set aside.

Now, fry the eggs in a non-stick pan to make a thin omelette. Once the omelette is cool enough to handle, roll up and cut into strips. Set aside.

Once the rice is only slightly warm, you can start preparing the dressing. In a large bowl, mix the ingredients for the dressing together and then scoop the rice into the bowl and mix well. Set aside.

Lay out all the ingredients that will be going into your kimbap on your work space for the assembly.

Lay one piece of seaweed on your bamboo mat and cover half of the seaweed with the dressed rice, pressing down gently as you go. Brush the remaining seaweed uncovered by rice with a tiny bit of sesame oil. (or use water if you prefer) Lay the carrots, cucumber, omelette and kimchi (or tuna) on the rice (as pictured) and start rolling using the bamboo mat as a 'guide'. Roll up away from you and once you get the initial shape, continue rolling with your hands and seal the edges together gently.

Repeat the above until you've finished using up the rice.

For the slicing, be sure to use a sharp knife and in between slicing, you can dip the knife into some rice vinegar for easier slicing. Serve. If you are not serving all the rolls at once, you can slice them later but keep them covered in the fridge. Kimbap tastes best on the day it is made.