I am always fascinated whenever I walk down the noodle aisle at an Asian grocery store, the huge variety of noodles is simply astounding and the culinary possibilities endless. E-Fu noodles or yee mee (伊麵) as it is more popularly known in Malaysia are a constant favourite at a lot of Chinese festive occasions (the thicker version as presented today which is usually uncut). 伊麵 is also referred to as 壽麵 (longevity noodles) when eaten as a celebratory dish on birthdays where the long noodle strands are symbolic of a full and long life. E-fu noodles are first fried, dried and usually sold in large 'patties'. The texture of the noodles is quite toothsome and are especially suitable for braising. For today, I am featuring an easy braised version with pork slices, shimeji mushrooms and Nappa cabbage strips all braised/ simmered in a flavouful chicken broth and abalone sauce mixture.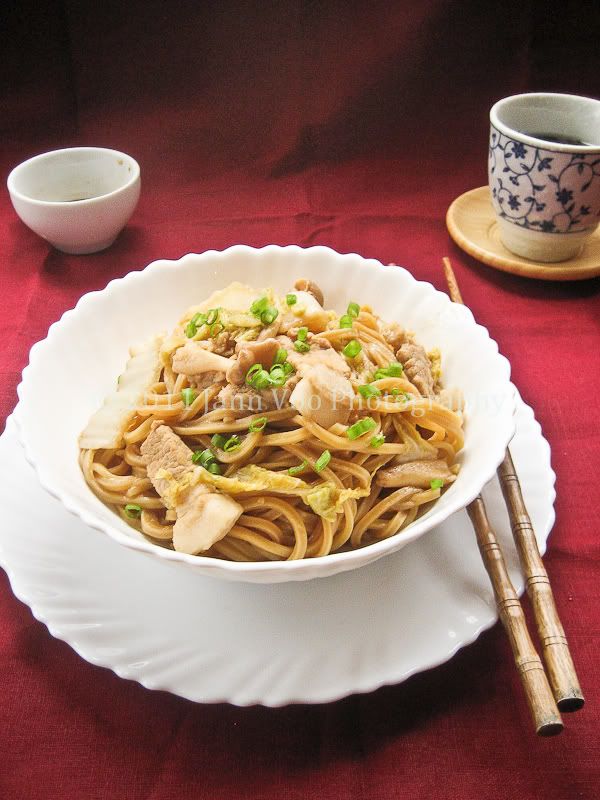 Noodles make up a significant part of my cooking repertoire, fry them, put them in broth, braise them, mix them up together - there is something for everyone, don't you think? If you have yet to try this kind of noodles, do note that they taste 'stronger' as they have already been fried and retain a slight 'smokiness' which many find pleasing. However, I do think that e-fu noodles are not as light as some other varieties of noodles like say rice noodles and definitely fills you up more. Apart from braising, these noodles also taste great in soups or simply stir-fried.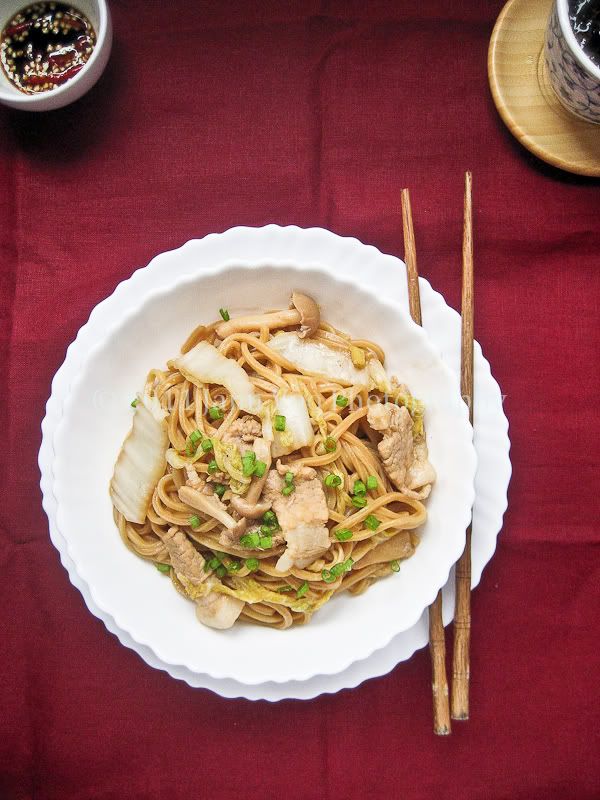 This recipe is part of the Yuen Chun Recipes series.

Serves 4-6
Serving suggestion: with bird's eye chilli peppers in light soy sauce or with chilli oil

Ingredients:

300g E-fu noodles (2 patties)
3 cloves garlic, minced
1 pound pork, sliced
1/2 Nappa cabbage, sliced to 2 inch slices, blanched in boiling water for 2 minutes
1 box of shimeji mushrooms, ends removed
1 stalk green onion, white parts for cooking and green parts for garnish

Sauce: (mix in a separate bowl for easy addition)

3/4 cup chicken broth
3 tbsps abalone sauce (I used the Yuen Chun brand)
1 tbsp light soy sauce
1 tsp dark soy sauce (for some colour)
1 tsp sesame oil
1/2 tsp salt
1 tsp white pepper

1 tbsp Chinese Rice Wine (Shaoxing wine)




Method:

Firstly, boil the noodles in rapidly boiling water for about 4 minutes or until soft. Remove and rinse under cold water. Drain and set aside.

Heat your wok up until almost smoking. Add 2 tbsps of cooking oil. Turn heat to medium and add garlic. Saute until aromatic. Add in mushrooms and pork slices. Add Chinese rice wine. Fry until pork is lightly browned. Add in blanched nappa cabbage.

Add the sauce and bring to a boil. Turn heat to medium. Quickly add in the noodles and keep stir-frying until the noodles absorb all the liquid. Dish out onto serving platter. Add another dash of white pepper if desired. Garnish with the green onion slices. Serve hot with either chili oil or chili peppers in light soy sauce.