I am not entirely sure what took me this long to feature this very classic and extremely delicious Chinese way of roasting pork or more popularly known as 'siu yuk' in Cantonese. Siu Yuk is a popular Chinese dish enjoyed both on special occasions and well, even non-occasions. When we were little, weekends usually meant longer breakfasts and no, lazy breakfasts did not consist of bacon and eggs but instead we would be digging into freshly made stir-fried rice noodles served with crispy-skinned roast pork on many Saturday mornings. I always had space for 'just another piece' no matter how full I thought I was and the same applied to my siblings, so you can probably imagine that leftover roast pork is a rare occurrence in our household. Anyway, what I never discovered till very recently was that my mom actually has her own recipe for homemade roast pork and to think of all those times I was pining for some good roast pork while I was living in the US (most sold over there at least in San Diego were either too dry or with soggy skin) - I wished I knew earlier but nevertheless, better late than never right?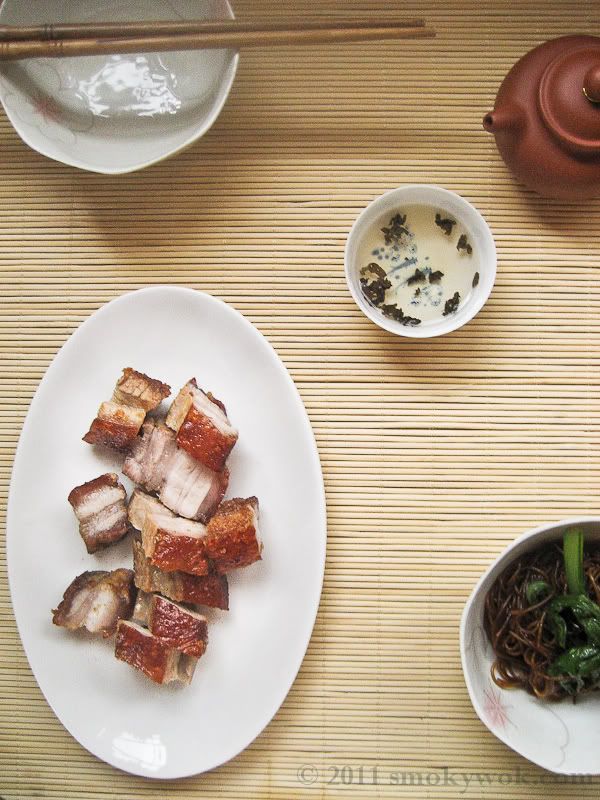 What I am sharing today is a very simple method of making Chinese roast pork at home and all you need is pork belly meat (the 3 layer kind, pictured below), coarse salt, some vinegar, some five-spice powder and er of course an oven. This even works in toaster ovens as long as the tray is large enough to hold the piece of pork you're using. If you are getting your pork from an Asian grocer, all the better - just tell the butcher that you want to make Chinese roast pork and he will select the appropriate cut of pork for you. By the way, even my dear sister who cooks only when absolutely necessary is looking forward to trying out this incredibly easy recipe which also happens to have a surprisingly short list of ingredients. Just be sure to get the right cut of pork with the skin on and you'll be ready for some homemade crispy-skinned roast pork.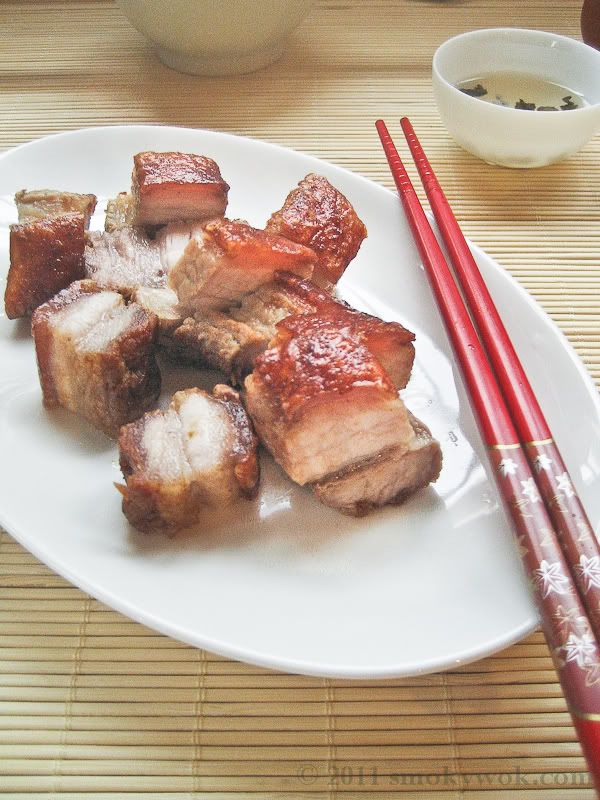 Chinese roast pork is also one of my favourite Chinese comfort foods as it probably reminds me of the many lazy Saturday breakfasts we had in our blissful childhood days :O.


Marinating time: 30 minutes to 1 hour
Serves 4
Ingredients:
500g of pork belly (3-layer)
1 tbsp coarse salt
1 tsp five-spice powder
2 tbsps rice vinegar mixed in with 1/2 tsp regular salt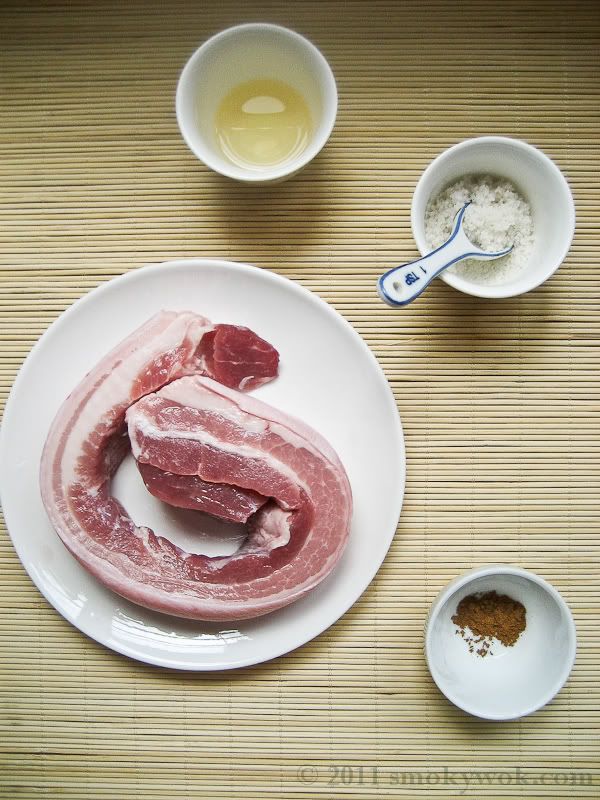 Method:
Firstly, rinse the pork belly well and pat dry with kitchen towels. You have to make sure that the pork belly is really pat dry enough as we don't want moisture that will create steam inside the oven, this will not allow to skin to get all crispy and crackly and that's the opposite of what we want. Next, rub the coarse salt into the pork well. Allow to marinate for 30 minutes at least.
Meanwhile, pre-heat your oven to about 220 C (428 F). Prepare a tray for the pork to roast on by lining with some aluminium foil. Lightly grease the foil.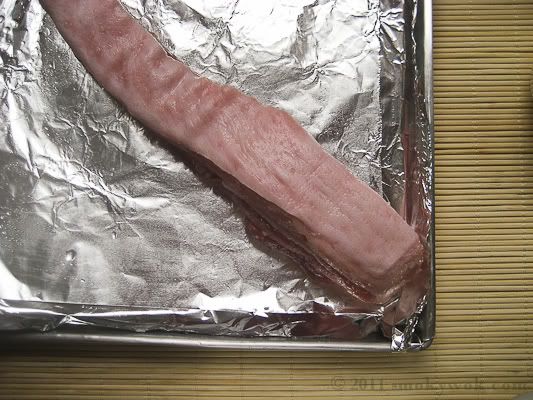 After the pork has marinated in the salt, rub the five-spice powder onto the pork. Place the pork belly on the tray and roast for 5 minutes skin-side up. Remove from oven and pierce the skin all over with a fork or skewer, the piercing will enable the skin to turn crackly once roasted. Brush the vinegar mixture on top of the skin.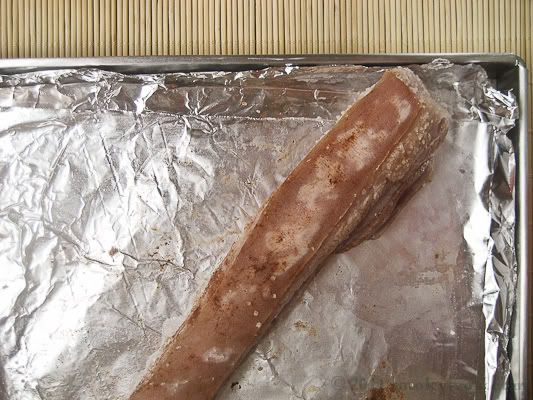 Roast for another 25 minutes in the oven. Remove from oven and allow to rest for about 10-15 minutes. Slice and serve.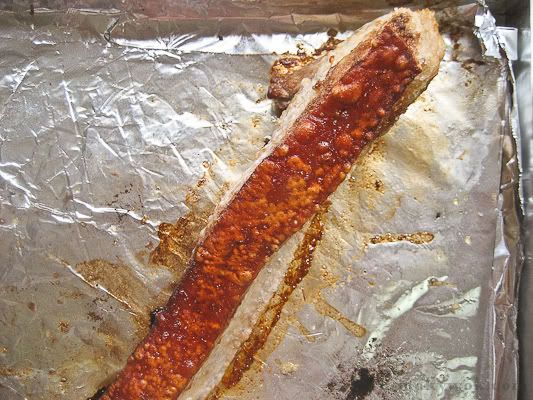 Roast pork is great served hot but I like it at room temperature as well.