I decided on this pretty pasta dish to feature since it's Pink October and also October is my birthday month, I thought featuring a dish with salmon would be fitting. To be honest, I am always slightly miffed that October is also Halloween month as I just never got into the Halloween thing hmm, ghouls and garish costumes don't seem very birthday-like to me. Autumn however is my favourite time of the year, especially when I was living in a four-season country (I mean, it's summer all-year in Malaysia!), there is just something slightly pensive yet beautiful about autumn to me. Anyhow, I digress. Now, back to the food - spaghetti cooked with salmon is always a favourite of mine, and for today I am presenting a creamy version mixed in with some spinach and simply cooked with garlic, white wine and seasoned with some sea salt and black pepper.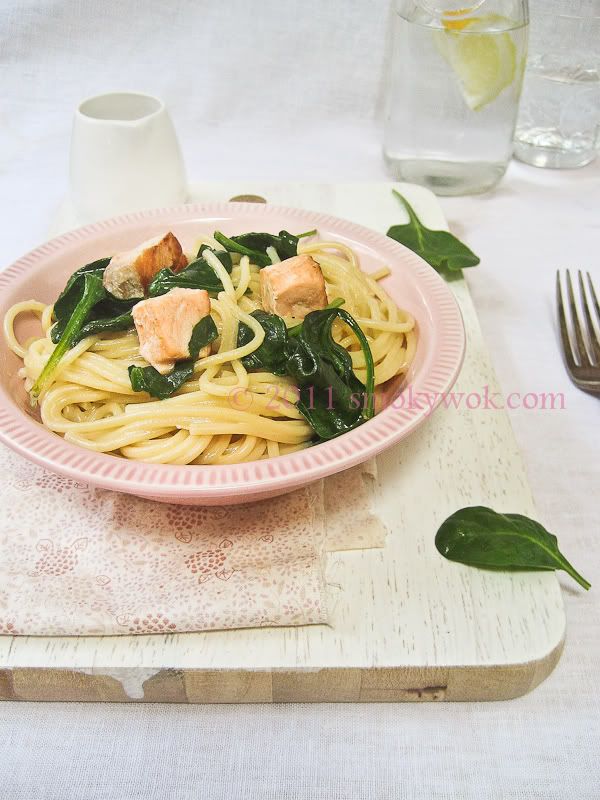 While not exactly authentic, this pretty and decadent pasta dish is something that you can whip up quickly and easily whenever you have unexpected company or just for yourself when you feel like it. Warm and creamy pasta is always comforting, is it not and for salmon lovers, this is the perfect combination. The salmon chunks were also pan-fried with the garlic and white wine before the cream was added which made the sauce taste a little more fragrant I thought. I do hope you'll give this dish a try soon!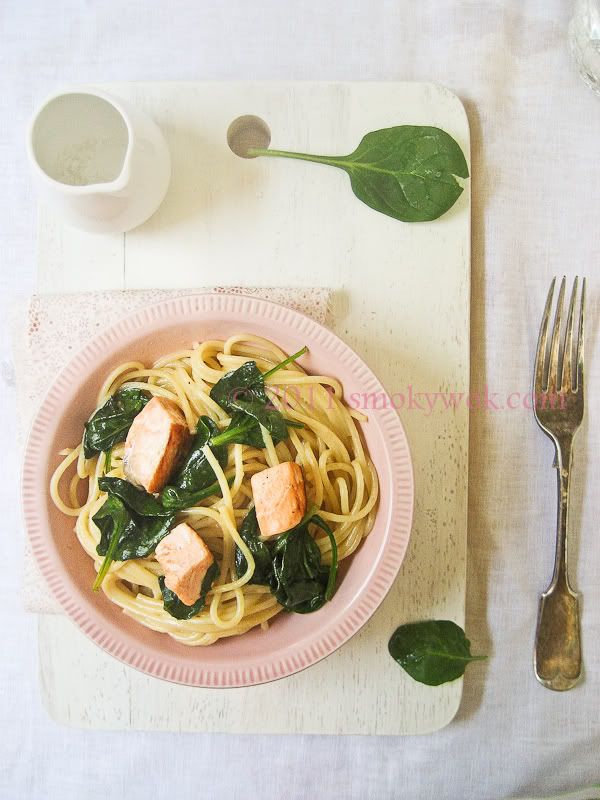 Serves 2


Ingredients:


100g spaghetti or other pasta of your choice
1 fresh salmon fillet, sliced into chunks (I removed the skin but this is up to you)
3 cloves garlic, minced
4 tbsps white wine (or substitute with sake)
1 packet of baby spinach (the kinds used for salads)
1/2 cup double cream
1 tbsp salt or to taste
Freshly ground black pepper

Method:

Firstly, boil the pasta in some salted water according to package instructions. Remove and drain. Set aside.

Heat up a pan. Add about 2 tbsps cooking oil. Add garlic. Saute until aromatic. Add in the salmon chunks and fry for about 30 seconds. Then add the white wine or sake. Pan-fry until salmon is lightly browned. Add cream and season with salt and black pepper. Allow to simmer for a bit and once the sauce thickens a little, add in the spinach. Stir around for another 30 seconds then add the spaghetti and stir over low heat until everything gets incorporated nicely.

Add a little pasta water or water if required if it gets too thick. Toss well and serve hot.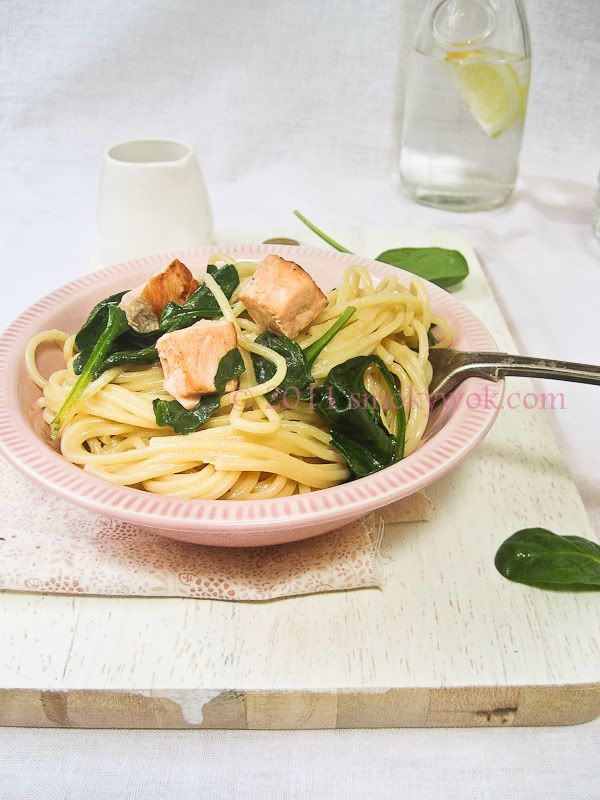 Featured on Glamour.com: