Beef stir-fried with ginger and scallions (green onions) is a definite Chinese stir-fry classic and also makes a great topping on noodles for a simple and comforting meal. For this easy dish, I would recommend a Chinese wok as the slight 'smokiness' from the wok breath is what makes this dish special. If you've been around for a while, it's probably no secret that I am a HUGE noodle fan so I thought it would be good to combine one of my favourite stir-frys with some simple wheat noodles for a deliciously comforting meal.




In other news, I am in the midst of completing my second official assignment which involves recipe design, cooking, styling and shooting and although a little exhausting is something that I am enjoying immensely. Funnily enough, this blog has opened up certain avenues for me which if you had asked me a year earlier, I probably would never have imagined getting such a project. So I guess what I'm getting at is that anything is really possible and for me, this is a world beyond share prices, quarterly reports, conference calls and the like (did I hear a yawn?):O. I'm keeping it quite short today but please don't forget to enter my little cookbook giveaway for "The Breath of a Wok" by Grace Young that closes on October 8th.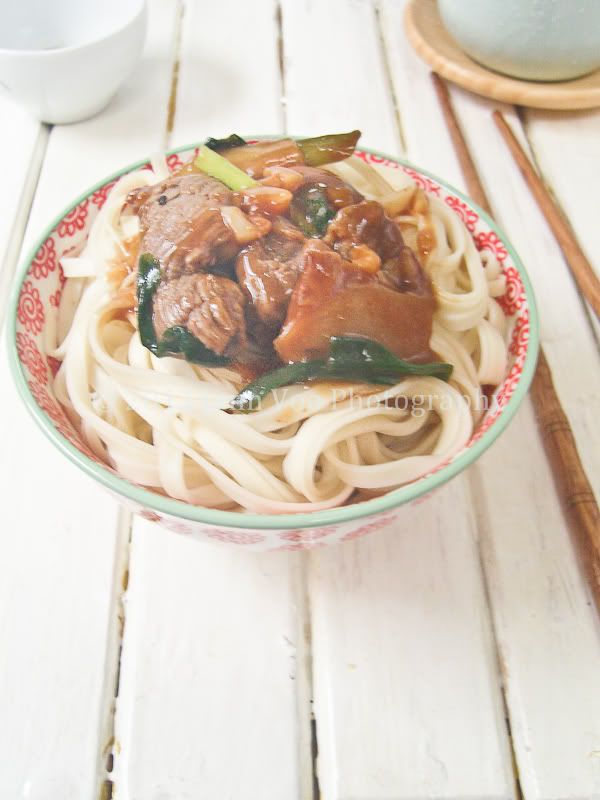 Serves 2

Ingredients:

2 packets of wheat noodles (or substitute with other noodles of your choice)
1 cup beef, either thinly sliced or sliced into bite-sized chunks
1/2 tsp corn starch for marinating the beef
6 slices of fresh ginger
3 stalks scallions/ green onions, sliced to 2 inch lengths
3 cloves garlic, minced

Seasoning: (mix separately in a small bowl for easier cooking)

1 tbsps light soy sauce, or to taste
1 tbsp dark soy sauce
2 tbsps Chinese Shaoxing Rice Wine (substitute with dry sherry if needed)
1 tsp sugar
Drop of sesame oil

1/4 cup water mixed with 1 tbsp corn starch

Method:

Cook the noodles according to package instructions. Drain and set aside.

Heat your wok up until almost smoking. Add 2 tbsps cooking oil. Turn heat to low and add the garlic, green onions and ginger. Turn heat back up to medium. Stir-fry till aromatic.

Turn heat to high and add beef quickly. Give the beef a few quick turns in the wok with the rest of the ingredients and once slightly browned, add in the seasoning. Do a taste test and add more soy if desired.

Add the corn starch mixture for thickening and bring to a boil.

Add the previously cooked noodles to invidual serving bowls. Spoon the hot beef mixture on top of the noodles and allow guests to mix the noodles up at the table. This dish as with most Chinese dishes are best served hot.