I've been craving for some japchae lately and although I wished a plate would appear out of the blue for me, obviously that was not going to happen. So, in order to satisfy my inexplicable craving that just would not go away, I went about it the hard way and made some for myself. The thing with japchae is that it is not difficult to make at all, but it can be a little time-consuming considering all the slicing, chopping and separate stir-frying involved. I always have to include spinach in my japchae and for today, I added some fish cakes for a slightly different twist - usually beef is the most popular protein of choice. If I am not mistaken, seafood japchae is more popular in the Northern regions of Korea. I loved the savoury fish cakes with the slightly sweet stir-fried noodles (dangmyun) which also added some different texture.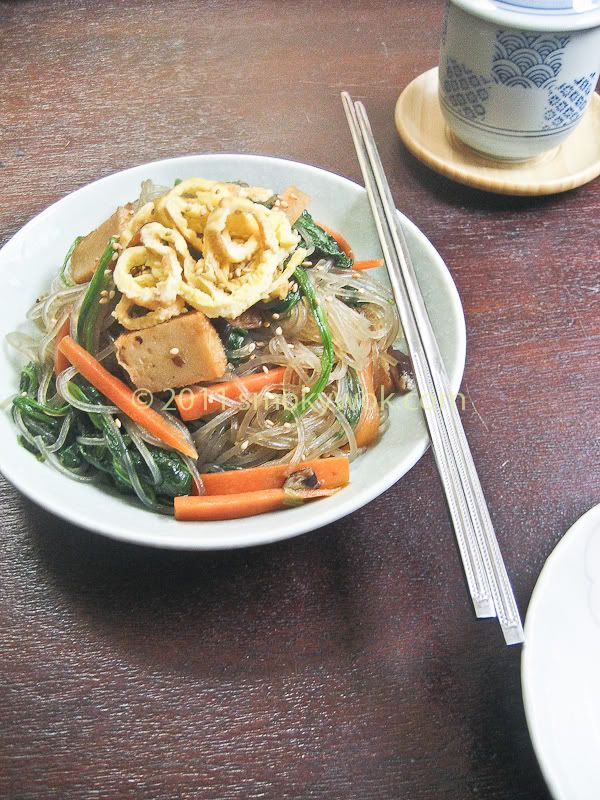 Generous amounts of sesame oil is used and I added the usual ingredients like spinach, carrots, garlic, some sliced omelette and topped it all off with some fragrant toasted sesame seeds. Japchae is almost a must-have dish at festive occasions and it's not hard to see why. Apart from the delicious flavours, japchae is a vibrantly colourful dish, pleasing to the eye and to the palate. Dangmyun or sweet potato noodles are also gluten-free and can be found in most Asian grocery stores. Uncooked dangmyun is usually transparent with a greyish tinge and once cooked, the noodles take on the colours of soy sauce and sesame oil.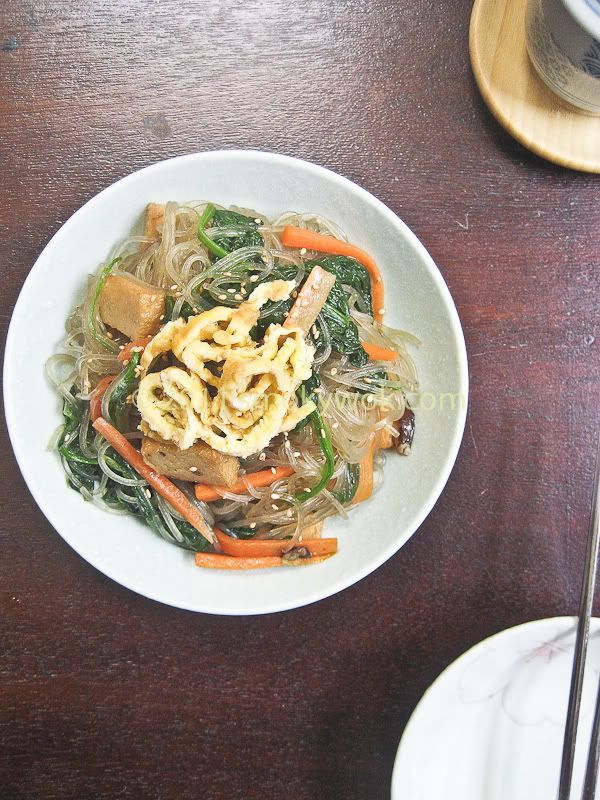 Also, don't forget to enter my cookbook giveaway for a chance to win "The Breath of Wok" by Grace Young, closing end of this week!
Serving suggestion: Japchae can be served on its' own or with rice as part of a full Korean meal.

Serves 4

Ingredients:


100g dangmyun (half a packet usually)
Sesame oil, in varied amounts (please refer below)
Light soy sauce, in varied amounts (please refer below)
1 cup worth of fish cake slices
6 fresh shitake mushrooms, sliced (you can substitute with dried mushrooms but allow some time for soaking till soft)
1 carrot, cut into matchsticks
1 bunch of spinach
1 stalk green onion, sliced
2 eggs, beaten with a pinch of salt
1 tbsp toasted sesame seeds

Method:

Soak the noodles in warm water for at least 30 minutes or until soft. Once soft, drain and place in large mixing bowl. Add 1 tbsp light soy sauce and 1 tbsp sesame oil, mix well to marinate.

While the noodles are soaking, marinate the mushrooms slices with 1 tbsp light soy sauce and 1 tsp sesame oil.

Blanch the spinach until wilted in boiling water. Remove and drain. Once cool enough to handle, squeeze out excess water with your hands. Add 1 tbsp soy sauce and 1 tsp sesame oil and mix well to marinate.

In a flat pan, make a thin omelette. Once cool enough to handle, roll up and slice thinly.

In a hot pan or wok, add 2 tbsps of cooking oil. Add garlic and stir-fry. Once aromatic, add mushrooms and fish cakes. Stir-fry for about 1 minute. Spoon out the mushrooms and fish cakes onto a plate. Set aside.

With the same wok or pan, stir-fry the carrots and green onion for about 30 seconds as we only want the carrots to soften slightly. Add in the spinach and stir-fry for 30 seconds. Finally add in the mushrooms, fish cakes and the noodles. Stir-fry to mix everything well together. Dish out.

Top with sliced omelette and toasted sesame seeds. Serve.