I thought that my prop-fever had subsided earlier but I was wrong, in fact very wrong, just ask anyone who knows me, really. When I heard that Donna Hay had a new line of dinnerware with Royal Doulton, I was so excited and yet frustrated at the same time since I could not just saunter into her store and pick some up for clear and unfortunate geographical reasons. Fast forward a few weeks, I was so elated when my sister who happened to be visiting Sydney picked up a few dishes for me fully knowing the prop-freak in me and hey it was my birthday...thanks sis! Anyway, I really loved this plate in particular and I thought this particular shade of blue was incredibly soothing and just so gorgeous. By the way, my sister (and most other people I know 'in real life') seriously think I'm nuts to be drooling over plates, they could be right but there are worse things to drool over in life, I feel and I'm sure my fellow food bloggers totally understand my 'condition'. Alright, enough about props - today's easy tarts or puffs are another short-cut of mine, baked with store-bought puff pastry sheets, a little sacrilegious perhaps but incredibly time-saving and arguably produces very good results especially when you compare the results with the 'work' involved.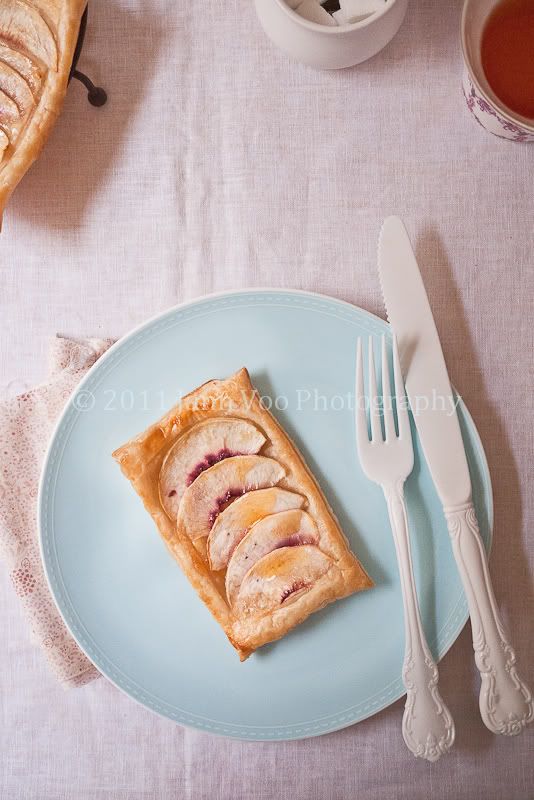 For today's offering, I merely sliced up some fresh nectarines, tossed them in some lemon juice and sugar and arranged them on top of the puff pastry rectangles for baking. I added a quick glaze of apricot jam as well after they were baked for some sheen on the nectarine slices. I love making my
own puff pastry
at home when I have the time and the inclination but when you're in a pinch or if you're having one of those lazy days, store-bought puff pastry sheets are very welcome indeed.
The little blue square dish that the nectarines are on is from Gordon Ramsay's line, selected by my lovely sister as part of my 'prop presents' :O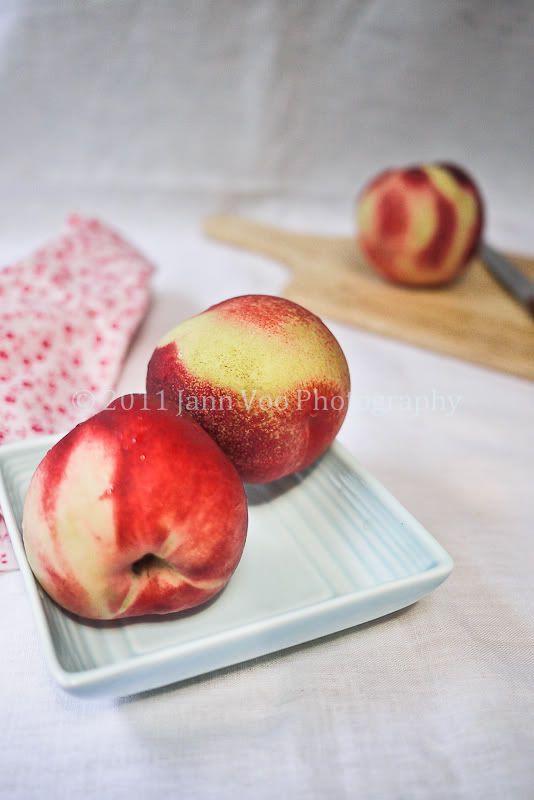 Just in case you're interested, Donna's Royal Doulton line is available for purchase on her
official website
. I am very tempted to order more online now that I have seen how gorgeous they are but my shelf-space begs to differ...we shall see!
Ingredients:
10 rectangular puff pastry sheets measuring about 8' by 5' (just a rough guide)
1 egg, beaten for egg wash
1 tbsp butter, melted
Topping:
3 nectarines, skin removed and thinly sliced
2 tsps sugar or to taste
1 tbsp fresh lemon juice
Glaze:
2 tbsps apricot jam
2 tbsps water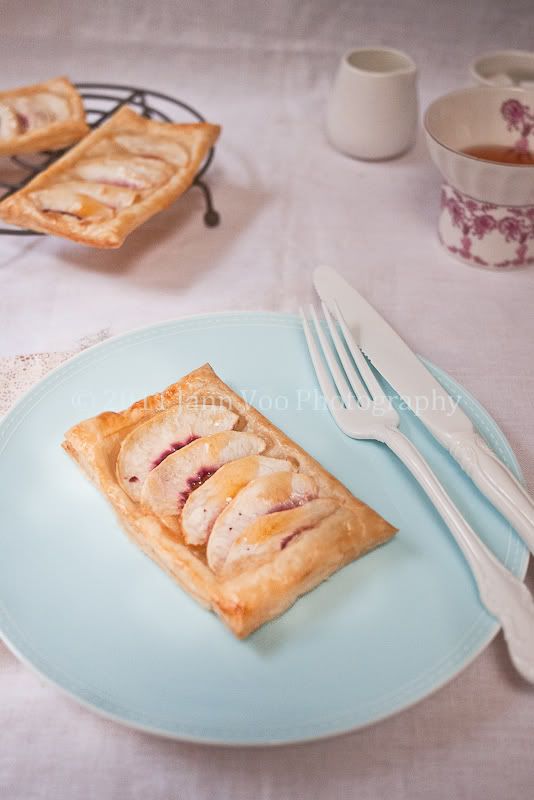 Method:
Pre-heat the oven to about 180 C (356 F).
Toss the nectarine slices in the lemon juice and sugar. Add more sugar if needed. Set aside.
Prepare a baking tray by lining with baking paper or foil. Lightly grease the paper with some butter or oil.
Place one pastry rectangle on the baking tray. I prefer to assemble the tarts directly on the baking tray to avoid mishaps with transferring from one dish to another as the tarts can be rather delicate. With a sharp knife, lightly slice the tops i.e. do not slice all the way through on the pastry sheet about 1 inch away from the four edges, creating a kind of 'frame' on the pastry. Brush the insides of the frame with the butter i.e. the space where you will be placing the nectarine slices.
Arrange the slices on top. Repeat with the remaining pastry rectangles or until your nectarine slices have been used up. Brush the sides of the pastries with the egg wash. Bake for about 15 minutes or until golden brown.
While the pastries are baking, prepare the glaze by simply bringing the jam and water to a boil. Run the mixture through a sieve to get rid of the lumps and allow to cool. When the pastries are out of the oven, lightly brush the tops of the nectarines with the glaze. Serve.