Sometimes, less is really more. I actually got a free white snapper today as a replacement from my very kind fishmonger as I mentioned that the last red snapper I bought from him was not the freshest. I have tried steaming snappers before on the request of a client but honestly, I much prefer to grill snappers as I think steaming or at least the Cantonese style of steaming requires other kinds of fish. For today, I decided on a fusion route and rubbed the white snapper with some sake and rock salt before grilling. I used Himalayan pink rock salt but honestly you can just use regular (preferably) coarse salt. This reminds me of something I read somewhere earlier that claims one who uses Himalayan rock salts or other 'fancy' salts is of a pretentious sort, hmm I don't consider myself pretentious at all but I could be wrong, admittedly I was rather attracted by the pink salt's' photogenic properties and it is Pink October :O.

The salt helped to retain the moisture in the fish and while the amount of salt used was nowhere near the amount for a salt crust, it still did the job pretty well. The sake meanwhile provided additional fragrance while the garlic cloves basically got rid of the 'fishiness' factor. At the final minute, I added some rosemary leaves but this is optional or you could substitute with your favourite herb. I thought the fish was tasty enough without a dipping or serving sauce but I find that snapper does go particularly well with
browned butter sauce.
This easy and sumptuous grilled dish is excellent when you don't have a lot of time to spend in the kitchen and is quite low in calories to boot so this is definitely on my remake list. By the way, I served the snapper with steamed rice and some plum tomatoes tossed in olive oil and balsamic vinegar on the side - altogether a very healthy fusion dinner.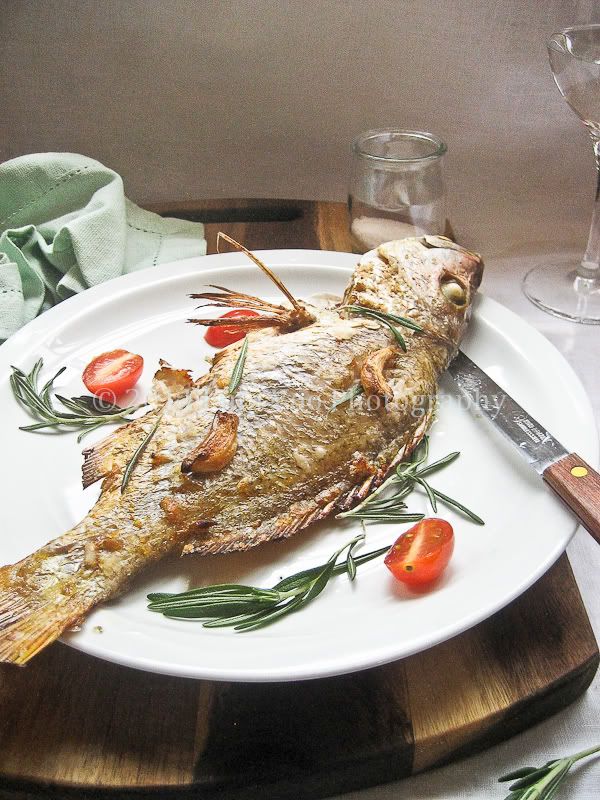 Note: This was my first time cooking and eating white snapper, I found that I preferred white snapper over red snapper a little bit as the fish tasted a little 'sweeter'.
Ingredients:
1 whole medium-sized white or red snapper, scales removed and cleaned
2 tbsps Himalayan pink rock salt (regular coarse salt is fine)
3 tbsps Sake (or use dry white wine)
4 smashed garlic cloves
Handful of rosemary leaves (optional)
Olive oil for drizzling
Method:
Pre-heat your oven to 200 C (392 F) and prepare a rack for grilling. Line your grilling/ baking tray with foil or baking paper. Lightly grease with some olive oil.
Meanwhile, rub the fish with the sake then the salt, making sure you rub both sides of the fish. Insert 2 cloves of the garlic into the cavity of the fish and place the other 2 on top of the fish. Drizzle the top of the fish lightly with some olive oil.
Grill in oven for about 20 minutes. Add rosemary leaves if using. Grill for another 5 minutes or until fully cooked. Please adjust cooking time accordingly as it really depends on the size of the fish so be sure to flake the fish with a fork before removing from the oven to check for doneness. Serve hot with rice or salad.