I almost forgot about this dish that I have been wanting to feature until I was looking through my flickr photo stream - this is an easy and spicy vegetarian vegetables (almost meatless) dish that is made with one of Malaysia's culinary icons, belacan or shrimp paste. Belacan is essentially fermented shrimp paste and as you can probably gather, is very pungent, aromatic and just all-round delicious to belacan lovers. For the uninitiated, it will probably take a little or rather a lot of getting used to. I have seen various reactions to this Malaysian culinary icon, from slight wrinkling of noses to an all-out leaving/ running out of the kitchen. So, consider yourself warned if you do venture to get some shrimp paste from the Asian grocery store to try out any of my belacan recipes.




For today's vegetarian dish, I added some dried chilli peppers, shallots, candle nuts and some turmeric powder. The belacan itself has to be toasted, either dry-fried in a wok or toasted in a toaster oven. This step is essential for maximum fragrance and although you can use a food processor or blender to make the spice paste, I suggest that you use a mortar and pestle at least once and you'll probably really see/ taste the difference for yourself. Whenever I make spice pastes, I always use a mortar and pestle as apart from the superior texture and flavours from the traditional method, I find washing up much easier - I hate washing blenders/ food processors :O.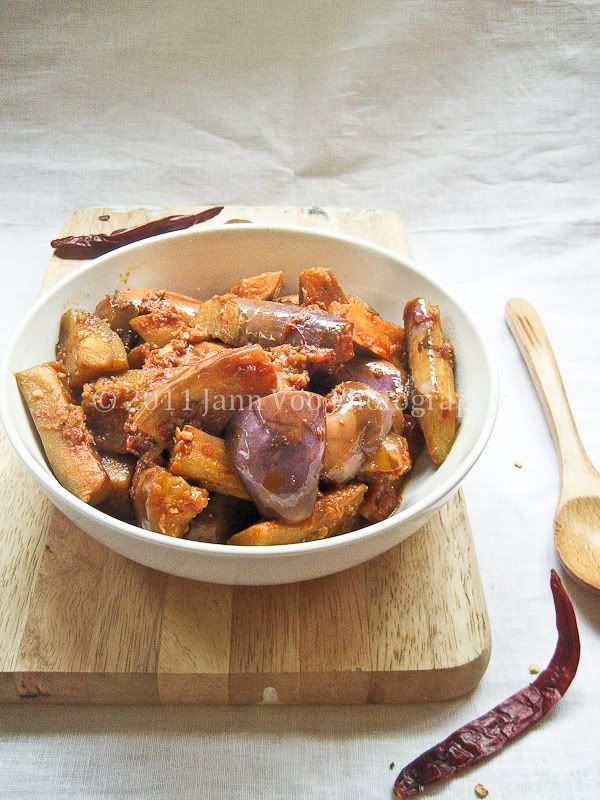 Serving suggestion: with steamed rice

Ingredients:

3 medium-sized eggplants/ brinjals, sliced to 2 inch pieces
1 tbsp light soy sauce or to taste

Spice paste:

6 dried red chilli peppers, soaked in warm water till slightly softer
1/2 cup dried shrimp, rinsed
6 shallots, peeled
1 candlenut
1 tbsp turmeric powder
1 piece of belacan (about 2 inch by 2 inch piece), toasted

Method:

Firstly, toast the shrimp paste until fragrant. Pound all the ingredients for the spice paste to form a paste. Alternatively, use a blender or food processor.

Heat up a wok until almost smoking. Add enough oil to lightly shallow-fry the eggplant pieces. Make sure the oil is hot enough as eggplants are highly absorbent. This step is to keep the colour of the eggplants. Fry for about 1 minute, remove and drain on some kitchen towels.

Heat up a wok until almost smoking. Add in 2-3 tbsps of cooking oil. Turn heat to medium. Add the spice paste and stir-fry till aromatic. Add in the previously fried eggplants. Add about 1/4 cup of water. Bring to a boil. Season with light soy sauce. Cover and turn heat to medium for simmering. Simmer for about 2 minutes or until eggplant is soft. Remove cover. Stir-fry the eggplant around until most of the liquid has been absorbed.

Serve hot.