Apart from being a self-confessed noodle freak fan, I am also a huge lover of soups, especially Chinese soups probably also due to the comfort factor. In terms of comfort food however, soups are still top on my list and I love both the rich slow-cooked soups and quick soups such as today's feature. Today's soup is very easy to fix up and the ingredients can be found easily in regular grocery stores. I used daikon (radish), carrots, onions for the vegetables and my protein of choice were some spareribs. Oh and I added some tomatoes for a little hint of tartness, altogether a very nutritious, easy and appetising soup.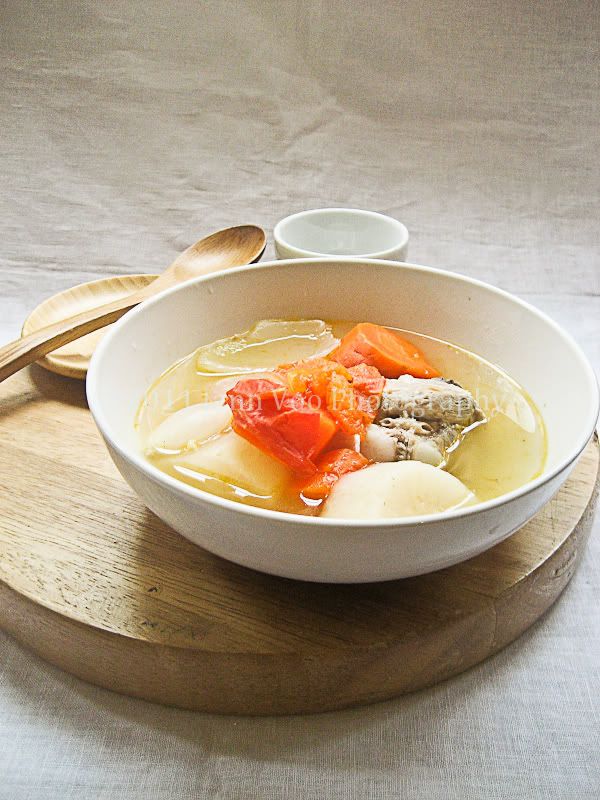 This soup may be reminiscent of the popular Malaysian ABC Soup as the main differences are that potatoes are included in the latter while today's feature has daikon instead. The Chinese believe that daikon has cooling properties and as I was in need of some cooling down, I used it in today's soup. However, as always feel free to add your favourite vegetables to this basic recipe. By the way, if you have any idea why ABC soup is named as such, please do enlighten me - I don't seem to have a proper answer, is it because making the soup is as easy as A-B-C? :O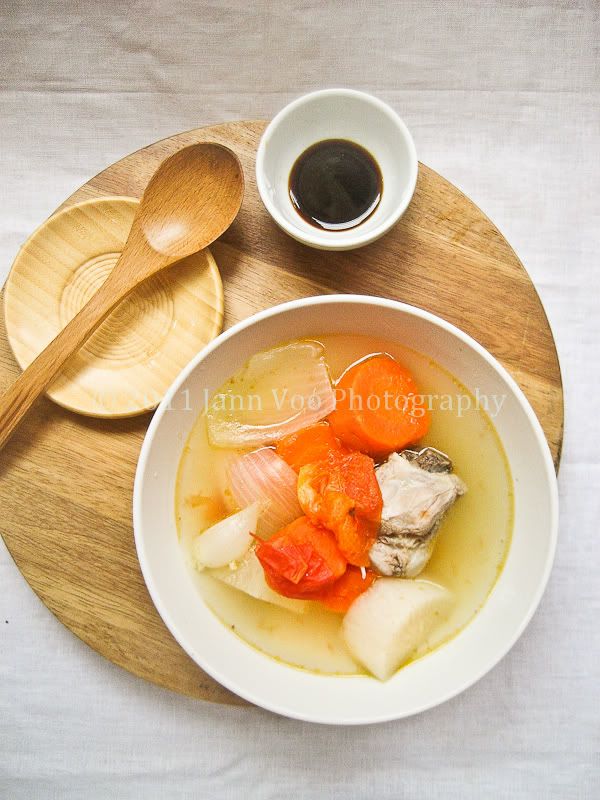 Ingredients:

6 cups of water
12 inches worth of spareribs (or use chicken if you prefer)
1 daikon (radish), skinned and sliced
2 carrots, peeled and sliced
2 tomatoes, cut into wedges
1 onion, cut into wedges
Salt, to taste

Method:

Firstly, blanch the spareribs in boiling water to get rid of impurities. Remove from water once surface turns white. Set aside. Discard water.

In a large soup pot, add the ingredients above except for the tomatoes with the water and bring to a boil. Once boiling, turn heat to low and allow to simmer for about 1 hour. At the 50 minute mark, add the tomatoes. This is because tomatoes soften very quickly and I didn't want the soups to be too tart.

Do a taste test and season with salt. You can add a dash of white pepper as well if you wish.