This is a classic and popular Chinese dessert sweet soup or 糖水 (literally sugar water) which originates from the southern provinces of China. Beancurd skin or 'fu chuk' is boiled until very soft while beaten eggs added into the sweet soup creates the lovely almost cloud-like effect typical of this popular dessert. Instead of granulated sugar, it is also customary for the Chinese to use rock sugar in this dessert as the latter is said to have less 'wind-inducing' properties hence better for the body's equilibrium. For today, apart from the usual beaten regular eggs, I served the dessert with some hard-boiled quail eggs dropped in right before eating. When hard-boiled, I think that there is no major taste difference between regular chicken eggs and quail eggs but then I had a tray of quail eggs sitting in my fridge forever so I decided to use them up. They also make a cute presentation I thought. All in all, a very easy Chinese home-style dessert you can whip up really quick.

I find that it works better for me if I boil the beancurd skins together with the water instead of waiting for the water to boil before adding the sheets. Funnily enough, I didn't even have to soak the beancurd sheets before hand and they turned out light as feathers in a matter of about 20 minutes. This sweet soup has relatively milder flavours and is usually popular with most palates.
In other not-so-good news, I have been rather busy with a lot of copyright violations ever since I discovered Mozilla's 'who stole my photo' add-on, I highly recommend this by the way. You will be amazed if you run this application with your photos, I was shocked at all the copying that has been going on from charity organizations to personal bloggers (there was one who copied my recipe word for word and used the photo, cropping it off at weird angles just to get rid of my watermarks) to a fairly large company. The funniest part was that the blogger who has been copying me started in year 2008 when I was still living in the US and she even has a facebook fan page, just incredible. I do have to warn you though that it could get addictive as you find out more and more 'dirt' and rather stressful as you see your hard work splashed across a stranger's website claiming your work for their own in such a carefree manner.
Just for laughs, I would be really interested in how she crops this one: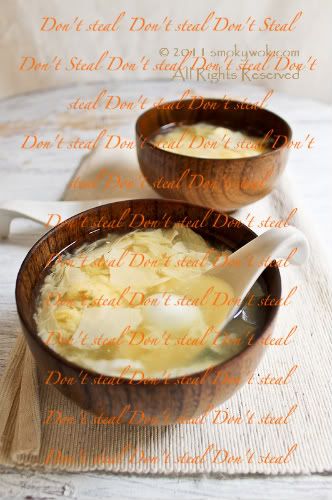 I think this Malaysian 'blogger' requires some special mention and she is
Asia Deli
, I saw someone else also commenting on her Facebook fan page that she cropped off her watermark as well to make the photo 'hers' so don't be surprised if you find your content on her 'blog' as well. I have to say that it was not fun at all seeing my work spread across her pages with my watermarks on my photos cropped off each time, watermark at the center of the photo? No worries! Just show the bottom half of the dish! Watermark on the bottom of the plate? No worries! Just crop off part of the plate so that it looks like it's floating on air, I mean I guess composition of a photo is the least of her concerns right? Rather vile behaviour I must say. If you have any questions on how to go about this incredibly unpleasant part of blogging, leave me a comment here or email me.
Oh right, let's get back to more pleasant things, on with the dessert :)
Serves 4 generously (best eaten on day of cooking)
Ingredients:
4 beancurd sheets (fu chuk) - easily found in any Asian grocery store (buy the sheet type and not the rolls)
1/4 cup worth of rock sugar or to taste
8 cups of water
3 eggs, beaten
4 hard-boiled quail eggs or more
Other popular additions: (not used today)
Barley
Gingko nuts
Method:
Firstly, place the sheets and the water in a large pot for boiling. Bring to a rapid boil. Once rapidly boiling, turn heat to medium-low and allow to simmer for about 15-20 minutes or until the sheets turn very soft. Add in the beaten egg.
Add sugar. Taste and add more if desired.
Spoon the dessert soup into individual serving bowls and add one quail egg into each bowl. Serve hot.*
This dessert can be served chilled as well. After boiling, remove from heat and allow to cool to room temperature before chilling in the fridge if you wish to serve chilled.