It has been a hectic start of the week for me in the mental sense but I am so happy to report that the mental stress was mostly unnecessary and things are progressing well. Sorry for being so vague but I can't reveal too much at this point although I just wanted to share some positivity with you. It is at times like these that I am glad I tucked away a recipe or two from earlier to feature as I have not had the time to cook anything the past couple of days. For today, may I present my mom's tried and true recipe for Chinese style steamed glutinous rice. If you've noticed, most of my mom's recipes are quite simple, on point and just deliciously comforting - not to mention usually easy to prepare as well since although my mom loves cooking, she is not the type who will labour for hours in the kitchen. Apparently, I take after my late maternal grandmother who enjoyed making steamed buns (baos), Chinese cakes and a lot of other usually store-bought food from scratch. I like to think I have the best of both worlds - I enjoy whipping up a simple (full of wok breath, please) stir-fry and enjoy making slightly more complicated dishes like steamed rice rolls from scratch :O.

Steamed glutinous rice is even easier to make than the
stir-fried version
as you only need to stir-fry the ingredients of your choice separately then mix them together with the soaked glutinous rice and simply steam the whole mixture until cooked. The fried version results in a more fragrant and more toothsome dish whereas the steamed version produces a softer textured dish which is no less tasty but of course requires much less 'work', so the choice is yours.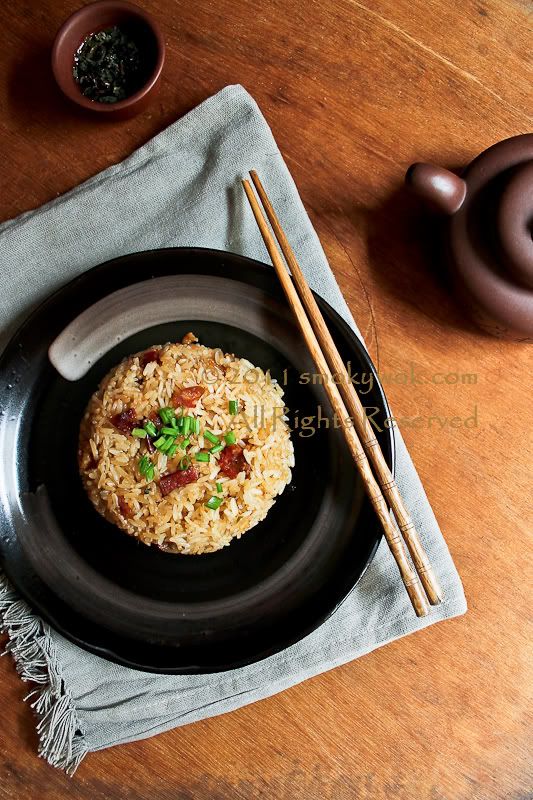 This post is part of my
Yuen Chun Recipes
, an ongoing project on this blog.
Serves 2
Ingredients:
1 cup glutinous rice, soaked at least 6 hours
2 Chinese waxed sausages, sliced or cubed
2 tablespoons dried shrimp, rinsed
2 stalks green onions, sliced (white parts for cooking and green for garnish)
3-4 shitake mushrooms (dried or fresh) - optional, sliced or cubed
2-3 teaspoons light soy sauce or to taste

Method:
Heat up your wok until almost smoking. Add 2 tablespoons of oil. Swirl to coat. Turn heat to medium and add waxed sausages, dried shrimp and white parts of green onions. Add the mushroom cubes if using.
Add in the soaked rice and stir fry to mix well, add about 1 teaspoon or two of water if it starts looking dry. Dish out and place on steaming platter. Lightly sprinkle with about 1 teaspoon of water.
Steam over medium heat for about 40 minutes or until rice is fully cooked. Serve hot. Note that if you like the texture of your rice to be softer, you can sprinkle more water on the rice lightly as it is steaming now and then. I did so twice throughout the steaming.