Please welcome Kelvin of Kelvin Wu Photography a blog I have been following for both its' delicious recipes and mouthwatering food photos. Kelvin is an avid photographer and cook who lives in Holland and apart from the delicious food photos, he also shares his stylish work in travel and wedding photography. He has very kindly shared one of his favourite recipes for Thanksgiving on Smoky Wok today and please do hop over to his blog to check out more of his work. Kelvin, thanks for sharing with us!

Why would you wait for Thanksgiving? You can eat this everyday! Unfortunately, we don't have Thanksgiving in the Netherlands... Isn't it just an excuse to eat a lot? :p

Today, I'm going to share one of my favorite mashed potatoes recipes. This recipe has the following ingredients and it serves two.




Ingredients:

500 grams potatoes (duh) without the skin and cut in parts
1 onion - diced
125 grams ricotta
150 grams fresh spinach leaves
100 grams bacon
a bit of butter and milk to make it smoootthh
a bit of olive oil (not like Jamie Oliver, which is 1/4 of the bottle) for frying the onion
a bit of nutmeg, like a 1/2 tsp
salt and pepper by taste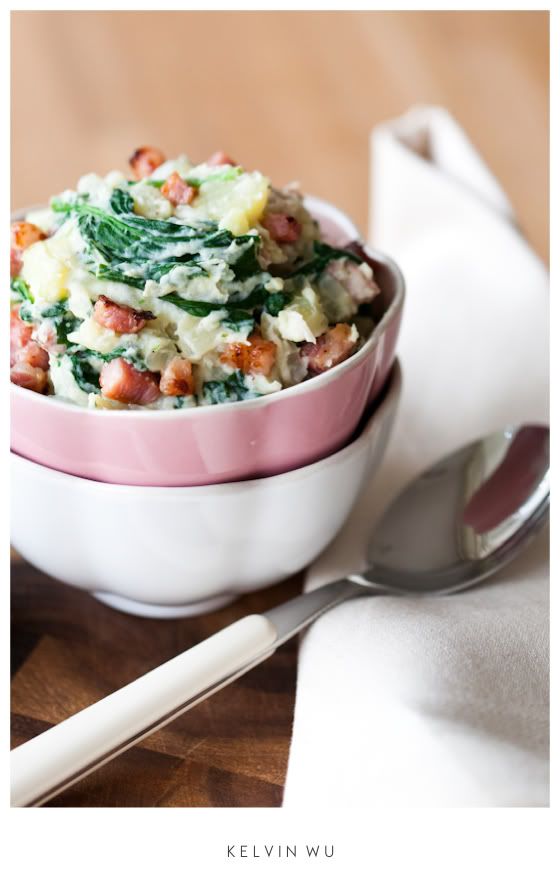 Method:

First we have to boil the water with a 1/2 tbsp of salt in a medium pan. Add the potatoes and cook it for about 30 minutes till it's kind of soft, but not too soft, does that make sense? Try to pick it with a fork.

In the meantime, fry the onion in a sauce pan till it shines and has a golden color, then add the ricotta and add a small portion of spinach at a time.

In another pan, fry the bacon until crispy and leave it there for later.

The potatoes should be done by now, so drain the potatoes, mash it a little, add the butter and milk, stir, add the ricotta mix, stir again and add the bacon.

Add nutmeg, salt and pepper by taste and enjoy!

I'm also excited to have a Guest Post on Smoky Wok. If you're thinking about to have a special Thanksgiving. Please stop by my fellow foodie, Jen from Smoky Wok, a Getty Images Artist, who has many Asian recipes which you can find in restaurants, but made at home! Happy (Asian) Thanksgiving!