I am very happy to introduce Yanse from A Wonderful Life on the 24th Floor which is a beautiful baking blog written in Chinese. Yanse is an avid photographer and part-time baking instructor who lives in Beijing - I got to know Yanse via her Flickr photo stream recently and we have been sharing so many stories both food and well non-food related. Seeing that I am such a huge fan of her baking projects and food photos I thought it would be nice if she could share one of her lovely recipes with my dear readers. She has kindly agreed for me to share her cottony-soft soufflé cheesecake recipe and photos for today and I do hope you will enjoy this. This cheesecake is not of the dense New York variety but it is more reminiscent of the Japanese versions which are feather-light and just utterly delightful. If you can read Chinese, do hop over to her blog but if not, take a look at her photo stream for some tempting eye candy.

亲爱的妍色,今天真的很謝謝你讓我跟我的讀者分享你這麼漂亮和美味的一个芝士蛋糕食譜!

(Yanse, thanks so much for allowing me to share your gorgeous and delicious cheesecake recipe with my readers today!)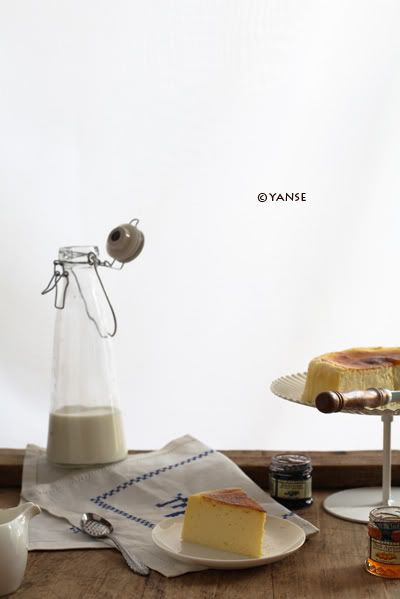 Cake pan: 18 cm (7 inch), this cake needs to be refrigerated for at least 3-5 hours before serving so please plan accordingly. Finally, I suggest using kitchen scales for this recipe as well.

Ingredients:

Cream cheese, 300g, room temperature
Butter, 45g, melted
Egg yolks, 57g
Granulated sugar, 20g
Cornstarch, 11g
Milk, 150g
Egg whites, 95g
Granulated sugar, 55g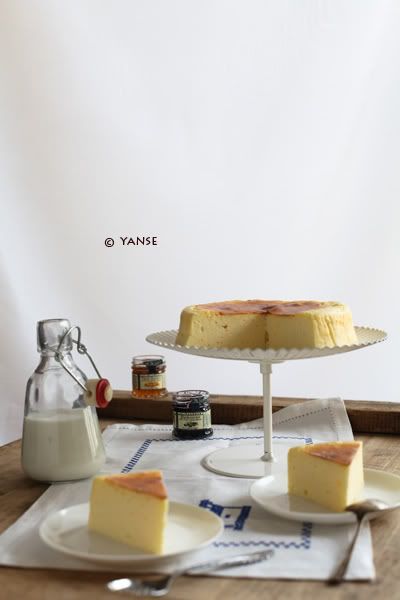 Pre-steps:

A. Place a clean steel bowl in your freezer before starting to mix up the batter, this is for the whipping of the egg whites later.
B. Prepare your cake pan by lining with some baking paper.
C. Pre-heat oven to 180 C (350 F).


1. Slice up your room temperature cream cheese into little blocks for easier whisking. Whisk until light and fluffy with the whisk attachment on your mixer on medium speed.

2. Divide the melted butter into roughly 3 portions and add separately into the cream cheese above while mixing with the whisk attachment on medium as well. Whisk until well incorporated.

3. Set aside.

4. In a separate bowl, whisk the egg yolks and 20g of sugar together until well incorporated. Add in the corn starch and mix well. Bring the milk to a boil and add to the egg yolk mixture. Mix well to incorporate.

5. Place the mixture in No. 4 into a heavy bottomed saucepan and place over another pot of boiling water, stirring all the while. Stir until it reaches a gluey consistency. Set aside.

6. Add the milk mixture in No. 5 above into No. 3 (cream cheese and butter mixture), mix well and set aside for later use.

7. Bring the 'frozen bowl' out of the freezer, add egg whites and half of the sugar. Use the whisk attachment and whisk on high for about 2 minutes, add the rest of the sugar and whisk on high again for another 30 seconds. Whisk on low until egg whites turn glossy and soft peaks form (do not whisk until too stiff).

8. Add 1/4 of the meringue above into the mixture in No. 6 and fold in with a spatula. Add the rest of the meringue in and fold in with your spatula until just incorporated.

9. Pour batter into prepared cake pan. To achieve a water bath effect, Yanse suggests to place an oven-safe bowl of water either next to or below the cake pan to get the steam effect for a moister cake that at the same time, prevents leakage issues. Bake the cake on the lower portion of the oven on 180 C for about 15 minutes, then lower heat to 160 C and bake for another 25 minutes. Turn off oven and leave cake inside for 1 hour. Remove from oven and allow to cool completely in pan. Remove from pan, cover with cling wrap and refrigerate for about 3-5 hours before serving.