This was my lazy breakfast last Sunday and honestly, I can't really call this a recipe as this was just so easy to put together so perhaps a breakfast idea would be more accurate. I still had some smoked salmon in my fridge left over from my soba dish hence I decided to have some for my breakfast last Sunday. This is an open-faced sandwich if you will and I got the idea from a quaint Italian cafe I used to frequent while studying in London (which served the best cappucinos by the way!) which I was reminded of when I was going through some old photo albums. Eating this totally brought back memories of my (relatively) carefree days in university - I still remember my tears when I saw my parents hop into the black London cab headed to Heathrow for their return to Malaysia when I was left behind in London,, Butler's Wharf to be exact which is where my hall was. I vividly remember crossing the Tower Bridge everyday to get to the Tower Hill tube station in the dreary weather. Not surprisingly, I of course miss London now - how typical of human nature!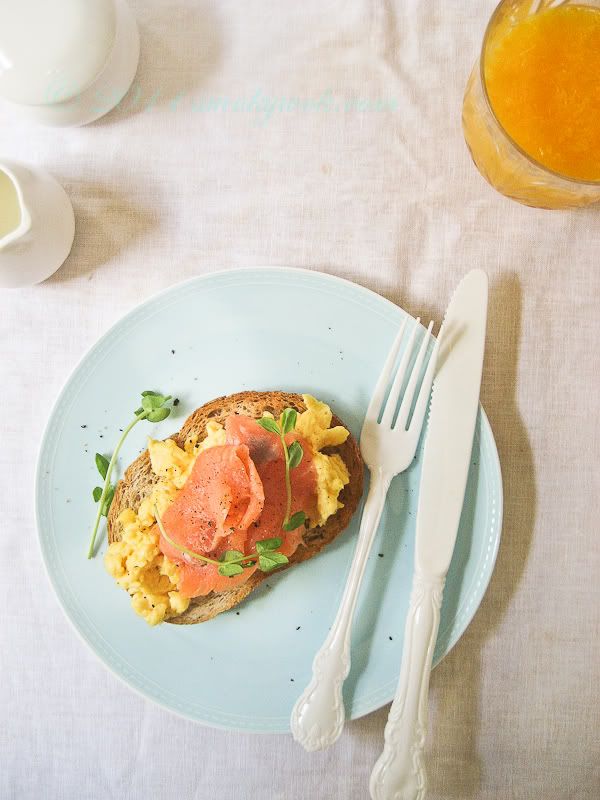 Anyhow, I digress. Now back to the food - for a richer version of scrambled eggs, I added some pouring cream into the egg mixture before scrambling them up with some butter. Instead of baguette slices, you can also toast up some English muffins which will be excellent with the eggs and smoked salmon as well. I hope you all had a good week and perhaps you'll give this idea a try the next time you crave something easy but a little different for a lazy Sunday breakfast. Now that I come to think of it, this was like a lazy man's Egg Florentine no?

Serves 2

Ingredients:

2 slices of wholemeal baguette, toasted
3 eggs
1 tbsp butter
1/2 tsp salt
1/2 cup pouring cream (substitute with milk for a lighter version)
6 slices of smoked salmon (I used the pre-sliced versions)
Freshly ground black pepper, to taste
Handful of fresh alfalfa sprouts or a sprinkle of some herbs of your choice if you wish e.g chives or fresh parsley

Method:

Whisk the eggs and pouring cream together until well mixed. Add the salt and mix again to incorporate. Note that as the smoked salmon is already very salty, I was not very liberal with the amount of salt I used.

In a hot pan, add the butter and melt over low heat. Once melted, add in the egg mixture and scramble. Once the eggs are set, remove from heat.

Prepare the 'sandwich' by adding some of the scrambled eggs on top of each slice of toast. Arrange the smoked salmon slices on top in a circular fashion, then the alfalfa sprouts and then grind some black pepper over everything (optional). Alternatively, sprinkle some of your favourite herbs on top right before serving. Serve with coffee, orange juice or both!