A simple Chinese style stir-fry is a great way to have a balanced dish of protein and vegetables I always say. I have not been making 'elaborate' dishes lately and a good stir-fry served with some rice makes for a quick and satisfying meal for me anytime. 芹菜 (qin chai) or simply known as celery is as you can gather, a species of vegetables found mainly in Asia belonging to the celery family and although it has a much deeper green colour and is leafy, the taste and texture are quite reminiscent of the western celery. If you like celery, I am pretty sure you will like these popular stir-fry vegetables as well. These nutritious and toothsome vegetables are usually cooked with pork and perhaps a few slices of dried tofu but as I ran out of dried tofu today, I just stuck to the pork. Using a Chinese wok will also help bring this easy stir-fry to another level, the elusive wok breath really helps a lot.







I am sure that you must be busy rushing around with the holiday season upon us so I hope you'll find this easy stir-fry a good idea on one of those busy nights when you still feel like having something whipped up at home. This is a very basic stir-fry recipe from my mom that will work with a ton of other vegetables as well. If you don't like pork, you can also try substituting the pork with chicken or shrimp.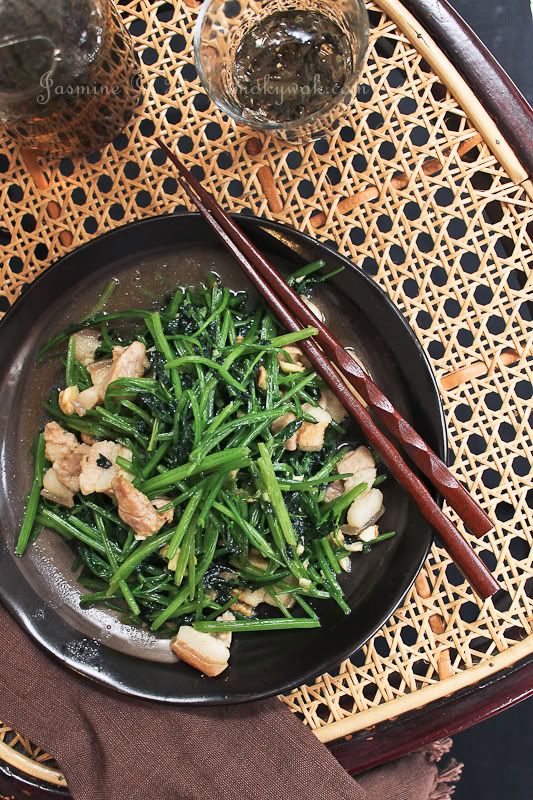 Serves 4


Serving suggestion: with steamed rice


Ingredients:


2 bundles of Chinese celery (about 500g), blanched in hot water for about 1 minute
200g pork, sliced (you can use some with fatty bits depending on your preference)
5 cloves garlic, chopped roughly
1-2 teaspoons light soy sauce
1 teaspoon salt
3 tablespoons cooking oil


Method:


After blanching the vegetables, drain and set aside. The reason I usually blanch my vegetables first is to avoid over-frying them in the wok as this will usually cause the vegetables to turn a little yellowish.


Heat up your wok until almost smoking. Add oil and swirl to coat. Turn heat to low and add garlic. Fry until aromatic. Add about 1 teaspoon of light soy sauce.


Add pork slices and turn heat to medium. Fry until almost cooked. This should take about 1-2 minutes assuming you sliced the pork thinly. Add in the vegetables from earlier. Stir-fry to mix well and add the salt. Do a taste test and add more soy or salt if required. Add about 2 tablespoons of water. Turn heat to low and cover. Allow to cook covered for about 1 minute. Remove cover.


Dish out and serve hot with rice.