Not your typical Christmas dish but here's my offering for today, an easy steamed cake Chinese style. Since it's already Christmas, I bet you don't have much time to read much today so I will try to be sparse with words today :O. Chinese steamed cake is extremely easy and always popular as it is a light, fluffy and sweet concoction that can be done up with minimal mess and effort. Today's recipe is my attempt at revisiting my older recipe in which I added a tiny bit more baking powder and used less egg. The result was a lighter and airier version although with lesser egg, it was a tad drier but I loved it all the same. In addition, I used a smaller square pan for steaming since I wanted my cake to be tall - I just find tall cakes so much more appealing for some reason.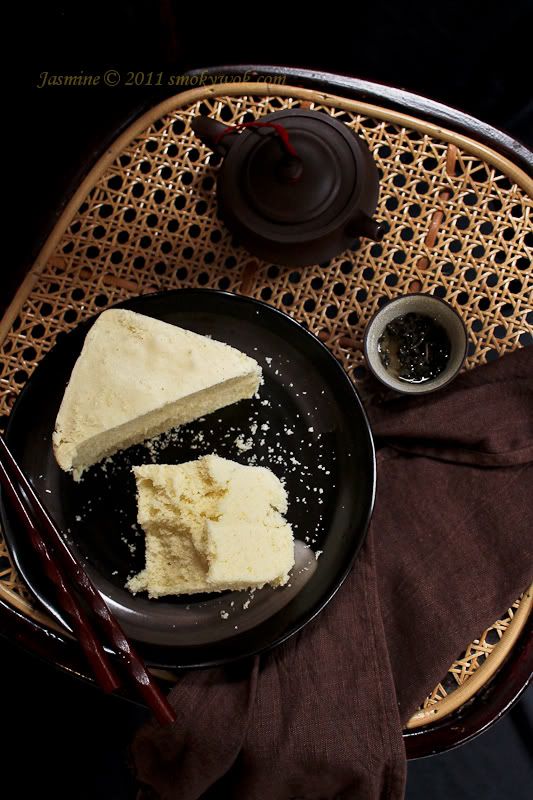 If you prefer a moister version, do refer to my
original recipe
instead. Finally, here's wishing you and your family a Merry Christmas and a wonderful holiday season!
Serves 4
Ingredients:
3 large size eggs (Use high grade ones)
1 1/4 cups all purpose flour (sifted)
3/4 cup white sugar
4 tbsps cooking oil
3 tbsps evaporated milk
1 tsp baking powder
Prepare a steel pan or you can also opt to use the steamer rack found in most rice cookers. Line the bottom and the sides with cling-wrap or parchment paper.
Start by mixing the eggs with sugar until fluffy with a whisk. Next, add the flour baking powder, oil and evaporated milk into the egg mixture and mix till well blended. If you think your batter is too thick, you can add one or two more tbsps of evaporated milk. Prepare to steam by boiling water in a big wok, then place a steaming rack on the wok. You can improvise by laying chopsticks criss-cross across the pan and place the pan on top for steaming.
Finally, pour the batter into the prepared pan and steam under high heat for about 40 minutes. Be sure to check constantly to make sure there is still enough water in the wok.