It is the winter solstice or 冬至 festival today which is a very important festival to the Chinese, some say it is more important than the lunar new year itself as the winter solstice festival represents new beginnings and signifies that another year has safely passed by for all. As with most Chinese festive occasions, it is a time for family reunions and most Chinese families will try to spend this day together feasting on good food and tang yuan or 汤园 is almost a must as the round glutinous balls represent reunion and of course round is always an auspicious shape to the Chinese signifying smoothness and positivity in general. So for today's festive occasion, one of the dishes we prepared was a simple fried prawns dish - prawns are always an auspicious dish as its' name in Chinese 虾 sounds the same as 'ha' or laughter.




For today's dish, the prawns were quickly butterflied, then rubbed with some salt and white pepper - left to marinate then shallow-fried till golden and crispy, straightforward and always a hit. Ingredients required for this dish are minimal and if you are able to get fresh prawns, your dish will definitely turn out delicious as is the case with most seafood dishes. Although relatively easy to whip up, do note that the prawns should be fried on medium to low heat to ensure even cooking and your wok should not be overcrowded as this will result in prawns that are not crispy. If you have to, do work in batches, the extra work and time required will be worth it.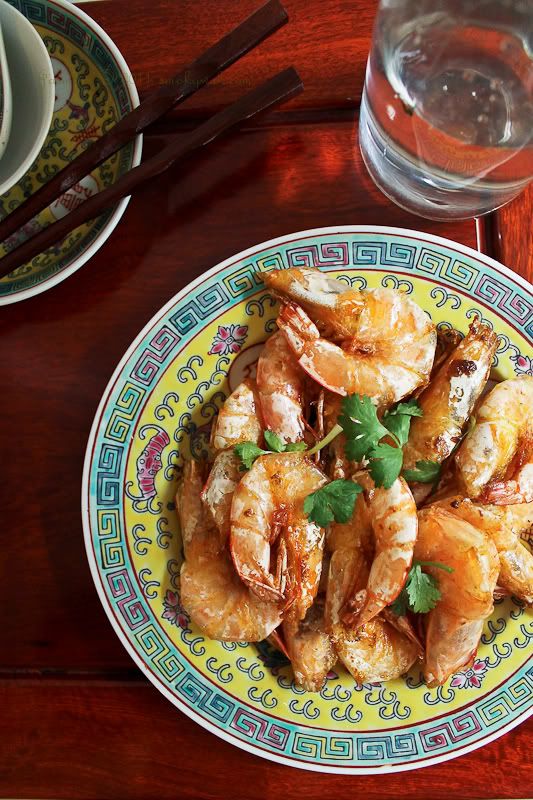 For my Chinese readers who are away from your families, I do hope you have a great time celebrating with your friends instead, I recall that while living abroad away from my family, festivals like that would make me quite homesick :O. Finally I would like to share this meaningful line from a famous Chinese poem by the legendary poet from the Soong Dynasty, 蘇東坡 (Su Dongpo):

但願人長久,千里共嬋娟。。。

(May the longevity star shine upon us, we are all gazing at the beauty of the same moon despite being a thousand miles apart) - this is my attempt at translating this famous line and really, it sounds better in Chinese!

Serves 4 as part of meal with other dishes

Serving suggestion: with steamed rice

Notes:

1. The prawns should be marinated for at least 30 minutes so please plan accordingly.
2. Do not overcrowd your wok or pan while frying, make sure the prawns are not sticking to each other in the wok for better crispiness.
3. Fry the prawns over medium-low heat for more even cooking.
4. Do not overcook the prawns, once you see the shells turn a little 'whitish', they should be ready.

Ingredients:

500g medium or large sized prawns/ shrimp, butterflied (shell-on)
1 tablespoon salt for rubbing
Dash of white pepper
Enough oil for shallow frying

Method:

Firstly, rub the prawns with the salt and pepper. Allow to marinade for about 30 minutes at least in the fridge, covered.

Heat up your wok until almost smoking. Add in oil. Once oil is hot enough - test by inserting a wooden (not plastic! ;O) chopstick into the oil, and if the bubbles start bubbling steadily (not popping violently), the oil is ready. Turn heat down to medium-low.

Lightly dab the prawns with a paper towel to minimise the moisture on them which will make for easier frying. Depending on the size of your wok or pan, fry the prawns for about 5 minutes on each side or until a golden and lightly browned. Drain on a paper towel. Slide fried prawns onto a serving platter and you're done.