I know it is probably really chilly where you are this time of the year but as you already know, we in Malaysia are still suffering from the sweltering heat, well interspersed with bouts of rain storms. Anyhow, I thought summer rolls would be the perfect candidate for a refreshing snack at home. I am pretty sure that you may have eaten rice paper rolls before and the lovely thing about this unique Vietnamese ingredient is that you can tailor-make the rolls with the filling of your choice and make them as simple and 'bare' as possible like what I did today or add as many ingredients as you like. For today, I merely grilled some pork chops marinated in some hoi sin sauce and corn syrup, added some crisp lettuce for a refreshing crunch and wrapped them up in the delicate and feather-light rice paper. The result was an extremely easy to make, texture-filled and appetizing snack.




I remember the first time I worked with rice paper which was quite a few years ago when I made fried paper rolls and I soaked the rice paper for too long and ended up discarding quite a few as the rice paper sheets will get too soft and start sticking onto itself which makes rolling it up with ingredients almost impossible. The points to note with rice paper is that you should lightly pass it through water and then lay it on the plate or your work surface, leave it for a bit to soften then immediately start rolling as soon as it is pliable. Very easy. So, this is my attempt at making Chinese-Vietnamese fusion food in a way and by the way, this is a great way to use up any leftover roasted BBQ pork that you have lying around the house or substitute with chicken if you like. The possibilities for the filling are endless and I can't wait to experiment more!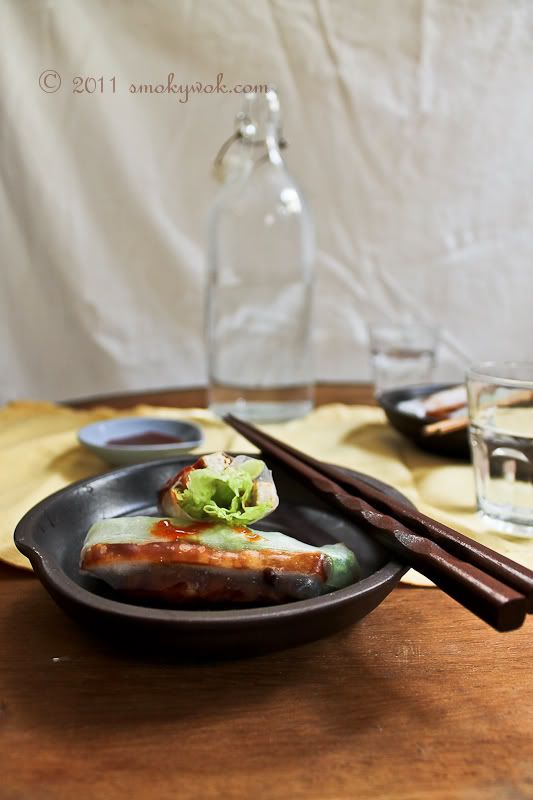 This recipe is part of my series in Yuen Chun Recipes, an ongoing project on this site.
Serves 2-4

Either serve this as a snack or as an appetizer to a full meal.

Time: The pork chops will need to be marinated for at least 30 minutes so please plan accordingly.

Ingredients:

2 pork loin chops (about 200g)

Marinade:

4 tablespoons hoi sin sauce from Yuen Chun
1 tablespoon corn syrup (or substitute with honey or maltose)
1 teaspoon garlic powder
1/2 teaspoon salt

8-10 rice paper sheets
1/4 head of iceberg lettuce, sliced into long strips

Chili sauce, for dipping (optional)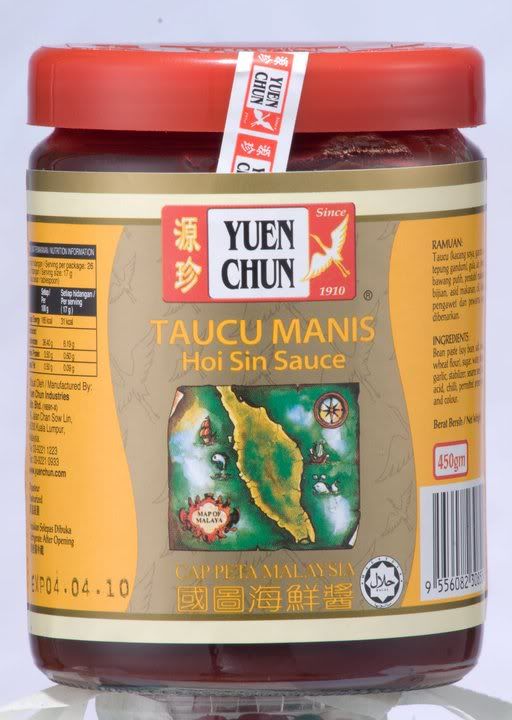 Method:

Pre-heat oven to 180 C (356 F). Prepare a roasting tray for the pork chops. Roast for about 15 minutes or until fully cooked. Remove from oven and allow to rest for about 10 minutes before slicing into long strips.

When you ready to assemble, prepare a shallow baking tray filled with water. Lightly dip the rice paper sheet into the water for a quick second. Remove and place on your work surface. Place the lettuce strips and a strip of pork onto the base. Roll up away from you and tuck the two sides (left and right) onto the roll. Place another 2 strips of pork onto the rest of the rice paper. Roll up and there you have it. Continue assembly until all the filling is used up. Serve with the chili sauce for dipping if using.

You can also get your guests to make their own rolls at the table which makes for a very fun dinner and they can add the amount of lettuce or pork to their preferences.